Entertainment
Jenelle Evans is Pregnant?: Third Baby on the Way. Ex-Fiance's Prison Wedding
'Teen Mom 2' star Jenelle Evans has been seen with some men over the years and in the process, has been a mother of two. Are the rumors of her being pregnant again, true? Find out if she will be welcoming a third child. Also, learn about new information about her inmate ex-fiance and what good news came into his life?
There is a good chance that Jenelle Evans could be pregnant again with baby number 3 on the way. Evans has not opened up to the media about this aiming to keep things private. However, a police report about a car crash that Evans and her present boyfriend, David Eason were involved on July 6 in North Carolin, has given us a right to believe that Jenelle will be introducing new siblings to her two sons, Jace Vahn Evans, 7 and Kaiser Orion Griffith, 2.
Caption: Janelle Evans was seen with a baby bump at an MTV Music Awards on August 2016
According to the police report,
"The passenger in vehicle #1 stated that she is at least (10) weeks pregnant and complained of abdominal pain. She was transported for treatment to [a local hospital]."
Cleverly dealing with the police report, she made a very strange tweet on her twitter account.
Wow, these past 3 days have been the most stressful of my life. Guess everything happens in 3's, right ?! ????

— Jenelle Evans (@PBandJenelley_1) July 7, 2016
So, she may be signifying towards the third child. While it should be good news, many people have expressed their dissatisfaction for her having another child with another father.
Ex-Fiancé's Wedding in Prison:
This was not the only shocking news related to her that has come up recently.Courtland Rogers whom she was formerly engaged to be last heard of when he got arrested not for one or two but four felony counts; 2 probation violation and one each for habitual felon and possession of heroin. Now she has entered the news again but this time attempting a marriage as a convict.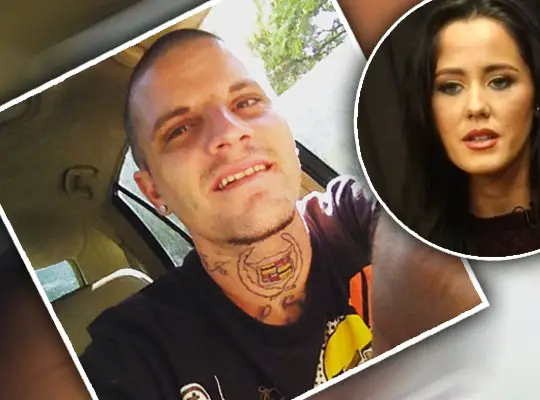 Caption: Courtland Rogers on the left and Jenelle Evans on the right.
Source: wp.com
Yes, apparently Rogers cannot wait to tie the knot with baby mama, Taylor Lewis. They had already attempted to get married in the jail when he was being held up, but the cops didn't allow it. So, they have decided to have a wedding once Rogers is transferred into a prison. However, no news have come stating if they are married or not.
Jenelle Evans's Short Bio:
Jenelle Evans was born on 19th December 1991 in Oakland, North Carolina, USA. She had a son at the age of 17 as per her relationship with Andrew Lewis. She aborted what would've been her second child with ex-husband Courtland Rogers. She had her second son Kaiser with Nathan Griffin. She had been an integral part of Teen Mom 2 (TV Series documentary) since 2011. She has also been a part of The Doctors (TV Series) recently.