Entertainment
Joe Bastianich Tossing Career, Wife, and Kids! Has Every Ingredient to a Happy Family
If you are a foodie who is into reality shows, we are pretty sure you are familiar with the competitive cooking show MasterChef. The show features food enthusiasts that compete with their fellow contestants to please the judges with their food to ultimately claim the title of MasterChef.
The US version of the show has some legendary culinary figures like Gordan Ramsay, Joe Bastianich, Graham Elliot and Christina Tosi as the impartial judges.
Out of all the judges, one, in particular, is considered to be the most serious looking and brutal judge. If you are a follower of the show, we are pretty sure you have guessed where this is heading by now.
No, we're not going to talk about Hell's Kitchen's Gordan Ramsay who is famous for mixing cooking with swearing. We are here to talk about Joe Bastianich, a restaurateur. Although the star chef has left the show, he is still one of the most talked about chef in the culinary world.
Joe Bastianich Wiki:
Joe Bastianich is a is an Italian-American restaurateur, winemaker, author, and television personality, who has been in the spotlight for being a brutally honest judge in the hit US reality show MasterChef.
Joe, along with his wife Lidia Bastianich and business partner Mario Batali, owns thirty restaurants worldwide under Batali & Bastianich Hospitality Groups.
The Michelin star restaurant co-owner was also a judge for Masterchef Italia and the US version of MasterChef Junior. Though he was not into sugar coating while reviewing the dishes, the audience got to see his kind and joyful side when he was one of the judges for the latter show.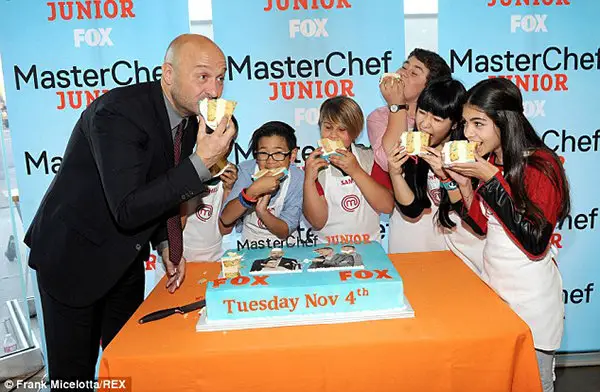 Caption: Joe enjoys cake with contestants of master chef junior.
Photo Credit: Dailymail.co.uk.
That might be because he is also a father to his three adorable children: Miles Bastianich, Ethan Bastianich, and Olivia Bastianich.
Deanna Damiano and Joseph Bastianich are married for 22 years now. The couple tied their knot back on February 19, 1995, in the presence of four hundred and fifty guests.
The wedding ceremony was held at St. Ignatius Loyola Church on the Upper East Side which was are more like a big family party at a country house in Italy.
His personal life is quite settled and out of the spotlight, unlike his professional life. Due to his involvement in MasterChef, he rose to fame overnight as he was appointed the judge ever since the show's inception in 2010.
Despite being most liked judges on the show, he resigned from it. When asked about the reason behind it he expressed:
"After several gratifying years as a judge on MasterChef and MasterChef Junior, I have decided to step down from my role on the show. It has been a pleasure working alongside Gordon and Graham on five seasons of MasterChef and three seasons of MasterChef Junior, and I look forward to continuing my current collaborations with Shine America. As co-owner and partner of the Batali & Bastianich Hospitality Group, as well as Eataly throughout the Americas, I will be focusing my time and energies on their continued global expansion."
As his professional success was not enough to prove his hard work and determination, the food enthusiast lost sixty pounds and became a source of inspiration to millions of people who are trying to stay in good health. To encourage them to follow suit he shared his diet tips with everyone.
The chef and restaurant owner's devotion to the food industry has earned him a whopping net worth of $15 million.