Entertainment
Openly Gay Actor Jonathan Groff Talks On Boyfriend; Dating Gone Wrong?
American actor Jonathan Drew Groff, who rose to fame with his performance in the original Broadway production of Spring Awakening, took time to come out as gay in public.
After his revelation things got smooth as butter. The Lancaster native openly got into a relationship with a boyfriend openly.
Coming Out As Gay
Jonathan, like all the other people, had first hesitated to reveal his identity to the world. He even concealed his orientation when he starred in the rock musical Spring Awakening.
After a month of wrapping the drama, Jonathan realized that he had to come out of the closet and be himself when Jonathan was in Florence. He returned home to his family and opened about his sexuality to them.
At first, his parents and family members got shocked, but they eventually understood and appreciated Jonathan. He even started opening to his friends and colleagues.
Later, he publicly came out from the closet marching at The National Equality March held in n Washington, D.C in 2009. He quoted himself 'gay and proud' during the parade.
Finds Boyfriend
After three years of coming out, Jonathan got into a dating relationship with Heroes star Zachary Quinto.
The duo was spotted together numerously before Zachary publicly announced their relationship during an interview with Out Magazine in September 2012. While gushing about his gay life, that he revealed in October 2011, Zachary confirmed that he had an affair with Jonathan.
He also quoted himself to be "incredibly happy" and "incredibly lucky" to be in a relationship with Jonathan.
Then the pair started spending quality time with each other. They even enjoyed a night out with Jonathan's best friend and Glee costar Lea Michele.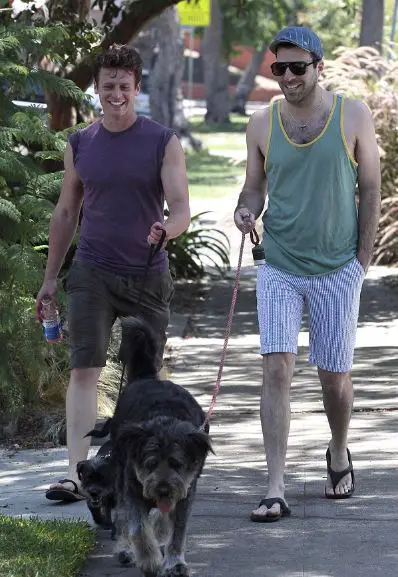 Jonathan Groff walks his dog with boyfriend Zachary Quinto and his dog back in July 2012 (Photo: dailymail.com)
Later, in July 2012, the couple was also spotted taking their dogs' Skunk and Noah for a walk together. They laughed and chatted while their dogs walked around with them in LA's trendy Los Feliz neighborhood.
Unexpected Break-Up: Didn't End Relationship
Everything seemed to be going on perfectly until the breakup news of Jonathan with Zachary surfaced out in the media in the mid-2013. The pair ended their relationship without providing reasons for their split to the press.
Nevertheless, it came to the limelight that the pair "remained friends" even after their split.
Jonathan talked about his ex-partner Zachary in an interview with FourTwoNine in July 2015. He also mentioned his ex Gavin Creel, whom he dated before Zachary.
Talking about his exes Jonathan shared,
When I was dating Gavin and dating Zach, it was more about the people they were instead of the actors they were, which is the same about the people who aren't actors that I've dated
Although the low-key dating relationship of Jonathan with Zachary didn't end well, their friendship remains strong.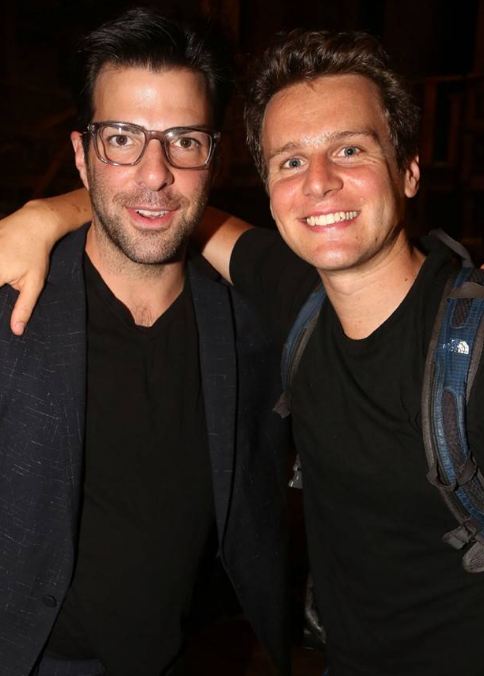 Jonathan Groff in smiles while posing with ex-boyfriend Zachary Quinto at the backstage of Hamilton in August 2015 (Photo: eonline.com)
They were spotted at the backstage of Jonathan's Broadway show Hamilton back in August 2015, making it clear that their split left no bad blood.
Moreover, the pair even proved that their friendship was going strong in December 2017 when they got photographed together at 2017 GQ Men of the Year Party held at Chateau Marmont.
As of now, Jonathan is reportedly single as no news of him dating anyone has surfaced out. His social media accounts also lack the presence of a person that could be speculated as for his partner.