Entertainment
Lucy Spraggan & Wife A Lesbian Power Couple; A Teary Story To Bliss
Initially dubbed as the most influential participant in the 2014 edition of The X Factor, songstress Lucy Spraggan's run at the hit British talent show was cut short due to an illness.
Defying all logic and industry politics that comes with being an openly lesbian figure, the Tea and Toast hitmaker churned one album after another all the while enjoying a successful tour life that has contributed to her burgeoning net worth.
The price of fame, however, almost cost Lucy her life. If it weren't for her wife - with whom she got married in a bizarre wedding ceremony - she probably wouldn't be here to share her tear-jerker of a story.
Openly Lesbian Singer "Saved" By Her Wife; Wedding Ceremony With Tattoo Artist
At age 20, Lucy got thrust into international superstardom.
Don't Miss:- Kim Porter Dies At Age 47; Diddy Kids' Mother, What Is Cause Of Death?
The Sheffield native's post X Factor musical career saw her receive praises from fans and critics alike. Not only was her music recieved well, but Lucky's embracing of her lesbian sexuality was also equally lauded.
But unbeknownst to many of her fans, she was battling with her insecurities internally. The more she got famous, the trolling on the internet got worse. In July 2016 Loose Women interview, she revealed:-
''I was stood backstage, and I could empathize with everything you were saying. People don't understand what its like to have a piece of you taken away every time you read something."
Lucy would then go on to explain how meeting her wife, Georgina Gordon made her happy as she longer had to fight her demons on her own. The Last Night singer explained:-
"I can get into these moments where I can't deal with it, and sometimes you need somebody to say it's alright."
The revelation came just a month after Lucy and his wife Georgina had the tied the knot in a picturesque wedding held in North Yorkshire. The barn-style wedding featured a bucking bronco as well as a tattoo artist, who also inked the singer's mother's very first tattoo.
Read Also:- Tila Tequila New Baby - Married Husband Following Lesbian Partner's Death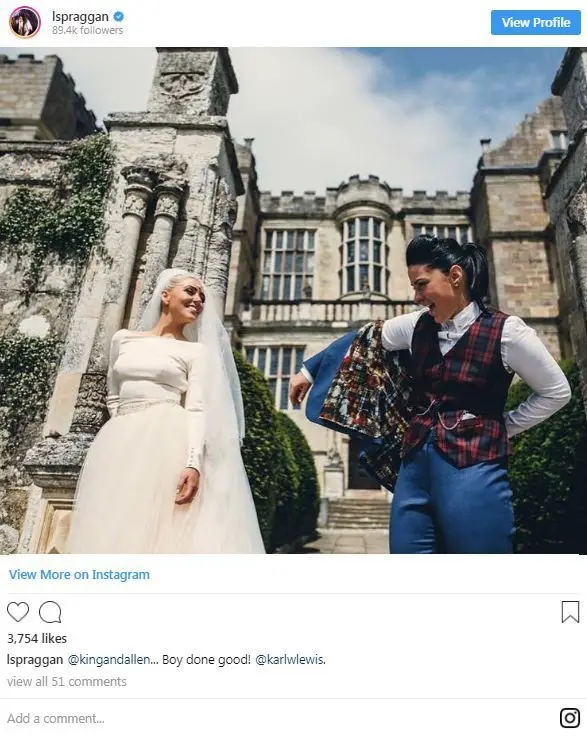 Openly Lesbain singer Lucy shares wedding photos (Photo:- Lucy Spraggan's Instagram)
About a year earlier, the Unsinkable singer had proposed to her then-girlfriend of a year, Georgina on a romantic boat trip. The pair - who had met at a London bar - has expressed their desire to become parents in more than one occassion.
More On Lucy Spraggan Including Her Age, Net Worth, Tour & Albums
With her current tour scheduled to continue well into the first quarter of 2019 and beyond, Lucy's plan of starting a family with her wife might not necessarily make the priority list at the very moment.
The former X Factor contestant's European tour sees her travel across Europe, performing in countries including Austria, Switzerland, Spain, France, Germany, Netherlands, Denmark and Norway.
Fellow British Popstar:- Olly Murs Dating Status Now: Who Is Singer's 'Troublemaker' Girlfriend?
In addition to performing materials from her old albums(Join The Club, Santa Maradona F.C., We Are, & I Hope You Don't Mind Me Writing), Lucy will serenade the concert goers with materials from her upcoming project as well as cover songs.
Rest assured, by the end of the tour; Lucy, age 27, will have a substantial net worth to boast.