Entertainment
Julie Chrisley Reveals Her Cancer Battle! Only Went Through Plastic Surgery Or A Weight Loss Surgery As Well?
When there is a will, there is a way, no matter how much serious the case is. If we give up, then we will never rise but if we keep on trying there is always a better solution. Julie Chrisley is one of those actresses who stood up tackling every consequence in her life.
Julie Chrisley who had to go through a dangerous disease 'cancer.' Is she still suffering from cancer or already has been treated well? Let's find out.
Julie Chrisley's Life Struggle And Strive!
People have to go through many ups and downs in their life. Talking about Julie Chrisley, she had to go through a fatal disease, cancer. But she stood up as a brave woman handling it calmly and finally coming out as a survivor.
Her cancer battle began in March 2012, and her husband Todd Chrisley was always by her side, always supporting on her hard times; when she had to go for a routine mammogram. She said,
"I had a lump. I had a double mastectomy that same March and I am two years cancer free now. So I guess Chrisley really does know best."
Todd was the one who requested her to get a mammogram that saved her life. She divulged,
"I am really glad I went when I did."
She added
"If I had waited another year, [the odds] may not have been what they were."
After she had a double mastectomy, she researched about it more. She and Todd started to discuss it as well, as being parents, it was their responsibility to make their children's life secure.
This kind of thing should be shared, so more people will be aware of it. Sharing the same with the media, Julie stated,
"The more it's talked about, the more men and women will know. There is no reason to keep it quiet; let's talk about it. If it helps one person who was putting off getting that mammogram, then I feel like what I went through is not in vain at all."
She also opened the fact about Jackie Collins, who passed away from breast cancer while keeping her diagnosis close to vest
She explained
"As women, we have that prerogative whether we chose to have a double mastectomy or the path she took. It's not up to any other person when it comes to this. You have to educate yourself and do whatever you feel is best for you."
Julie Chrisley, a strong woman who survived the breast cancer, has been a motivation for many people out there. Hope she has a great and healthy life ahead.
Know More About Julie Chrisley:
Julie Chrisley, who celebrates her birthday on 9th Jan, was born in the year 1973. She is a daughter of Baptist minister and her mother as former Miss South California. She had a brother named Harvey Hughes, who committed suicide at the age of 25.
Julie married to millionaire Todd Chrisley on May 25, 1996. It has already been 20 years of togetherness. But she was his second wife, as Todd's first wife was Teresa Terry.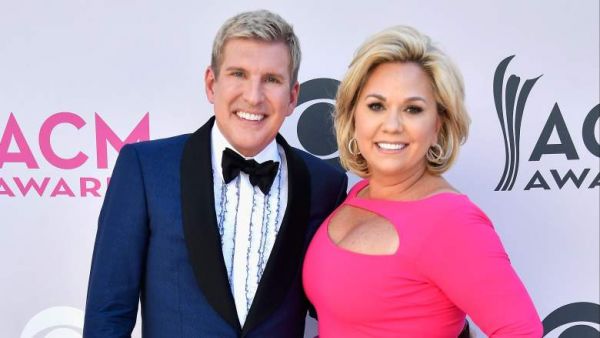 Caption: Julie and Todd Chrisley attending the 52nd Academy of Country music awards at Toshiba plaza on April 2, 2017
Photo Credit: heavy.com
Julie and Todd Chrisley gave birth to their three children from their marriage, Chase (born on June 1, 1996), Savannah (born on August 11, 1997), and Grayson (born on May 16, 2006).
Todd also shares a daughter named Lindsie (born on September 17, 1989) and a son, Kyle (born on August 29, 1991)) with his first wife.
Caption: Julie and Todd pictured together along with their children.
Photo Credit: lifeandstylemag.com
The whole family is seen on their reality television show 'Chrisley knows better,' whose first episode was released on March 11, 2014. Julie also did liposuction for weight loss in the television show.
Moreover, Julie once went through secret plastic surgery makeover in her real life.
Caption: Funny moments from the show 'Chrisley Knows Best' (Published on Dec 19, 2015).
Even after going through such a harsh period in life, Julie was able to undergo the consequences and win it through her ability; and that provides a valuable lesson for life, that we should not quit till the very end.