Entertainment
U.S. Senator Kamala Harris Education, Nationality & Parents Info
American attorney and politician, Kamala Devi Harris, has been serving as the junior United States senator for past two years, being the first Asian-American senator and the first African-American woman in that position.
Kamala, who spent most of her life fighting for injustice, previously served as Attorney General of California and also as a District Attorney of San Fransico. As of now, she dreams big. She even announced her candidacy for the 2020 Democratic presidential race.
But, with the announcement came controversies that would prevent her from running for the presidentship. However, despite the claims, Kamala is all set to begin her journey having support from her husband and children by her side.
Announced Campaign For Presidentship, Ethnicity Raises Questions On Nationality
Kamala Harris - born and raised under the wings of her Jamaican father and Indian mother - announced her campaign for the 2020 Democratic presidential nomination.
With her announcement for her candidacy came controversies regarding her birth that doubted her eligibility for the White House. CNN host Chris Cuomo commented on Twitter landing himself in a bit of trouble after an alt-right conspiracy theorist falsely questioned Harris's ability for the Oval Office.
2016 Presidential Election:- Was The Presidential Election 2016 The Most Expensive Election In America? View Full Report
The provocateur said that she is ineligible for the run as her Jamaican father and Indian mother were not legal residents in the country for five years before her birth. Additionally, the theory also suggested that she is not eligible to run for president because a part of her childhood was spent in Canada.
Chris's comment was based on the false theory that suggested Kamala should prove being born in the US to prevent trouble during the campaign trail.
However, despite the growing controversies, according to Article 2, Section 1, of the US Constitution, Kamala has full right to run for the presidency regardless of her parents' immigration status during the time of her birth at Oakland, California.
Well, despite her ethnicity raising questions about her nationality, Kamala, now at the age of 54, is all set to begin her journey towards the presidentship. Kamala, who earned her education and degree in law from the University of California, Hastings, always had a passion for politics. Here, she is, now, fulling her dreams and dreaming big at the same time.
Parents Children With Supportive Husband!
Apart from the questions regarding her parents, her personal life has also been closely looked upon. Keeping aside her political career, Kamala as a blessed wife shares a marital bond with her husband and parents her children.
See Also:- US Presidential Election 2016: The War of Issues Between The Diplomats!
Kamala, who stands at the height of 1.57m, is happily married to her husband of years, Douglas Emhoff, a lawyer, currently working as a partner at DLA Piper Law Firm with his specialty in entertainment and intellectual property law.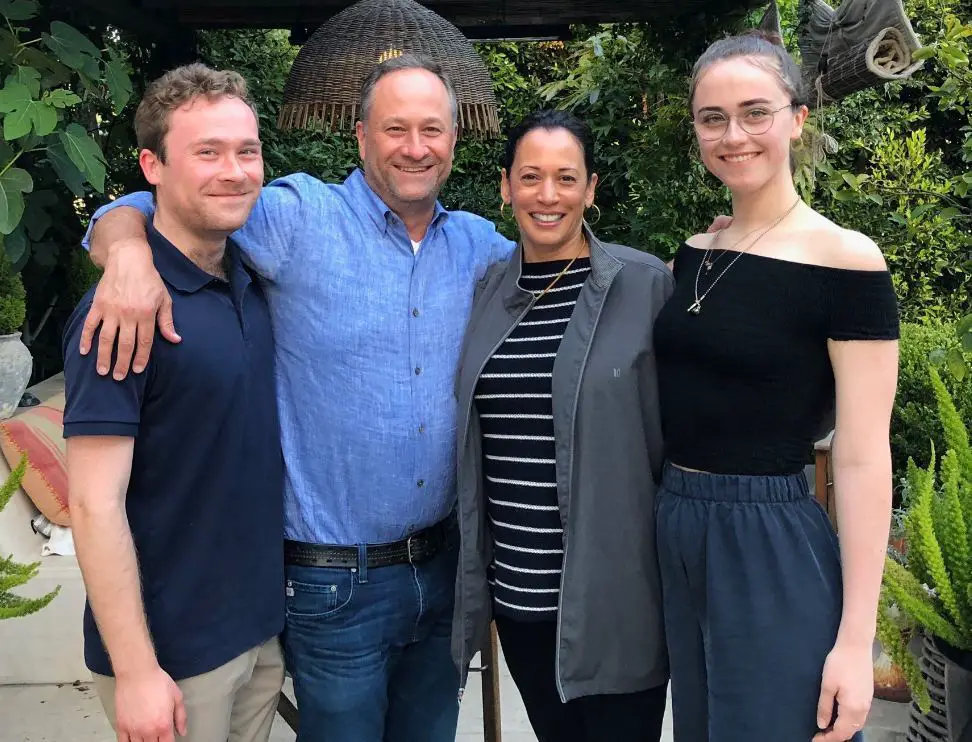 Kamal Harris with her husband Douglas Emhoff and children (Photo: Douglas Emhoff's Twitter)
The duo was set up by one of the senator's close friends at first. They dated for almost a year and finally got engaged on 27 March 2014. Douglas popped the question to his girlfriend during an intimate and low-key proposal at Harris's California apartment. He proposed her with a platinum made diamond ring.
You May Like:- Top Tweets On The Victory of Donald Trump In The Presidential Election
After being engaged for a little over four months, the duo tied the nuptial knot at the Santa Barbara Courthouse via a private ceremony. Kamala parents her step-children - son Cole and daughter Ella - from her husband's previous relationship.