News
John Neely Kennedy & Nancy Pelosi Clash, What Just Happened?
Things got heated on President Trump's rally in Louisiana on 6 November 2019!
Senator of Republican Louisiana, John Neely Kennedy, was brought up by President Trump to address the matter of governor candidate Eddie Rispone who was representing the Republican party as Louisiana's governor elections would be taking place on 12 October 2020. 
It so happened that, during his appearance, he had something to say about Nancy Pelosi. The House Speaker and President of the United States candidate, Nancy was met with some pretty fiery words from the Louisiana Senator. Addressing her, he said, 
"I don't mean any disrespect, but it must suck to be that dumb." 
The senator ended up creating a lot of controversies with his unconventional message towards the House Speaker. In his speech in the rally, he recalled her attempts to question Trump's authority being baseless and corrupt.
Also Read:- Brenton Tarrant Bio, Age, Shooter, Facebook, Family
In contrast, he praised Trump and his three years of Presidental reign and its positive impact on the economic growth of the country. To be precise, the senator marked the increase to be double and the greatest in all human history.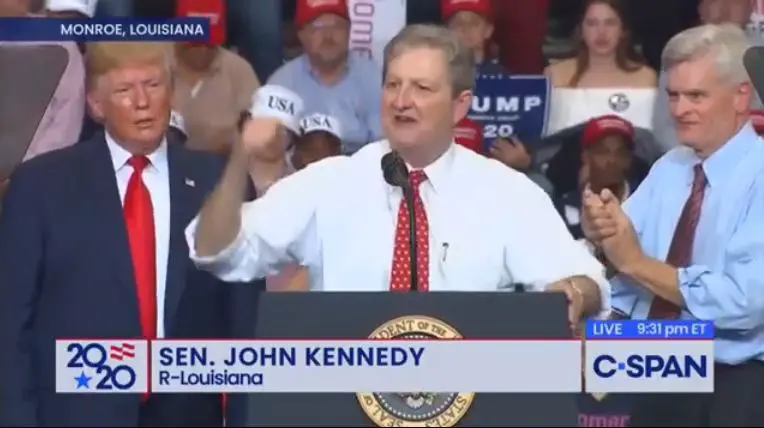 John Neely Kennedy during his speech on President Trump's rally on 6 November 2019 (Photo: Youtube.com)
While the attendance of people during that time uproared with cheers, everyone was not appreciative of his controversial behavior. 
One of the most prominent social media platforms, Tweeter, was hit by a storm when the angry citizens had their say on the speech. A flurry of tweets buzzed Twitter as people criticized John Kenny and his blunt opinion about Nancy Pelosi. 
All the people who posted their opinion on Tweeter recalled Nancy being the third in line for Presidental election and called John a person with no manners and brains. 
Explore:- MSNBC Cuts Off Donny Deutsch For Comparing President Trump With A Sociopath
Adding to the same, one person wrote about the countries economic growth being false and instead of the national debt going up by over 4trillion dollars in Trump's presidential reign.
Now, after being greeted with a flurry of hateful comments, John Kennedy ie yet to comment further on the matter.