Entertainment
KC Concepcion Dating To Get Married? Meet Her Footballer Boyfriend
KC Concepcion, the Filipino actor, and singer live a perfect dating life that she shares with her boyfriend. KC has been involved romantically with her footballer boyfriend while her fans are hoping for their relationship to step to the next level.
Here is the current status of the KC's romantic relationship summed up for you.
KC Concepcion Getting Married To Boyfriend?
KC Conception, who is also a National Ambassador Against Hunger of the United Nations' World Food Programme, has been involved in a serious relationship with her boyfriend, Aly Borromeo who is a former Azkals team captain.
KC shares a lot of pictures together with her man. The duo has been going strong with their relationship since they started dating. The couple opened up about being in a romantic relationship two years ago.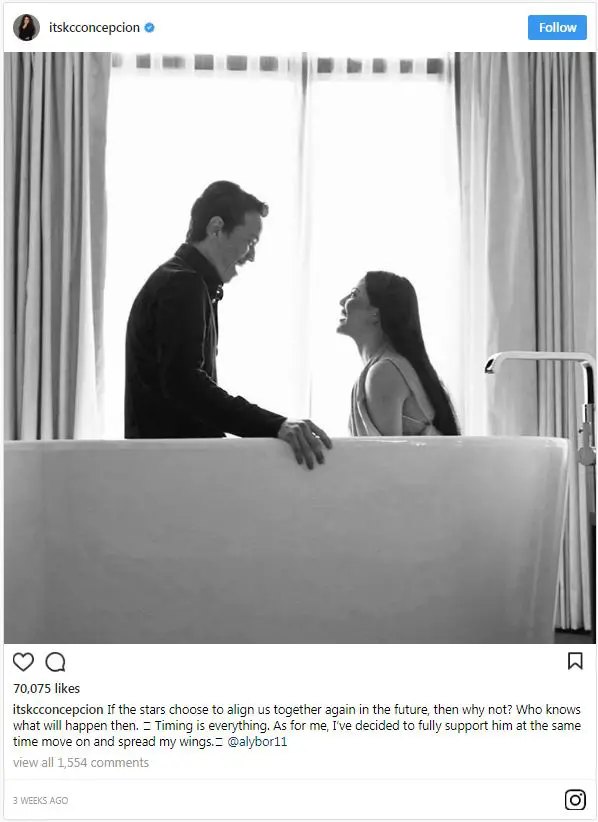 (Photo: KC Conception's Instagram Account)
However, how the couple met and began their relationship is still a mystery to their fans. KC has not revealed much about her relationship with Aly.
While these two are sharing much time that they can grab from their busy schedule with each other, the topic relating to their wedding is still off limits. Through sources, it has been revealed that Aly is perfectly fine marrying KC.
KC's boyfriend Aly even revealed that their marriage plans mostly depend on KC. Well, the couple has not been talking about marriage but would rather focus on building up their career. As Aly stated,
"What is important is KC and I have a good relationship, and our communication is always very goodIt's all up to her, what she wants to do. But right now, we're not talking about marriage. We're concentrating on our personal career at the moment."
Moreover, it has come to light that Aly is busy improving and working hard in his football career while KC is using up all her time hinting big projects endorsements and a possible comeback. KC's fans are hoping to see more of her mainstream media, but she has not yet been on track.
While justifying their busy schedules, Aly added,
"I guess right now, we're working on things outside our relationship in terms of business, more on getting to the next level, working on things."
The duo recently faced the rumors of their break up. As the couple has not been posting much about them in their social media, their fans have been worried sick about their dating status. The absence of Aly and KC on each other's social media account has led their fans to speculated that they might have broken things off with each other.
Well, the rumors were cleared off by Aly blaming their busy schedules for the absence of their pictures on the social media. Despite the worries from their fans it has been clear that duo is stronger than ever.
Nevertheless, it has been revealed that Aly has already met up with KC's parents. He describes KC's family as very "warm" and "Fun." He also divulged that he is close with all of Kc's siblings.
Moreover, KC's mother calls Aly "son-out-law" while welcoming him into the family and celebrating last Christmas together. Well, the duo shares a good relationship with hope from fans that KC would soon call Aly her husband.