Entertainment
Kelly Preston Tackles Divorce With Husband! One Of Strongest Married Life Around
American actress Kelly Preston is chiefly known for her roles in the movies: Twins, Citizen Ruth and From Dusk Till Dawn.
The actress is married to a Hollywood A-lister and shares a strong bond with her husband along with two children.
Their marriage has stood the test of time and various grueling tests. However, the couple has passed every test with flying colors and still enjoy each others company.
27 Years And Counting: Still Going Strong
This time there was John Travolta by her side and a wedding ring in his hand. Kelly was draped in flower embroidered dress, making her look younger than 55, with John looking every bit cool in a navy blue blazer, jeans, and a trainer.
The husband and wife duo looked every bit in love as they stepped out in the red carpet of the Cannes film festival on 15 May 2018, for the photocall of their latest movie together, Gotti.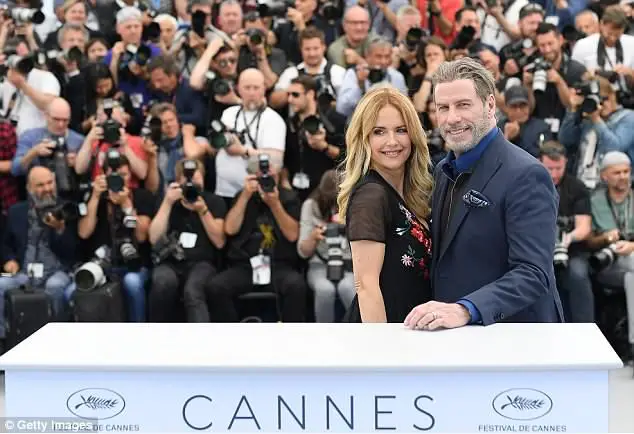 Kelly Preston put up an adorable display of affection with her husband John Travolta at Cannes film festival 2018 (Photo: dailymail.co.uk)
Kelly and Pulp Fiction star not just walked on the red carpet, they walked arms in arms and hugged much to the delight of photographers they were posing for. Gotti is the fifth movie the stars have appeared together, and The Experts in 1989 being the first. Their chemistry looked as electric as they were 29 years ago.
Two-time Academy Award nominee, John reminisced about the couple's first meeting during the promotional event. The pair met during the audition of The Experts and John straightly fell for Kelly as soon as she walked through the door. He remembered:
"She came in this, this gorgeous woman. We had an immediate chemistry."
Kelly, who had divorced her previous husband actor Kevin Gage in 1987, recalled about the first time she saw John and was swooned by his sexiness. And when John stopped by to say hello, she could not hide her excitement. Kelly affirmed:
"I see, no lie, coming across the hall with his two dogs, this really hot guy. Then he stops and says hello. And I was like, 'Oh s—t. Kill me now.' You know, like, 'Oh my God.' And that was my first meeting with him."
That fondness between the pair resulted in them getting married on 5 September 1991. Whats more, despite the various ups and downs the couple have gone through they looked every bit in love at the film city Cannes.
Divorce Rumors, Sex Abuse Scandals, And Personal Trauma
It was the fall of 2017 when a shoddy looking John Travolta was spotted on amusement park Disneyland, with his son Benjamin but without his wife, Kelly. The visitors at the park glanced an eerie eye over the downcast looking actor and noticed he was not putting on his wedding ring.
An insider reported MSN that Kelly had split with her husband days before his park visit that their marriage was over, and she was tired of all those sexual misconduct accusations that entangled around John.
At that time Kelly's superstar husband was accused by a masseur of sexual battery in 2000 during a massage session at La Quinta Hotel.
Previously, the superstar had question marks over his sexuality after being mired in similar sexual abuse scandal in 2012 by two male masseurs. Similarly, John was also rumored to have romantic links with couple's male nanny Jeff Kathrein, and his pilot Douglas Gotterbra.
However, the couple seems to have got over the dark clouds surrounding each other as they flaunted their love for the promotion of their film at the Cannes. This was not the first time the couple's marriage had hit a hitch. In 2009 their firstborn son, Jett died tragically during a holiday in France because of seizure.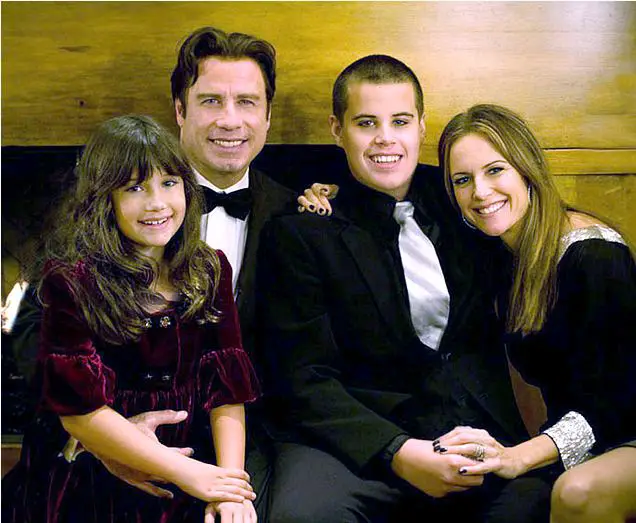 Kelly Preston with husband John Travolta and son Jett and daughter Ella Bleu (photo:usmagazine.com)
Speaking of their son's loss, Kelly said:
"I felt at times I was drowning. It felt like a sea of wet blankets. And I just peeled them off, layer by layer."
However, John and Kelly provided stiff support to each other during the tough time. The loss of son made them a bit more responsible parent and provided their daughter Ella Bleu with more love and care. And the couple slowly got on with their lives and welcomed son Benjamin in 2011.
Despite personal traumas and various scandals along with divorce rumors, the couple is together and stronger than ever.