At age 52, actor Luke Perry passed away!
The news of Luke's death came less than a week after he got rushed to hospital following a severe health scare.
Since his passing, a host of revelation about his family life with fiancee has hit the headlines. Read along to learn more about his married life with his ex-wife and their children.
Died After Getting Hospitalized 
On the wee hours of 28th February 2019, Luke got hospitalized after paramedics rushed to his residence in Sherman Oaks, California.
At the time, his representative stated that he had suffered a "massive stroke," and remained under close observation at the hospital. The Riverdale actor's rep, however, didn't delve into the severity of his hospitalization. 
Ironically enough, Luke, better recognized as Beverly Hills, 90210's Fred Andrews, suffered the fatal stroke on the same day as the Fox television announced that it was planning on reviving the said 90's series with its original cast.
Similar:- Jenelle Evans Is Hospitalized, What Happened & What's Her Health Status?
No longer had the story of his hospitalization became public knowledge, his fans and former co-workers alike sent out an outpour of support of message on social media.
By the time Luke got hospitalized, he "was gone." And after remaining under heavy sedation for five days at the hospital, on 4th March 2019, he died. A source close revealed,
"He never regained consciousness. Things were so dire that they put him under heavy sedation. He was gone, basically, by the time he got to the hospital."
Following his untimely demise, the family and friends of the late actor's put out a statement via his publicist, thanking well-wishers for their support and prayers while calling for the public to respect their privacy in the time of great tragedy.
Get To Know Luke's Secret Fiancee, Wendy Madison Bauer
As shocking as the news of Luke's death was to the world, the fact that he hid his wife-to-be, Wendy Madison Bauer wasn't.
For a star of his magnitude, he never publically opened about his relationships. His fiancee, Wendy was no different. Although the lovebirds debuted their romance at the GLAAD Media Awards in April of 2017, neither opted to open about their engagement.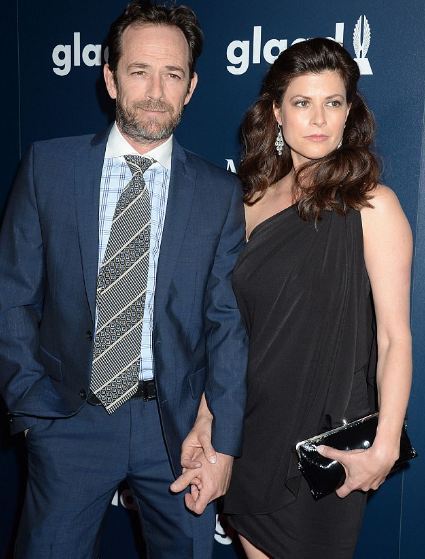 Luke Perry posing next to fiancee, Wendy Bauer at the 2017 GLAAD Media Awards (Photo:- people.com)
Per her LinkedIn profile, Luke's fiancee, Wendy is a California-based licensed family and marriage therapist. Between 2004 and 2011, she had a stint as a smalltime actress with appearances on episodes of House and The Mentalist.
Riverdale Co-star's Relationship Status:- Riverdale Actor Skeet Ulrich At Age 48, Twice Married & Dating | Him Now
Survived By Ex-Wife, Children & Family Members
Besides Wendy, Luke died surrounded by a host of family members that includes mother Ann Bennett, step-father Steve Bennett, brother Tom Perry, sister Amy Coder and more importantly his ex-wife, Rachel Minnie Sharp.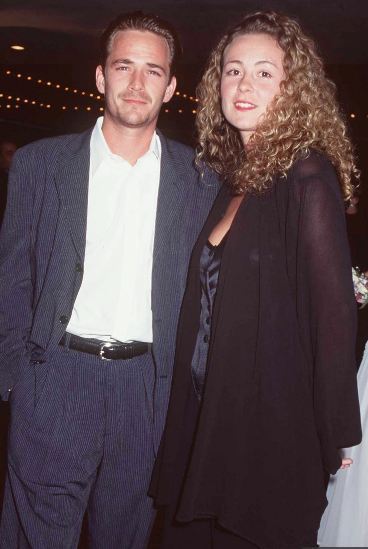 Luke Perry smiles for a photo alongside his then-wife Rachel Minnie Sharp circa 1993 (Photo:- people.com)
Married for almost a decade between 1993 and 2003, The Fifth Element actor and his former wife shared two children: Jack, now age 21 and Sophie, age 18. The former duo's son, Jack is a professional wrestler.
Despite the divorce, Luke and Rachel's relationship never turned sour, and the two remained in best of terms until the former's sudden death.
Buried In Mushroom Suits; Daughter Pays Respect
Even after his death, Perry continued to receive praises for his choices. The public learned that the late actor had a wish to get buried in a mushroom suit.
Discover:- Chris Jericho Wife, Gay, Age, Net Worth
According to his daughter Sophie, the long-gone Riverdale star - while still alive - professed excitement over the prospect of having an eco-friendly burial option through mushrooms.
Taking to Instagram in early-May 2019, Sophie declared:-
"He was buried in this suit, one of his final wishes... "
Created by Jae Rhim Lee 10 years back, the stated mushroom suit is entirely biodegradable, eases up the decomposition process and neutralizes toxins from the body, transferring nutrients to faunas.
Sophie continues to fight that her deceased father Perry fought so endlessly. Within months of his passing, amid the family tragedy, she decided to volunteer in Malwai. Upon her return, she penned a poignant Instagram post claiming that she would "carry on your legacy and make you proud."