Entertainment
Kierston Wareing, Husbandless, Was Pregnant While on 'EastEnders': About Miscarriage and Ex-Boyfriends
When we watch movies, we become so connected to the character and their story that we feel the person portraying the particular role must be similar in real life as well.
But the reality will be way different than that. The person whom we see enjoying and dancing in movies may sometimes be the most depressed ones in reality. Likewise, here we have a story of an actress who has encountered all sorts of difficulties in her real life ranging from a broken relationship to miscarriage but has chosen to stay silent acknowledging a person she is today.
An English actress, Kierston Wareing's life was really turbulent since her early days.
Experience with Ex-Boyfriends; Bitter tales of Past Relationships:
She confessed in an interview (in 2014) that she was beaten "to a pulp" by her two ex-boyfriends. She had an affair in her sweet fourteen, but the relation turned out to be a sour one. Kierston has claimed that she was often beaten black and blue by him.
And if you think that was all of it, wait till she turns older.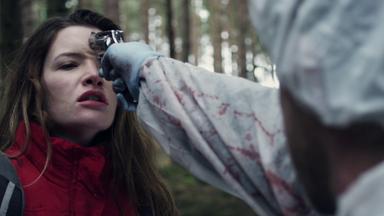 Caption: A scene from one of her movies shows a similar experience she would have felt with her boyfriends.
Source: Amozanaus.com
After this disheartening relation, she experienced a similar experience with another partner who crossed her road again when she was in her twenties.
Kierston has shared that the boyfriend used to beat her brutally every weekend. Furthermore, he used to attack her with a plank, and once he even broke her teeth out. She has confessed about the experience in an interview. She said,
'My whole eye was closed. I had great bumps like eggs on my head, bruises black and blue. You wouldn't have recognised me. He once tried to hit me with a crowbar but missed.'
However, Kierston had never thought that any individuals could be that worse. She said,
'He was the worst. He was very ¬charming and from a good background. I thought he was too good to be true – and he was,'
Kristen further revealed that she completely lost her confidence, turning into a nervous wreck during that time. She started to feel incapable and unworthy of anything. But the things became better after she relinquished the relation.
Miscarriage and support from EastEnders
Kierston confirmed that she was four-month pregnant when she faced a miscarriage. She was on the set of BBC soap at the time the miscarriage occurred. Being single women she feared about the job in EastEnders(2012-2014) as she was to have a baby but nothing very frightening happened. In fact, she told in an interview with hello magazine that EastEnders was very supportive. She said,
'It's been hard, especially at four months when you've got the baby scan picture and everything's fine. EastEnders were very supportive during that time.
However, the unfortunate Kierston lost the child before he could even witness the world. She was immensely tormented and despaired after the miscarriage occurred.
Well, we talked so much about the miscarriage, but Kierston never told about the father of her child. Was she secretly married and chose not to confide about her husband?
Her Short Bio:
Born on 7 January 1978, Kierston Wareing started her career with Ken Loach's "It's a free world". She has been part of various movies including Fish tank, Wire in the Blood, The Shadow line, and Trial and Retribution. Kristerton has been nominated thrice for British Independent Film Awards and one BAFTA award.
Caption: Montage of clips showcasing Kierston Wareing. Clips from The Shadow Line, Fish Tank, and The Take