Entertainment
Theo Von Dating Status Amid Gay Rumors | Family Insight
Theo Von is a man, who dons many hats; Besides being a widely recognized stand-up comic, he's also a TV show host, podcaster and a burgeoning entrepreneur. A humble person at heart, the New Orleans native, credits all his success to his family. His father, to be more specific.
Considering all things, is there a man alive who's perfect than the No Offense star? His love interest & the former Real Housewives of Beverly Hills star Brandi Glanville certainly doesn't think so.
Is the pair still dating? Or have they "upped the ante" by getting married? What about the rumors of him being gay?
Married or Dating Still?; Any Truth to Gay Rumors?
Theo, age 38, is smart, affable, charismatic and above all, full of humor. It's no wonder that Brandi hopelessly fell for the Last Comic Standing star.
Love smote Brandi, speaking to The Daily Dish confirmed the rumors of them dating in April of 2016. Although she refrained from calling Theo her boyfriend, one could easily discern the excitement in her voice when she talked about him.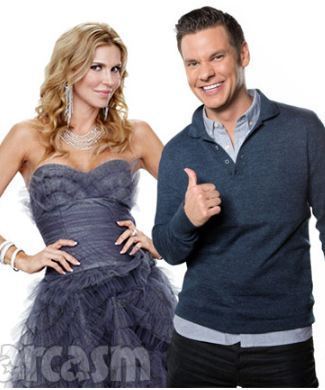 Theo Von and reality star Brandi Glanville first got romantically linked in April 2016 (Photo:- liverampup.com)
Of all qualities possessed by the comedian, his love interest Brandi seemed more enticed by his ability to make her laugh. As genuine of chemistry there existed between the two, she just loved hanging around him.
At the time, both Theo and his girlfriend Brandi were busy with their respective projects, which made their relationship all the more palpable. But in the end, their busy schedule got the best of their brewing romance.
What should have been a blissful married life, ended up being a tragic love story in the end. Barely a month into dating each other, the duo called it quits.
More Story On Brandi:- Donald Friese Splits with Brandi Glanville, 45! What Caused it?
And since the breakup, the Road Rules: Maximum Velocity Tour star has opted to keep his romantic life on the down low, reserving his thoughts on dating & married life for Twitter.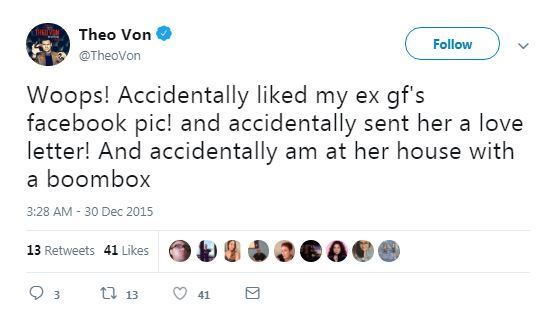 Theo Von cheekily mentions girlfriend in a tweet dated back to 2015 (Photo:- Theo Von's Twitter)
As for his gay rumors, there's some truth to it. His partner, you ask? Football! Well, he admitted being gay for football via his Tweet of 8 Sep 2017.
Believes Weird Family Fact Turned Him Comedian; Net Worth Revealed
Gay or not, Theo - who stands 6 feet (183 cm) in height - is a rare success story. With a whopping net worth of more than $500 thousand, his entrepreneurial acumen revolves around what he knows best, which is the comedy. Look no further than CrankTexts.com, a prank-filled website he founded.
Explore:- Will War Machine Ever Get Married Given These Terrible Dating Record?
Born to parents Gina Capitani and Roland von Kurnatowski Sr., the former Inside Amy Schumer credits all his achievements to his family. Even more so striking is the fact that he and his father share 70 years age difference.
And according to Theo, the mere fact alone makes him a stand-up comedian. In one of his gigs, he explained:-
"My father was 70 years old when I was born, OK? True story; I'm not joking. My dad was born in 1910, I was born in 1980, which basically makes me a stand-up comedian."
To those unfamiliar with the 38-year-old bloodline, he is of Italian, German, English, Sottish and Polish heritage.