Entertainment
Did Kristen Doute Escalate Her Dating Affair With Boyfriend? Looks So
When the connection is right, no matter the duration, one feels comfortable in taking the next step in a relationship. Some relationship takes forever to jump to the next step; some never make it to the next level while there is few whose dating affair keeps on escalating.
The reality star, Kristen Doute can explain this better to you as she and her boyfriend are also taking their relationship to the next level.
There is no doubt that the pair is head over heels in love with each other, and if you too want to witness that love, then scroll down as we are about to put their love affair in the limelight!
Kristen Doute's Escalated Dating Affair With Boyfriend:
The reality star, Kristen Doute is all smitten with her boyfriend, Brian Carter. They first knew each other through a dating app called 'Bumble.' They met each other back in 2015 somewhere around July and were already serious about their relationship by August.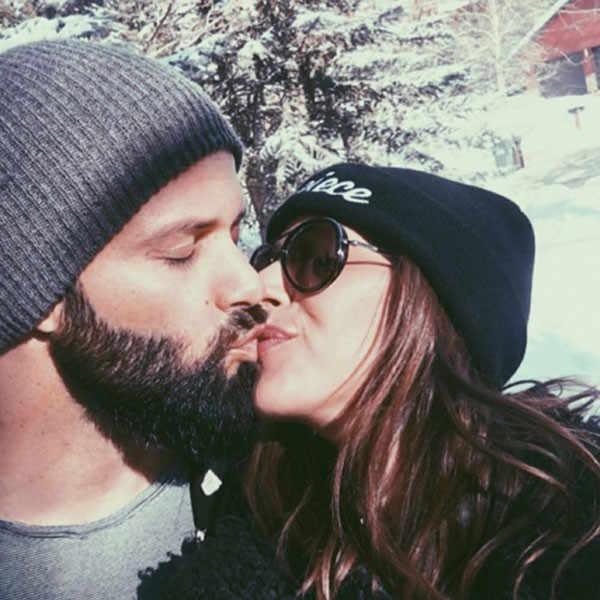 Kristen Doute and her boyfriend Brian shares a kiss. (ENews!)
By the time they started dating, Brian lived in Venice, and Kristen lived in Hollywood. When they were really getting to know each other, Kristen, unfortunately, had an accident.
While she was going through the difficult time, her new boyfriend Brian was there to look after her, both before and after surgery. That is when the couple decided to live with each other.
According to Kristen,
Then, when my accident happened in October, he was here taking care of me, the entire month before my surgery and then the month after. After that, his lease was up and it was decision-making time. Instead of signing a new lease, he started staying with me.
An adorable member joined the pair when they got a brand new place together. If you are wondering if she was pregnant, just take a step back!
The couple moved in together and adopted an adorable dog named Gibson Nicks. Take a look at their fur baby!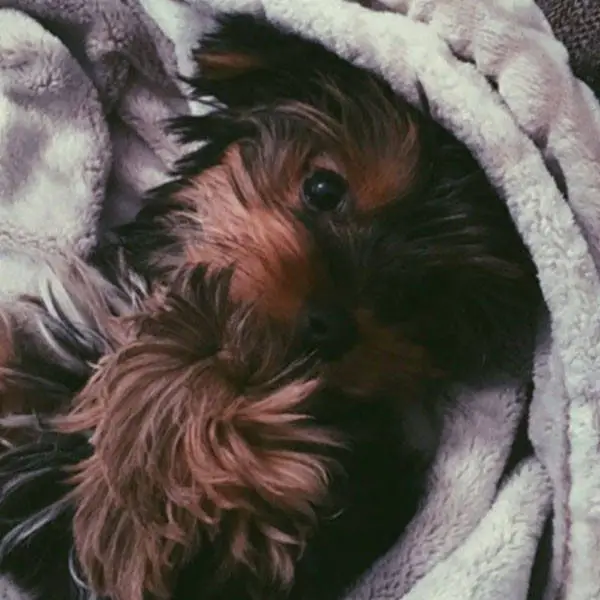 Kristen and Brian's fur baby, Gibson Nicks (ENews!)
And when asked about their amazing chemistry, Kristen said,
"The best thing about him is that he's just very honest and communicative.Our communication skills are spot-on. It works. It just does. When we met, we just sort of knew on the first sight. My friends love him, his friends love me. It just works."
Meanwhile, she gave her fans something to cheer about. She posted a picture flaunting her belly on Twitter which looked like a pregnant belly.
For a while, her fans really thought she was pregnant, but she cleared that out later with a tweet.
The only thing I was prego with was an enchilada baby.

— kristen doute ???? (@kristendoute) September 14, 2016
For now, the couple is just moving in together, and they do share an adorable picture of them.
On April of 2017, Kristen surprised her fans by posting a picture with a big ring on her finger. Since she beautifully flaunted the ring, many of her fans congratulated for their engagement.
On the other hand, few of her fans were doubtful about it being a prank on April Fool's day. Well, at the end it was discovered to be a prank as she posted another picture without a ring.
Before the cupid struck between Kristen and Brian, the Vanderpump Rules star, Kristen was in the relationship with her co-star James Kennedy. The relationship went in the gutter after James confessed he dated her to get on the reality show.
There is more to Kristen Doute than just a reality star, as she has her own clothing line. With her career as a reality star as well as the owner of a clothing line, Kristen currently enjoys the net worth of over $250k.
Think we're missing something? Do let us know in the comment section below!