Entertainment
Landon Clements Brewing Hard Feeling For Ex-Husband? But Everything Is Alright With The Child
Equations with your partner changes with passing time. Sometimes, the person whom you think to be perfect may not seem so in the long run. The thought is scary though, but you need to accept the reality and move on, for the better things waiting for you in life.
Landon Clements knows that very well; she was once a married woman, but when she realized her marriage wasn't working out, she accepted the truth and moved on in life. But does she still have hard feelings for her ex-husband? Let's dig in deep into the couple's past for the answer!
Landon Clements Feeling For Her Ex-Husband:
Landon and her ex-husband, James Maby met when she was 24 years old and was in Telluride, Colorado to Ski. The relationship soon blossomed, and the pair got married and officially became a husband and wife on October 24, 2008.
Landon and James were together for seven years, and they lived some beautiful moments together as evident in the pictures that surfaced the media.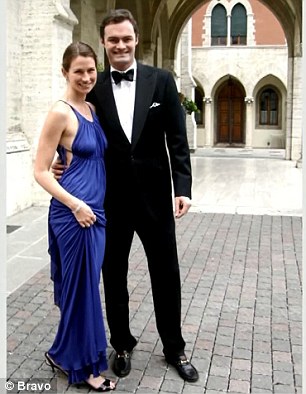 Caption: Landon Clements and James Maby were once a husband and wife.
Photo Credit: Daily Mail
But the happy days did not last long; Landon started feeling incredibly lonely; so she left her ex-husband James and California. Landon shared her feelings as,
"I was living the dream. We had a house in the [Hollywood] Hills, swimming pool, staff, the cars, the jewels. When I moved out of the house I pretty much just walked away from all of it…. "
She added,
'On the inside I was so alone, so I packed up and left. Sometimes you just have to save yourself."
Landon and James separated in 2013 and James soon moved on in his life and started dating actress Kam Heskin around 2013. Their relationship flourished, and James and Kam became happy parents of a baby boy in January 2017.
James was also married to Stacey Dash for about a year in 2005. The then pair share a daughter together, Lola.
Landon's fellow 'Southern Charm' stars Kathryn Dennis, and Jennifer Snowden are parents as well. As people with children constantly surround her, she too wishes to have children. Landon's tweet on April 2017 evidently shows her wish to have children and her fans hope that her wish gets granted soon.
She even expressed her wish on Southern Charm, but she feels that it's not in her cards, as even until the age of 35, Landon is yet to become pregnant and have children of her own.
Consequently, the reports of Southern Charm fans' speculations surfaced the media, that stated she is brewing hard feeling for her ex-husband, as he is living the dream of becoming a parent, and she is not. But when we take a look at it, the speculations seem to be a slight misunderstanding.
Despite sharing a bitter past with her ex-husband, James Maby she shares a close bond with her teenage step-daughter. In an interview in June 2017, she shared about her relationship with her step-daughter in a statement that said,
" I also have a 14-year-old stepdaughter and that's a lot of the reason why I've been back in California so to be able to spend more time with her now that she's out of school. So this whole 'I don't understand kids or what it is to be a mom,' like, I've had a child since I was 24 years old,"
She added,
"I mean Lola was 3 when I started dating my ex and she just turned 14 last week. So I've sort of raised a child. I know what it is. I was the girl scout leader when she was in kindergarten and you know did all of this stuff. I love it. I have two nieces. I come from a really big family, so that's just very natural to me."
Moreover, Landon strongly expressed herself as,
"you don't divorce children. That's probably because it's too hard for them to deal with. You've got to be there for the kids. Who cares about the adults? You go work on yourself. This is a child."
It seems that she has a nurturing quality, which would be a plus point while parenting.
Landon, who celebrates her birthday every year on April 23, is an American designer and reality television personality. She is known for her presence in Bravo TV's popular reality show, 'Southern Charm.' Talking about her financial status, Landon, as of this date, enjoys a staggering net worth of $ 3 Million.