Entertainment
Lauren London Confirms About Being Pregnant: Boyfriend Nipsey Hussle as Baby's Father
When something great is to happen in our life, we cannot keep the good news to own self. We find out one way or other to express that happiness to others. In this regard, today we are talking about an actress who adopted a real subtle way to confirm the news about her pregnancy to her fans.
The ATL actress, Lauren London's pregnancy news with her boyfriend, Nipsey Hussle flared in the media after T.I, casually revealed about it in a live Facebook broadcast of his interview on May 18, 2016, in the Cleveland radio station Z1079. He confided it when he was asked about the production status of his movie of ATL 2. He said,
"Aye man, we working on it presently.We got a couple obstacles in our way man. Like, uhhh, my lil sis man. She about to have a baby. So we gone have to let her get that time out of her system and you know when she back in 'New New' shape we'll be ready to roll."
How Did Lauren Reveal Pregnancy?
After T.I disclosed about her pregnancy, Lauren took an indirect way to confirm it. She uploaded the picture of Eva Mendez in Instagram, who gave birth to her second child (with boyfriend Ryan Gosling) in May without providing the prior information of being pregnant.
Pregnant With First Child:- Skylar Diggins-Smith Pregnant With First Baby, Who Is Her Husband?
There was no news in the media before and it became a big surprise to everyone after Eva gave birth to the child. Lauren had mention #the blueprint in the post caption, that hinted she is also adopting the silent nature of birth. Is she also going to hide her pregnancy until she gives birth to a baby??
The post uploaded by Lauren London of an American actress and model, Eva Mendez
The pregnancy of Lauren did not just make her happy but all her fans. She was flooded with many good wishes after the news became public.Fans were desperate to look if the baby was son or daughter as Lauren herself was.
Eventually, Lauren gave birth to a son named Kross on 31 August 2016. The baby was born healthy and no complications occurred during his delivery. Kross, who celebrated his second birthday in August 2018, is growing swiftly like a weed and enjoys playing with his older siblings.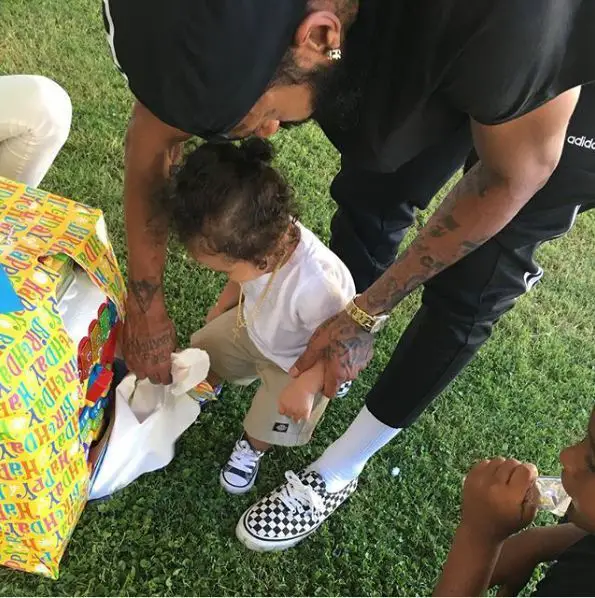 Lauren London's son Kross celebrates his first birthday with his dad Nipsey Hussle on 31 August 2017 (Photo: Nipsey Hussle's Instagram)
In the meanwhile, Lauren and her boyfriend Nipsey Hussle are enjoying parenthood and the same time working out on their romance. The couple, who have been dating for a while now, went through a halt in their relationship when they were burdened with the added responsibility of being parents.
Baby Father Revealed:- Roxanne Shante Baby Father, Relationship, Parents, Net Worth
However, after they took some time to work on their romance while also performing their duties as adults, Lauren and Nipsey have patched up their relationship and are leading a loving family in the presence of their children.
Baby's father is her Boyfriend Nipsey Hussle:
Lauren and Nipsey are dating since December 13. They have spent some incredible moments together and now are expecting the symbol of their love. Lauren is about seven months pregnant now and the baby is scheduled to come in October this year. It is a really big time for this couple.
Her previous Relationship: Boyfriend and Dating
Lauren dated the Grammy Award-winning rapper, Lil Wayne after she met him in 1998.
The ex-boyfriend also sang several songs about her including "Frontin Remix", "California Love", and "Look at Me Now". The couple also revealed that they were having a baby.
In 2009, she gave birth to a son named Cameron Lennox Carter. Though the date is not disclosed, Lauren and Lil Wayne ended the relation later.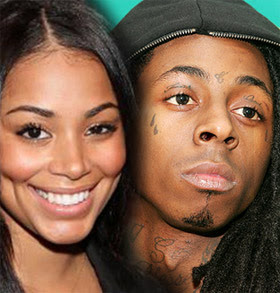 Caption: Lauren London and ex-boyfriend Lil Wayne (Source: wordpress.com)
Lauren's Short Bio:
Born on 5 December 1984, Lauren London is best known for her roles in New-New – ATL andThe Game. She began her career with music videos and later transitioned into film and television acting. She starred in the movies including This Christmas (2007), Next day (2009), Baggage claim (2013) and The perfect match (2016). She enjoys a staggering net worth of $6 million.