Entertainment
Leighton Vander Esch Age 22 & Girlfriend, Dating To Engaged Details
Getting married is one of the most significant commitments a person can make in life, and the decision should never be taken in haste. There are shreds of evidence of what a broken marriage can do to people including an individual getting involved with drugs, alcohol and even depression in some cases.
NFL player Leighton Vander Esch, who led a loving relationship with his girlfriend, is considered a mature person for his age but making a life-long commitment to tie the knot was not expected of him. Well, he surprised his fans by getting engaged to his longtime girlfriend.
Engaged To Girlfriend After Dating For While
Leighton had been dating a woman named Maddy Tucker for a while, and they enjoyed romantic moments together. However, no one had expected the young athlete, who only ages 22, to be serious about making a life-long commitment.
Earlier, the couple took multiple trips to various destinations, but his decision to take a step further in the relationship indeed came out of the blue.
Newly Engaged Couple:- Former Miss Universe Demi-Leigh Nel-Peters & Tim Tebow Engaged, Details
On 5 July 2018, Leighton proposed his girlfriend for marriage and Maddy was more than happy to accept his sweet gesture. He mentioned via an Instagram post that he had finally made his romance official by getting engaged to his girlfriend and also expressed his excitement in starting a new life with his fiancee.
"If you didn't think it was official then, it is definitely official now! So excited to go on this journey of life with the woman of my dreams!! Thanks for saying "yes" babe ...I was kind of worried. I love you!"
The couple also recently got a pet for themselves implying that the two have enough love to spare for a new member of their family.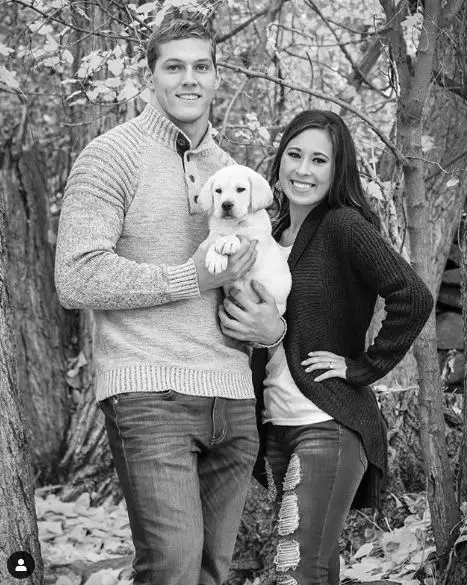 Leighton Vander Esch with girlfriend Maddy Tucker and their pet dog in October 2018 (Photo: Leighton Vander Esch's Instagram)
As of now, the pair is enjoying their time together as a newly engaged couple. Although the duo has not revealed their plans for a wedding, fans are psyched to see the lovebirds exchanging their vows.
Dallas Cowboys' Linebacker: Stats, Injury, And More
Belonging from the small town Riggins in Idaho, Leighton credit his parents: Darwin and Sandy Vander Esch, and family for his immense success at a young age. His family's unconditional support - even to the point of touring in a bus with the picture and number of the footballer - has been an inspiration for Leighton to work hard.
Leighton, who attended the Salmon River High School, played for Boise State University. He has now proven himself as a professional player-material with his entry to the Dallas Cowboys as a linebacker.
More NFL Players:- Who Is Dante Pettis, NFL Star's Girlfriend? He Just Can't Be Single
His stats reveal that he contributed 102 solos, 38 assists, and two interceptions during the 2018 NFL season which is considered above average for an inexperienced player. Leighton also earned a salary of $480,000 in 2018, and his salary is set to rise to $1,018,535 in the 2019 NFL season.
But, with success, there're also challenges. Leighton suffered an injury while playing against New York Giants on 30 December 2018. He was rushed off the field by medical staff to be cured.