Entertainment
Who Is Dante Pettis, NFL Star's Girlfriend? He Just Can't Be Single
In his rookie NFL season, San Francisco 49ers' wide receiver Dante Pettis has shattered all the expectations. The said NFL team's second-round pick this year's draft, in the last five games or so, single-handedly steered the team to victory.
The sky seems to be the limit for Dante, who comes from a family full of sports enthusiast. Safe to assume that former Washington Huskies player's dad, an MLB coach and his brother, a soap opera star in the making, will have his back, no matter what.
So a question begs: a fan favorite - a hit among the female demographics - does Dante have a girlfriend? Read along to find out!
Girlfriend Talks: Is NFL's Newest Star Single Or On A Dating Spree?
Nobody embodies the term standout quite like Dante!
NFL Athlete In Our Vault:- Ryan Nassib, NFL Quarterback Stats, Salary & New Contract
Whether it's because of his game-winning performance on the pitch or his unorthodox amusements outside of it, the Serra High School graduate has everything that would make any girlfriend proud.
Lucky for his female fans, it looks as if he's up for grabs, having shown zero indications of a possible love interest. That said, at age 23, a time often dubbed young man's sexual prime, Dante could be opting to hide his girlfriend for now.
But then again, when has the San Francisco 49ers' ace - who rocks colorful dreads, loves cats, is into photography and identifies himself as a voracious reader - ever been the timid type?
Behind Dante Pettis Supportive Family: Coach Dad & Actor Brother
The Pettis household seems to be brimming with success and creativity.
Another Athlete With Mystery Girlfriend:- Jalen Hurts Career Drove Girlfriend Apart? Height, Weight, & Parents Detail
Much like Dante - who loves to sing, dance and perform - his brother Kyler is a star on his rights. An aspiring actor, Kyler starred as an autistic character named Theo Carver in the soap opera Days of Our Lives.
Moving onto the 23-year-old's sporting aspirations, his dad Gary Pettis - five gold gloves winner and present MLB outfit Astros' third base coach - had hoped that he would follow his footstep. But as he began to come of age, Dante leaned more towards football. He shared the ordeal in 2018 sacbee.com interview by saying:-
"I think he kind of knew that football was where I was leaning to. I had had a lot of fun playing baseball and everything like that, but I don't know, there is something about football that is just different than every other sport. I think he saw that I had that kind of passion for the game."
In the end, his decision to stick with football bore fruit as he got drafted by the NFL giant San Francisco 49ers, on the back of stellar college football career at Washington Huskies, in 2018.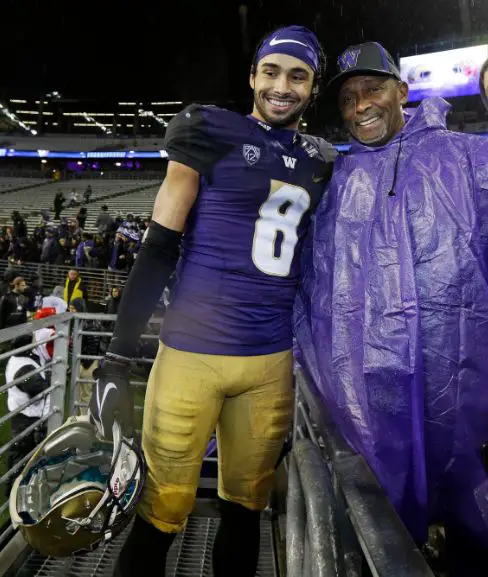 Dante alongside his dad Gary poses for a snap (Photo:- thesacramentobee.com)
Discover:- Anllela Sagra Bio: Stunning Model Explicit Details - Age, Boyfriend & Family
A well-known individual among the Astros squad, his drafting got recognized by the team as they formed a line inside the dugout to congratulate his dad before then-three match series against rival Athletics. Gary - whose wife, Peggy's a former Raiderette cheerleader - later recounted the day by sharing:-
"My fear was that he was going to get drafted and I wasn't going to be able to see it. And as I ran upstairs, I saw that the 49ers had made a trade. And in the back of my mind, I had this feeling that this could be it. And sure enough, I heard them say his name. And, man, what a thrill that was."
Speaking of family legacy, Dante is cousins with fellow NFL athlete Austin Pettis, who played college football for Boise State.