Stand-up comedy is now considered a thing of the past; however, many comedians rose from the platform and led a successful career in mainstream entertainment. One of such is Lil Rel Howery. He did a series of minor roles on TV and movies before establishing himself as a household name.
A renowned comedian-actor, Lil is known for multiple acting jobs. Despite his success, he hasn't abandon stand up comedy as he often involves himself in funny jokes.
Family & Parents
Lil Rel Howery (real name: Milton Howery Jr.) was born in Chicago, Illinois as the son of African-American parents: Milton Howery and Nancy Howery. He also has a brother named Matt in his family.
Bio You May Like:- Emily Skinner Wiki, Boyfriend, Siblings, Parents
Lil was incredibly close to his mother, and she has also featured in several of his comic acts. Sadly, she passed away in 2009.
Lil Rel: Age, Net Worth & More
Lil Rel, age 39, became interested in comedy since he was a young boy. So, to transform the hobby to his passion, Lil, with a height of 5 feet 6 inches (1.68 m), started his career as a stand-up comedian; performing in local bars and clubs.
He got his TV break on through the reality show Last Comic Standing in 2007. He also appeared in several plays and movies including Get Out, Bird Box, The Carmichael Show, Rel, Drop the Mic, and more.
From his career as a comedian-actor, Lil Rel has accumulated a substantial fortune. His net worth amounts to $2 million as of 2019.
Married Once, Ex-Wife Sues For Child Support
Lil Rel was a happily married man for several years, before a series of misfortunate events.
The comedian-actor exchanged the wedding vows with his girlfriend, Verina Robinson on 29 November 2008. Soon after, the couple became parents to two children: daughter Brittni and son Judah.
However, Lil's marriage with his wife wasn't meant for long as Verina filed for a divorce in 2015. The separation wasn't the only tragedy that hit the actor as he was also arrested a year later and was forced to spend a night in prison for assaulting a fellow driver.
Divorced From Cheating Partner:- Lisa Nicole Cloud Background: Cheating Husband, Married Life Shaken, Divorced?
After his divorce was finalized in 2017, Lil and his ex-wife were given joint custody of their children. His kids would often spend time between Chicago and Los Angeles, where their parents lived.
Just as everything was getting better for Lil, he got sued by his ex-wife and also a former lover. His ex-wife sued him for more child custody while his ex-girlfriend named LeChez Davis claimed of having a child with the actor. The ruling of the case is still impending.
Meanwhile, Lil is reportedly not dating at the moment; however, he can still pose as a married man on screen. In April 2019, the actor unleashed his onscreen wife Teyonah Parris, with whom he will share screen time on upcoming Universal's movie, The Photograph.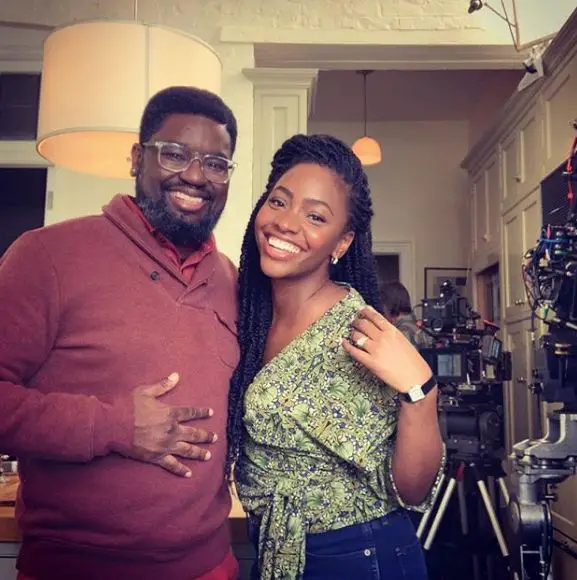 Lil Rel Howery and Teyonah Parris act as husband-wife in the 2019 movie, The Photograph (Photo: Lil Rel Howery's Instagram)
Despite getting a beautiful wife onscreen, Lil is without an active dating life at the moment. But, his dating status could change at any time as the actor is not known to remain single for long.