Entertainment
Lilly Ghalichi & Husband Are Pregnant! Inside Married Life And Family Bliss
The ravishing brunette beauty, Lilly Ghalichi skyrocketed to fame after appearing in the second and third season of Bravo's American reality show 'The Shahs of Sunset.' With the popularity of the show followed by her beauty and fashion brands, Lilly has evidently garnered a whole lot of followers.
Now, if you are also a fan of this lady, then you probably are acquainted with her works and accomplishments, but how aware are you about her prosperous married life?
Follow us in the article below to get familiar with Lilly's current life happenings.
Lilly Ghalichi's Life Behind The Camera
The self-proclaimed "Persian Princess," Lilli Ghalichi whose real name is Neelufar Seyed Ghalichi, is living a blissful married life with her loving husband Dara Mir, and their relationship is now progressing towards the next level with upcoming parenthood they are about to experience. Lilly Ghallichi is pregnant with their little bundle of joy, and their happiness is over the moon now.
The 34-year-old reality star, Lilly took the happy news to her Instagram account on 25th March 2018 by sharing a picture of herself sitting on her husband's lap, while both of them cradled the growing baby bump.
In the caption that accompanied the picture, Lilly announced that she and her husband are expecting their first child. Lilly even made sure to address her fans expressing that; after having shared different stages of her life with them, she is happy to be able to share the most special chapter, her motherhood, amidst her followers. She wrote,
Baby (and Daddy's lol) first makeup party!! ?? Thrilled to announce my husband and I are expecting our first child ?
I have shared so many different stages of my life with you all, from starting my first business to being on a television show, heartbreaks, finding my true love- and now, I get to share the most special chapter of all with you, motherhood??#GhalichiGla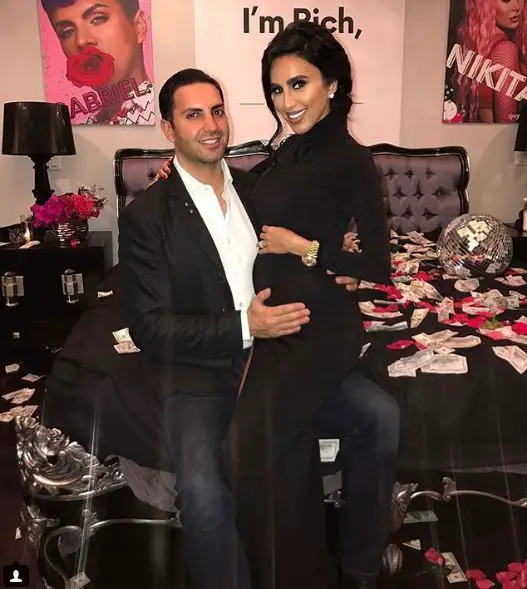 Lilly Ghallichi, Dara reveals pregnancy news (Photo: Lilly Ghalichi's Instagram)
The soon to be parents tied the knots in front of a giant wall of pink and white roses in a fairytale-like lavish wedding ceremony at Beverly Hilton hotel in Beverly Hills back on 6th May 2017, after Dara proposed Lilly with a big pear-shaped diamond engagement ring on August 2016.
The couple first met as neighbors but weren't aware of the fact. After Lilly sought approval from her condo's homeowners' association to obtain an additional parking spot, the two got to know each other. Then the duo exchanged their emails and met in their building's lobby and soon after a couple of meetings, they found themselves inseparable.
Before Dara, Lilly was engaged to her ex-boyfriend Dhar Mann in April 2014. But soon after the engagement, Lilly announced their split without expressing the exact reason for their break up. However, she wished Dhar the best in life!
As for now, it seems like Lilly has found her Mr.prerfect to build up a perfect family with and her fans and followers too, can't wait to see the couple make together through all the coming years.