Entertainment
Lydia Bright Backlashes Boyfriend While Dating New Flame - Bad Blood All Over
English Television personality, Lydia Bright is best known for appearing in the ITV's reality show, The Only Way Is Essex along with her boyfriend.
Despite having their stars enhanced through the show, their relationship failed to keep up with their rising fame. The couple went their ways after incredible infidelity claims against her boyfriend.
Dating New Boyfriend? Not Really!
Lydia was in the romantic relationship with her The Only Way Is Essex partner, James Argent since the couple was still in their teens madly in love with each other. And after many years of relationship, they had on/off romance.
But, in 2011, James confessed that he had been cheating on her in 2011. After James' admission of cheating, she moved on with her fellow TOWIE star Tom Kilby and shared the romantic on-screen chemistry since February 2012. Also, her ex James moved on with Essex blonde bombshell, Gemma Collins.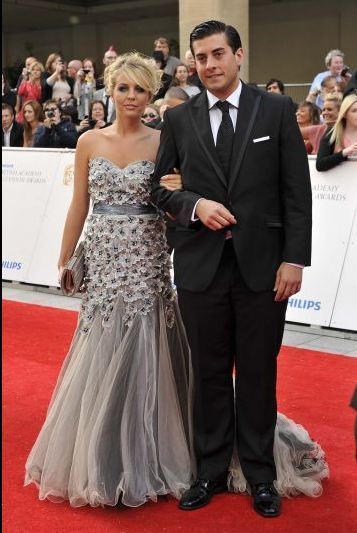 Lydia Bright and James attends the 2011's BAFTA Awards together (Photo: Getty Image)
However, the couple dated only over a year and called off their relationship after six months the couple quit the reality show to focus on their career in 2013.
Don't Miss:- James Argent Is Allegedly Loved Up With Young Girlfriend; A Dating Affair To Last?
Though the couple moved with another partner in their life, it seems they could not get over with each other. However, the couple decided to give their 7-year on-off relationship another chance in 2015 and appeared to be blissfully happy than ever. They also ruled the social media with their cozy pictures. But the things could not go smoothly between them and they called it quits.
During an interview with Lorraine in 2016, Lydia revealed:
"We broke up seven weeks ago, it was a tough decision to make, but I felt like I didn't really have a choice. I'm feeling a to stronger, a lot happier now."
After she broke up with James, Lydia reportedly spent the night with Jamie Reed. Also, she went on sharing the romantic gestures with hunky car garage owner Lee since June 2017. She shared a romantic snap with the hunky mechanic back in July 2017, after a year of a split from James.
Following her good relationship with Lee, she announced that she is single in October 2017. She stated:
"I was with that boy Lee but me and him were a holiday romance and we got back and were still talking but, it just kind of…"
As a popular reality star, she has a very busy schedule which has made her way hard to find the perfect guy for her, also in 2017, she said to The Sun that she would love to find the perfect partner and she has no rush for it. She said:
"I would love to find The One one day but I'm not in any major rush and I'm not going to just settle for something. It will happen one day but I'm not stressing out."
Moreover, again in February 2018, she revealed on the red carpet that, she is secretly dating someone and denied to reveal the identity.
See Also: TOWIES' Dan Edgar Age 28, Dating Girlfriend Amber; On And Off Relation Now Stable?
The 28-year-old star hit the red carpet at BAFTAs in London February 2018 where she revealed that she was dating again. Further, she described her new man as the secret love. She hinted that her new boyfriend was not in the public eye and she wanted to keep her new romance very private.
"I get a little bit shy around guys. I'm seeing someone but it's all fairly new."
Further, she described that her new eye-catcher was not a celeb but an ordinary man. She stated:
"He's normal. Not a celeb. I had such a public relationship it's nice to have something to myself."
While she was gushing about her "public-relationship," Lydia was referring to her high-profile relationship with her fellow co-star from Towie, James Argent. It seems that she does not want any public attention and eagled -eye on her new relationship.
The most surprising revelation came when Lydia revealed that she never broke up with her mechanic boyfriend Lee but had kept her relationship secret. In April 2018, she said:
"We're really, really good. Me and him went to Morocco. I kept it secret for a very long time but we've actually been together for nearly a year. We live together. I just had such a public relationship that I just felt it was nice to hold back a bit. There's less pressure.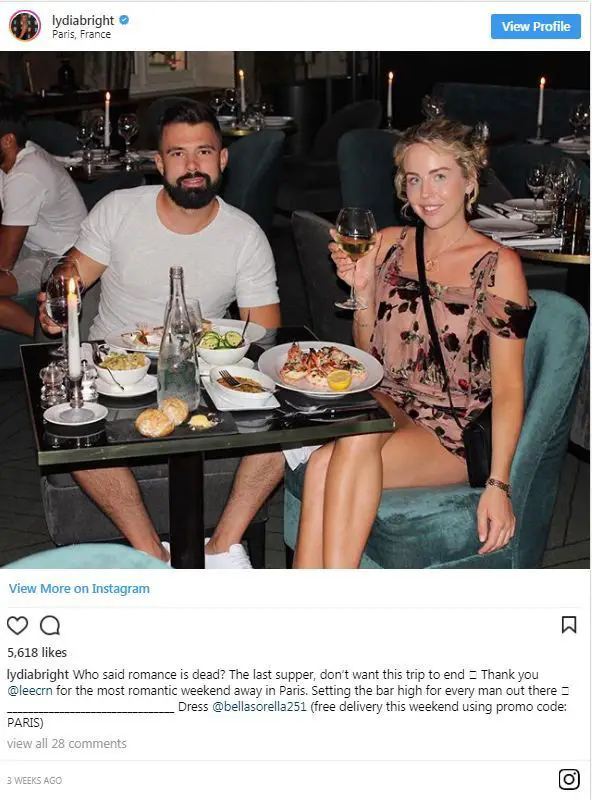 Lydia Bright announces her romance is not over with boyfriend Lee Cronin (Photo: Lydia Bright's Instagram)
Also, she explained that during the Bafta, she was just playing a prank with the media. She also accepted that people made an assumption about her breakup and about her new boyfriend. She revealed:
"I was asked when I was at the Baftas and everyone thought we weren't together and they thought I had another boyfriend. But I've been with him for nearly a year."
So, when a celebrity is mum about their relationship, it does not mean that she has marched onto the new relationship. Sometimes, they also want their life to be private like an ordinary people.
Back Lashes
The Crystal Maze star finally came out with her relationship with the Lee. Well, they successfully kept their relationship away from the headline.
Here, she appeared on Comedy Central UK's The Chris Ramsey Show, where the host Chris welcomed her with the difficult questions. Chris asked her the most private question about her relationship. He striked her asking who is better in bed; her ex James or her current boyfriend, Lee Cronin.
Lydia's older sister, Georgia quickly answered the question without giving a second thought. She said her current boyfriend is better than her ex-boyfriend. She also slammed that her ex-boyfriend has a small manhood comparing to her current boyfriend.