Entertainment
Does Madison Keys Have A Boyfriend? A Look Into Her Personal Life That Might Just Have Pictures Of Her Family
We admire and love the sportsperson for the game they deliver, but off the sports vicinity, the players have their personal life which equally grabs the attention of the sports geeks. And it's a treat when the personalities we idolize are open to their fans, giving away the tidbits of their personal life.
The three times WTA Premier tournaments winner, Madison Keys is also someone who is up for treating her fans, as she marks her significant presence amid her fans through social medias like Twitter, Instagram, and Facebook.
So, why not take a closer look at the personal details of this American professional tennis player, which might reveal if she does have a boyfriend as well!
Madison Keys' Personal Life:
The 22-year-old young player, Madison is glorifying her family name and the nation, but at the same time, appears to be lagging in regards to a beautiful relationship of love.
Dating somebody and having a boyfriend, currently don't seem to have homed her mind and heart. That is probably the reason for this lady to remain single till this date.
Moreover, Madison belongs to an African-American family, which is her ethnicity as well. However, she favors being called by her name and not marked as black or white.
"I don't really identify myself as white or African-American. I'm just me. I'm Madison."
Well, she is not the only child in the family, as she has three siblings namely, Hunter, Montana, and Sydney Keys who share common parents Rick and Christine Keys.
Madison's Tennis Carrer At A Glance:
Ranking herself behind the two American sisters, Serena and Venus Williams in WTA, Madison currently stands at No.16 in the WTA rankings with 2343 points. She has three WTA and three ITF titles in her name and has the experience of winning the Williams sisters.
Madison is yet to claim any Grand Slam titles but was successful in making her spot to the semis in Australian Open, 2015 and the quarter finals of Wimbledon the same year. She maintains a win loss ratio of 215/121 throughout her career, while it's 11/8 as of this year.
Moreover, Madison has also gone through bad times in her career; she has encountered wrist issues since the US Open in 2015 and has already undergone two wrist surgeries, first at the end of last year and the second one in June this year.
With the worsening injury, she even missed the Australian Open early this year!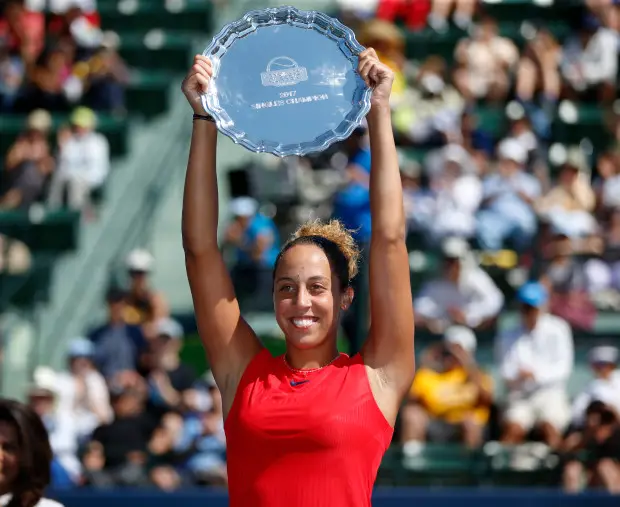 Caption: Madison lifting the trophy in 2017 Bank of the West Classic.
Photo Credit: mercurynews.com
Overcoming the injuries, Madison is now supposed to have made a comeback claiming the WTA title for the year 2017. She won the final of 2017 Bank of the West Classic over CoCo Vandeweghe on August 6 this year.
Stay with us for the emerging updates on Madison Keys!