Entertainment
Marc Mezvinsky gets Married to His Wife in an Intimate yet Expensive Wedding
Many of them called it the wedding of the year and rightly so as it is one of the most imitate weddings which happened in 2010 and why not? After all, it was the wedding of the daughter of former US President Bill Clinton and Hillary Clinton who was the former US secretary of state and also gave candidacy for US presidency in 2016.
So did the wedding went down in style, that too of one of the world's powerful couple's daughter wedding? We'll follow it up!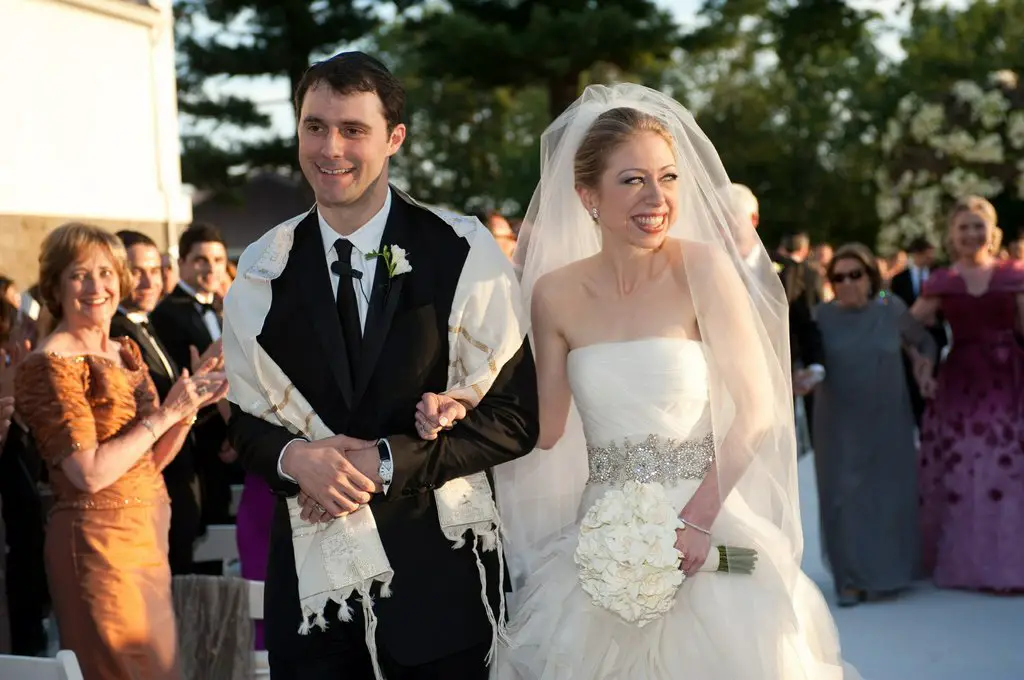 Caption: Marc Mezvinsky and Chelsea Clinton wed on July 31, 2010.
Photo Credit: nytimes.com
Although Bill and Hillary Clinton have kept their daughter, Chelsea away from the limelight, July 31, 2010, was the day when finally they had to keep their daughter in the frame.
She wed Mr. Marc Mezvinsky, an investment banker at 3G Capital Management as well as the son of two ex-Democratic members of Congress, Marjorie Margolies, and Edward Mezvinsky in Rhinebeck, New York.
Marc's father Edward Mezvinsky served as a Democratic congressman from Iowa, and in the U.S. House of Representatives and on the other hand, Marc Mezvinsky mother Marjorie Margolies also served to represent Pennsylvania in the House of Representatives.
At 7:23 p.m. on July 31, 2010, came an announcement from the Clinton family via e-mail:
"Ms. Clinton was now married to Marc Mezvinsky. Today, we watched with great pride and overwhelming emotion as Chelsea and Marc wed in a beautiful ceremony at Astor Courts, surrounded by family and their close friends.We could not have asked for a perfect day to celebrate the beginning of their life together, and we are so happy to welcome Marc into our family."
Ms. Chelsea Clinton wore a strapless gown, beaded at the waist and was designed by Vera. The mother of the bride, Hillary wore a plum-colored gown by Oscar de la Renta. The interfaith ceremony was conducted by Rev. William Shillady and the Rabbi James Ponet. Ms. Clinton is Methodist whereas Mr. Mezvinsky is Jewish.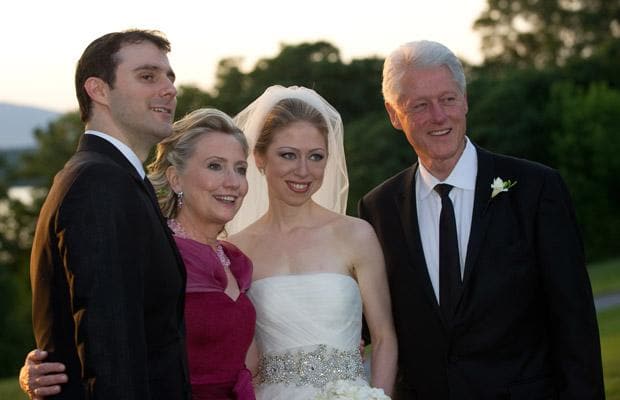 Caption: Bill and Hillary Clinton along with their daughter Chelsea and son in law Marc Mezvinsky after the wedding.
Photo Credit: telegraph.co.uk
Moreover, the wedding included elements from both traditions as like, family and friends reading the Seven Blessings, which are primarily recited at traditional Jewish weddings following the vows and exchange of rings.
It is one of the immediate weddings, and the ceremony cost around $3 million. According to an ABC News report, the hefty price tag included $750,000 for catering service, $250,000 for flowers, and another $250,000 for the rehearsal dinner. Chelsea's wedding dress was valued around $15,000, and the music cost $40,000.
The couple first met back in 1993 while both were teenagers at a retreat in Hilton Head, South Carolina and started dating in 2005. Marc purposed to Chelsea over the Thanksgiving weekend in 2005 and the pair also released a statement to their friends joyfully wishing them a happy Thanksgiving as well as telling them about their wedding plans. Marc and his wife Chelsea lives in a $10.5 million apartment in the posh new condo The Whitman leaving behind a three-bedroom apartment on Lower Fifth Avenue in New York which Mr. Mezvinsky bought back in 2008 for $4 million. Both of them have two children together, a daughter, Charlotte born on September 26, 2014, and a son, Aidan born on June 18, 2016.
Marc Mezvinsky's Short Bio:
Marc Mezvinsky who is born on December 15, 1977, is a co-founder of the hedge fund Eaglevale Partners, an American investment banker as well as the husband of Chelsea Clinton, the daughter of the former President Bill Clinton and former U.S. Secretary of State Hillary Clinton. Marc Mezvinsky net worth is that of $15 million, and his salary is that of $2 million per year.
Marc Mezvinsky earned his net worth while working at the New York hedge fund company, 3G Capital and as an investment banker at the New York-based firm Goldman Sachs.