Entertainment
All You Need to Know About Ben Domenech and His Married Life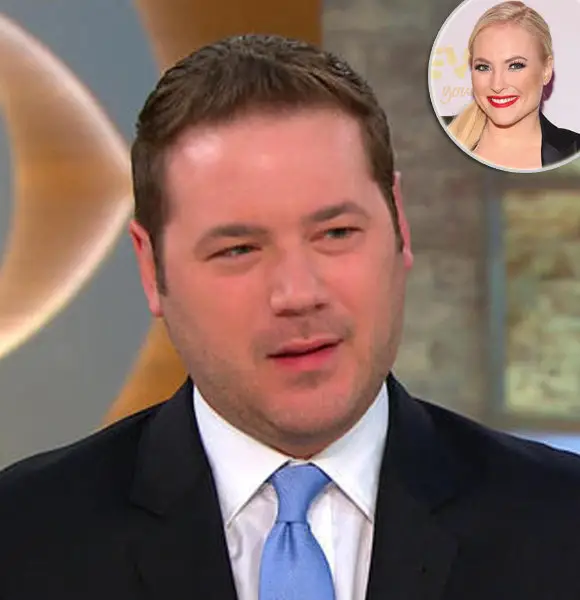 Quick Information
Wife/Spouse

Meghan McCain

Eye Color

Brown

Hair Color

Dark Brown

Hair

Short

Education

William & Mary

Net Worth

Not Disclosed

Gay

No

Engaged Date

2017-11-02

Wedding Date

2017-11-21

Divorce/Split

No

Date of Birth Jan 01, 1982
Relationship Status

Married

Mother

Jeanne Marie Schram

Father

Douglas Domenech

Ethnicity/Race

White

Religion

Christianity

Zodiac Sign

Capricorn

Profession

Writer, Blogger, TV Commentor

Nationality

American
Co-founder and the publisher of 'The Federalist,' Ben Domenech is a prominent name and face in the journalism sector of America.
The otherwise fierce and bold writer has a soft spot, but it's a side only his wife and kids get to see. Ben indeed has a pleasant married life and we're here to give you a sneak peek inside it. 
Who Is Ben Domenech married To?
Ben is married to television personality and columnist Meghan McCain. Ben Domenech and Meghan McCain had their fairytale wedding on 21st November 2017. The pair got married at the McCain family-owned lodge in Sedona, Arizona.
On their big day, the political commentator looked dapper in a Navy-blue suit while his bride went with a beautiful lace ivory dress with an embroidered, twinkling bodice and beautiful mermaid skirt.
Ben Domenech Meghan Mccain on Their Wedding Day (Source: People)
Famous faces, including fellow political commentators Katherine Timpf & SE Cupp and actress Barret Swatek, were in attendance at the duo's wedding.
Other Fairytale Wedding:- Zandy Reich Wiki, Wedding, Lea Michele, Job
Moreover, Meghan shared a few insights into her magical wedding on her show 'The View.' She said, 
I got very drunk on whiskey and had a great time dancing the entire time.
In addition to booze and dancing, the party was completed with great music. In fact, the music was so great that it left Meghan's father, U.S. Senator John McCain in tears. "And I pulled Clay Aiken out of retirement to sing and got my dad to cry," she added.
Surely, it was a mesmerizing event for everyone present, but a sad reality loomed over Ben and his newlywed. Ben and Meghan had to rush their wedding plans due to her father's sudden diagnosis of brain cancer. Meghan wanted her father to be present on her big day and Ben understood, so they ended up pushing their wedding fate a bit forward.
"You're really just living scan to scan. I wanted to make sure that he was — that we were all — there. Why wait?" she said. 
The couple was elated to share about their big day but Ben and his wife maintained suspense in their love life for the longest time. They would drop hints but revealed about their relationship only when their wedding days came nearer.
A source close to Meghan first confirmed her engagement to Us Weekly, saying that Meghan is all set to get married. The source, however, didn't disclose Ben as Meghan's fiance. Nevertheless, Ben later tweeted an article about the engagement with the caption "Love you bae," which confirmed him as Meghan's groom-to-be.
More on television commentators: A Glimpse Inside Amara Walker's Beautiful Family
Though Ben had always been miles away in revealing his relationship status, his wife used to talk about the dating affair several times in her verified social media accounts.
Meghan referenced her love life several times since early 2016 but never shared any images with her boyfriend. She even kept his identity a complete mystery! However, she posted pictures of Ben's homemade meals several times, which hinted him to be a good cook!
And now, he has turned from a good cook to an amazing father. The couple welcomed their first child, Liberty Sage, in 2020.
Both of them can't help but share adorable pictures of their baby daughter on their social media. we can see that Ben is already doing well with daddy duties.
Ben Domenech and His Daughter (Source: Instagram)
Things are going great for the couple 4 years into their married life, and more good things are yet to come. The love is still well alive between the two and when they're frequently leaving sweet messages for each other on the caption of their Instagram posts.
From an aspiring teen blogger to a professional writer, loving husband, and father; Ben has surely come a long way. His works have been featured in the top news outlets of the nation.
A Detour Of Ben Domenech's Bio
Born on 31st December 1981, Ben is an American conservative writer, television commentator, and blogger, who began his career in punditry in his teenage days.
His mother was Jeanne Marie Schram and his father was Douglas Domenech, who worked for the United States Department of the Interior. Moreover, his father comes of Puerto Rican descent.
Ben has been married twice before his wedding to Meghan. His first wife was Caroline Seaton Powell, whom he married in 2003. Likewise, Ben's second ex-wife was Christine Elizabeth Klima. Ben and Christine Domenech married in 2010, but the reasons and timeline of their separation remain unknown.
Ben currently hosts The Federalist Radio Hour and also writes for the daily subscription newsletter 'The Transom.' He previously worked as an editor-in-chief of The City and the managing editor for health care policy at The Heartland Institute.
The 37-year-old political commentator has also co-hosted the award-winning economic podcast 'Coffee & Markets' and worked as a speechwriter for Tommy Thompson, the U.S. Health and Human Services Secretary.
Furthermore, Ben's writing has appeared in revered publications including  'GQ,' 'The Daily Beast,' 'Commentary,' 'The Wall Street Journal,' 'Politico,' and 'Reason.' Besides that, he regularly appears on CNN, MSNBC, Fox News, and CBS's Face The Nation as well.
Thanks to his successful career, he has earned a hefty net worth which is estimated to be in the millions.