Entertainment
Marcia Harvey Faced Divorce After Husband Steve Harvey; What Caused The Married Life To Fall Apart?
Divorce is the ultimate end to a relationship, and the demise of the relationship always has a cause. Now, we would like to address what caused the relationship between Marcia Harvey and her husband to die and end up in a divorce. Do they have kids together? Let us find out!
Marcia Harvey, her relationship with her Husband and Divorce Reason!
Those who know Marcia Harvey might know the fact that she was once married to famous actor and comedian Steve Harvey. The two were in a marital relationship from 1980 to 1994.
But what is the reason that caused the two to separate and divorce? Well, we know that career and fame is something that everyone desires! The same was that to Steve who at that time was a mediocre success in the industry.
And thus, he wanted to chase the dream of becoming successful and to make a name for himself. That is said to the reason the relationship between Marcia and Steve died.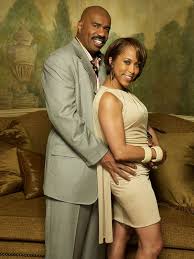 Caption: Steve and his first wife, Marcia.
Photo Credit: Pinterest.com
Chasing success, he left a lot of things behind him which included his twin daughters and the mother of those twin girls. Here is a video where Steve Harvey shares his journey of his career and how he earned the forgiveness of his twin daughters.
Caption: Steve Harvey: his career and his twin daughters forgiving him.
Video Credit: people.com
He also elaborated what his twin daughters Brandi and Karli said to him on Steve leaving his daughters and their mother.
"Years later they said to me, 'Dad, we didn't understand why you left us, but we know now you had to go. You didn't just belong to us. You belonged to the world,' "
And now that we know the relationship between the comedian and his daughters is smooth, Steve was also involved in throwing a lovely wedding ceremony to one of his daughters, Karli on her marriage.
A former couple of Marcia and Steve is reported to have just two daughters while some sources also claim that the two had a son together.
After the split with Marcia, Steve then married Mary Lee but the relationship did not last happily as well, and the couple too got divorced back in 2005.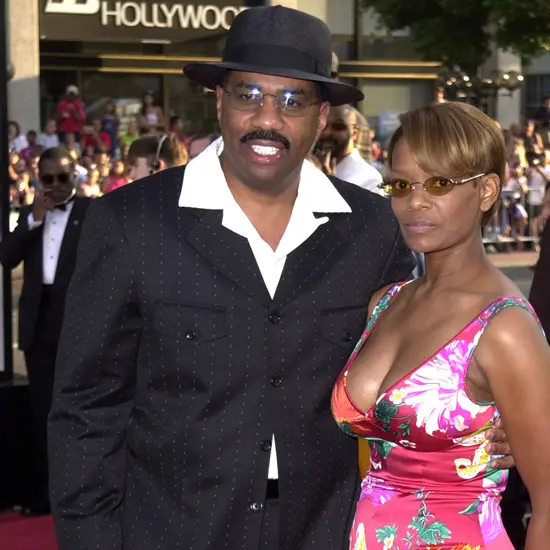 Caption: Steve and his second wife, Mary at the Rush Hour 2 Premiere.
Photo Credit: Self/Liverampup
Steve who also was previously accused of child abuse by Mary was later cleared of the allegations. As per the second ex-wife of Steve, Mary, Steve beat the life out of the couple's son Wynton when he was just eleven.
As per a police report, Steve went over the limit when he got a phone call from his son Wynton's school about him lying about doing his homework.
Wynton accused Steve of hitting him with a belt, then a paddle board, and sustained several injuries that included bruises to his backside, thigh, and legs. Wynton also told officers that he had trouble urinating for days after he took the beating.
But that is all past as now; Steve is happily enjoying the limelight and his marriage with the love of his life Marjorie Harvey. Steve and Marjorie got married in 2007 and now have a beautiful family together living with happiness and joy.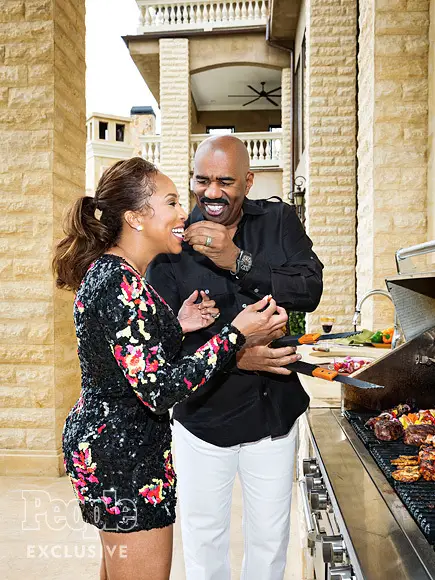 Caption: Steve and his now wife, Marjorie.
Photo Credit: people.com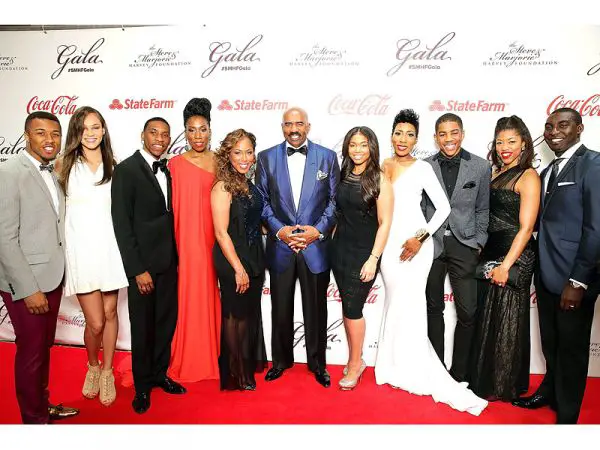 Caption: Steve, his wife Marjorie and his children.
Photo Credit: people.com
In this video, he shares a lot about his family and how he struggled in his career and reached from being homeless to a millionaire.
Caption: The Steve Harvey story.
Video Credit: People.com
Marcia Harvey has not been that famous regarding her professional life, but her ex-husband, the famous Comedian Steve Harvey has a net worth of $100 million.
Marcia Harvey, A Proud Grandmother:
In 2015, Marcia and Steve Harvey's daughter Karli Harvey got married to Ben Raymond, and now they've become parents, making Marcia a Grandmother. Steve's first grandson.
Benjamin Troy Raymond II was born in June 2016, and with him, he brought happiness to the entire Harvey family. He's a year old now, and it is evident he is loved by Mommy, Grandma, and Granddad.