Entertainment
Married in 2003, Willie Geist and His Wife, Christina Geist celebrated 13th Anniversary. About Married Life and Children
Everybody wish to marry someone who understands them perfectly and has sat beside them in every up and down in life. Likewise, today we are talking about a lucky man who married his high school sweetheart and is celebrating thirteen years of married life now.
Married Life, Wife, and Children?
The co-anchor of MNSC's Morning Joe, Willie Geist, and wife Christina Sharkey celebrated their 13th anniversary on May 24. Christine and Willie shared the good news of their anniversary to the fans through their respective Twitter account.
The couple tied the knot on May 24, 2003, in Humacao, Puerto Rico and organized reception at Candelero Resort in Puerto.
How did they meet?
Willie met his wife; Christine met when she was 11 years old, in sixth grade. He shared in an interview with the USA today in 2013 that Christine was captivating even in that small age. He said,
"She was noteworthy for a sixth-grade boy. I kept an eye on her,"
Although he met Christine in sixth grade, the affair started only from ninth grade. The couple shared a relation of friendship before ninth grade. After passing the school, the couple stayed together throughout the college years at Vanderbilt. They have together spent twenty-nine years of the life so far.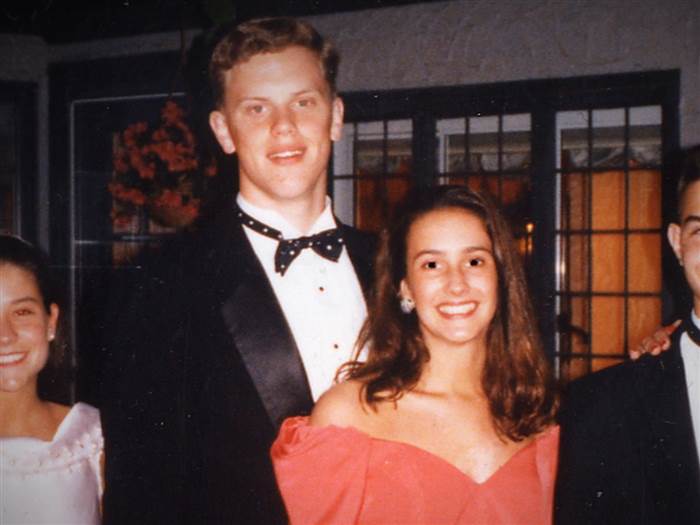 Caption: Willie and Christina at the first official day of co-hosting in Todays
Source: www.today.com
The duo Children:
The lucky couple, Willie, and Christine is blessed with two children. Christina gave birth to an elder daughter, Lucie Joy born on June 14, 2007, and son, George Willie on June 8, 2009.
Willie is usually busy in his professional, therefore; Christine stays at the home and takes care of the children. Willie shared in the same interview with the USA today that he feels wonderful seeing his childhood lover turn into a responsible mom. He said,
It's fun to know the person in the sixth-grade homeroom and see her now being such a great mom to our two kids. It's a journey that not a lot of people have together, and it's very special,
Willie Geist and Family celebrating Sister's success
Willie Geist's little sister Libby finally won an Oscar for her work in O.J.: Made in America and Willie Geist and family were completely ecstatic about the achievement.
The MSNBC Journalist all dressed up in Tuxedo was extremely excited for the Oscars and when it was announced that Libby had won her long-awaited Oscar, he and his family were off their feet.
Willie himself congratulated his sister on twitter while expressing his joy.
Willie Geist's Short Bio:
Born on May 3, 1975, Willie Geist is a co-host of co-anchor of MSNBC's Morning Joe and anchor of Sunday Today with Willie Geist. He often works as a fill-in anchor on Today for Matt Lauer. He is also the correspondent for NBC Sports and NBC News and contributor to NBC's Olympic coverage.
He completed his graduation from Vanderbilt University in Nashville, Tennessee. He is the author of The New York Times bestselling books, Good Talks, American Freak Show: The Completely Fabricated Stories of Our New National Treasures and Loaded! Become a Millionaire Overnight and Lose 20 Pounds in 2 Weeks or Your Money Back!.