Entertainment
Married Man, Michael Ealy Once And For All Opens Up About His Wife, Son And Daughter
Not all celebrities love people peeking in their personal life, and many of them are popular for keeping their personal life private.
The blue-eyed actor Michael Ealy (age 43) also falls under the list of the celebrities who are popular for hushing their personal life.
On October 2012, Michael was said to be married to his longtime girlfriend, Khatira Rafiqzada in a secret ceremony in Los Angeles. However, there wasn't any proof about his wedding, but yet this news made all his fans disappointed who alleged him as single.
After two years, Michael himself talked about his marriage, wife, son, and fatherhood in an interview on Wendy William show. He revealed that he was married in 2012 to Khatira Rafiqzada who is from Afganistan. He also said that he dated his wife Khatira for four years before getting married.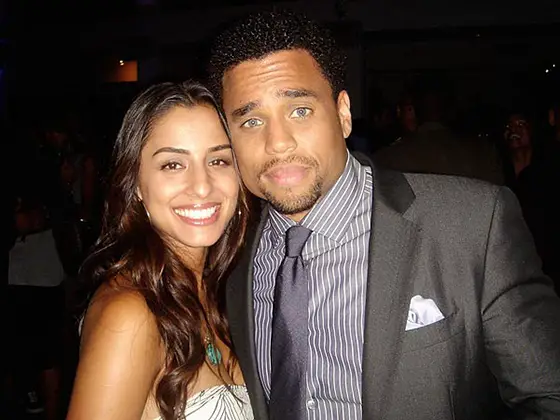 Caption: Looking stunning! Michael Ealy married his longtime girlfriend, Khatira Rafiqzada in 2012.
Photo Credit: Bossip
He also said that they have a son named Elijah Rakim. Talking about his son, he stated that he had a wonderful father's day with Elijah. Furthermore, he said-
"It was awesome. I had just gotten back in town from the road and my wife went to go get her hair done or something like that because we had a date night that night, so it was just me and him. We went and ran some errands and took him to CVS and got him some swim diapers and stuff."
Michael also said that he loves keeping his life private. Talking about maintaining privacy in his personal life, he said-
"It's not really that hard, I don't live my life in that way. I don't live my life in a social way. I don't put everything out on social media. I don't live that reality lifestyle. At the same time, I've always been private, ever since I was in high school. Like, people think, 'Oh, you're in Hollywood, you like to…' I'm like, 'No, no.' If you knew me in high school, you knew. I learned then, if you want something to work, if it means that much to you, keep it to yourself."
Caption: Michael Ealy on the Wendy William show talking about his wife, son, and fatherhood (2014).
Likewise, on the Steve Harvey Show in November 2016, Michael officially revealed that he welcomed a baby girl with his wife, Khatira. He also talked about fatherhood with Steve Harry, where he said-
"I just discovered a whole new love. I've never ever felt this way before. I was wondering if I could love another child as much as I love my son. And what I realized, within hours of my daughter being born, not only do I love her just as much if not more."
He even talked about how emotional he becomes when he thinks about his daughter's wedding and compares it with the emotions of parents whose daughters are about to walk down the aisle. He said-
"It's a special kind of protective love. Within two hours, I understood your emotions at your daughter's wedding." As if we needed another reason to be utterly in love with this guy..."
"It was this little girl who I had promised to always take care of, no matter what happened... I didn't want to let her go. And I gave her to the dude. And at the father-daughter dance, I was bent, man. It's a crazy moment. You're going to have that moment."
He also took his Instagram to reveal the birth of his second child and shared an image where he was seen holding his daughter's feet.
Michael Ealy is now living happily with his family building up his career. Popular for appearing in 2 Fast 2 Furious (2003), Think Like a Man (2012), About Last Night (2014), Think Like a Man Too (2014), Ealy has appeared in many films and television series. He has not only gained immense popularity from his portrayals but also has been able to accumulate different awards and beautiful net worth. His net worth is estimated to be $3 million. Michael recently appeared in Secrets and Lies (2016).