A born performer, Christy Altomare's meteoric rise in Broadway took a fall when she got no work for three long years after she left Mamma Mia.
But, the American actress didn't give up and kept faith in herself.
Her self-confidence was rewarded when she booked two major shows; Anastasia and Sign of the Times via nailing the auditions on the same day. Since she turned her professional life around, love came knocking on her door as well.
Is She Married?
The Pennsylvania native's life changed when she met Pete Browning. The pair hit it off and instantly became inseparable. After dating for a while, Christy's boyfriend proposed her and to everyone's joy, she nodded yes!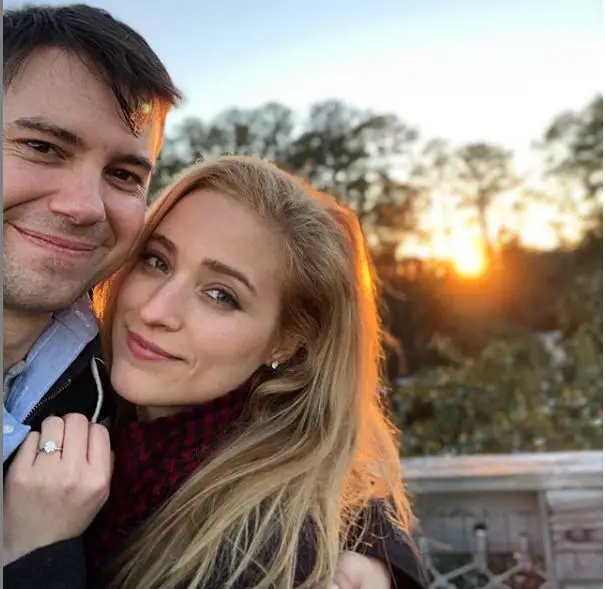 Christy Altomare shows off engagement ring while embracing her fiance' Pete Browning on 20th December 2018 (Photo: Christy Altomare's Instagram)
On 20th December 2018, the pair officially got engaged. The Big C actor announced the news to the world via sharing a cute snap with her husband-to-be via Instagram.
Happy Engagement:- Alex Rodriguez & Jennifer Lopez Got Engaged
The yet to get married actress shared a hilarious tweet with her followers on 9th April 2019 asking them whether it would be ok to get married at Taco Bell. It seemed as all the wedding planning was taking a toll on the talented beauty.
Christy Altomare Family
Broadway's darling Christy wouldn't be in the position in her career without her family's support. Her mom and dad used to take her and her younger sister Carrie to watch theater in NewYork, once a year during their childhood. Both passionate for arts, her parents were thrilled when their daughter decided to pursue her career as a songwriter.
To Christy's dismay, there weren't any courses that taught songwriting. But, her dad stepped up and advised her to do BFA in Musical Theater from the University of Cincinnati. He advised her to write songs also.
Well, the Pennsbury High School alum took her father's advise and threw herself in her creative endeavors. While at school, she found her true calling in Broadway and her parents couldn't be prouder.
On Her Age, Height, And Weight
Christy is 32 years old according to her date of birth, i.e., 23rd June 1986.
The talented star stands at the height of 5 feet 1 inch (1.55 m) with a complementing weight of 53 kg. Her enviable measurements do work well for her Broadway career.
Christy's Net Worth
A performer since she was a mere five-year-old, the American actress managed to come a long way in her career. Beside her breakout hit Anastasia, she worked in musicals like Spring Awakening and Carrie.
The busy actress also managed time to work in TV movies like Badges and Truth Slash Fiction. Additionally, she worked in a project called Central Park Joker.
Christy is also a singer, she has albums Waiting for You and Not Yet Over You to her credit. Due to her professional stint, she earns $98,257 per year to amass a decent net worth.