Entertainment
Mary Hart: Wondering Who She Married to? Husband and Divorce History! Which Show is She Involved in?
We love celebrities and want to know all the gossips about them and also stay up to date with their lives, both personal and professional. But what about the person who gives us the news about our favorite stars.
And if you are a fan of Entertainment Tonight then your would probably know, we are talking about its longest-running host, Mary Hart. Moreover, we have got you covered with her personal along with the latest details so without further ado let's dig in.
Mary Hart Is Happily Married But Divorce In The Past!
Mary Hart is one of the most famous television personality we have come across. She is known best for strong television presence and her beautiful voice. But how well do we know her behind the camera? Mary was first married to Terry Hart for six years. They married in 1972 and got divorced in 1979. They were married way before Mary found her place in television.
Fortunately, she found her soulmate in another man, this time, a film producer, Burt Sugarman. Mary and Burt met on a plane while traveling to Las Vegas, in 1985.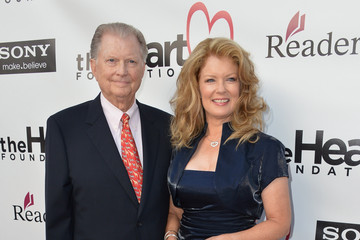 Caption: Mary Hart and Burt Sugarman at the Heart Foundation Gala.
Photo Credit: zimbio.com
Burt had to travel back and forth due to work whereas Mary lived in Los Angeles, which made it difficult for them actually to date. But you know how they say distance is just a number, same was the case for these two love birds. Burt proposed to Mary and after four years of being together, on Valentine's Day, what can be more romantic than this right? It was Mary's second marriage and Burt's third. Together the husband and wife have a son named Alec "AJ" Sugarman. They reside in the Trousdale Estates neighborhood in Beverly Hills.
Mary Hart's Professional Journey:
Mary is best known as the longest running host of Entertainment Tonight. She began her television career at KMTV and had hosted a couple of shows including Dannysday, PM Magazine, and others. She has also appeared in some TV series like Days of Our Lives, Frasier, Family Guy, Baby Daddy, etc.
She was also a performer, doing numerous shows in Las Vegas along with comedian David Brenner, at the Golden Nugget Hotel and Casino. Due to her work schedules, she had to fly back and forth from LA to Las Vegas. Because of her regular vocal training, her voice had become so sharp that it triggered seizures in an epileptic woman.
After 29 long years of serving as a co-host for ET, she finally realized this was it for her. So she decided to quit ET on May 20, 2011.
Caption: Mary Hart's "Entertainment Tonight" career highlight. (video published on Apr 6, 2012)
All her fans wish to know how many dollars has she collected until now. The answer is- with her hard work, passion, and dedication she has accumulated a net worth of $20 million. Who wouldn't quit their job when you have millions in your bank, am I right?
Mary Hart's Lifetime Achievement Award:
Entertainment Tonight's former host Mary Hart was awarded lifetime Daytime Emmy for her work and dedication towards daytime television held in Pasadena, California, on April 30, 2017.
Mary Hart's friend Tim Allen presented her the award, and on receiving the statuette Mary said,
"I am so overwhelmed and my heart is beating very hard,"
Moreover, Mary expressed her happiness on receiving the award in recognition of her illustrious career, in an interview with ET.
Video Caption: Mary Hart shares her feelings on receiving Daytime Emmy Awards on April 30, 2017.
Video Credit: ET
Mary Hart's Short Bio:
Mary Hart was born as Mary Johanna Harum on November 8, 1950, in Madison, South Dakota. She graduated from Augustana College in 1972. She is a television personality, a talk show host, and also a singer. She spent her teenage years in Denmark and Sweden and is fluent in both Danish and Swedish.
She was crowned Miss South Dakota in 1970 and was a runner-up in Miss America in 1971. Currently, she lives with her husband and a son in Beverly Hills, California.