Engagement & wedding are one of the most remarkable moments in one's life as it connects two people as a symbol of love.
Enjoying a similar scenario is the actor and producer Matthew Alan who got engaged and later got married to his longtime girlfriend, Camilla Luddington, an English actress.
Engaged, Girlfriend & Family
American actor, Matthew Allen got engaged to his longtime girlfriend, Camilla, on the 31st of December 2017. He popped the question while the pair celebrated New Year's Eve.
Camilla gushed about the proposal via January 2018 Instagram post, while showing off her gorgeous diamond ring. On the same Instagram snap, she also quipped that the couple's then 8-month-old daughter Hayden gave her stamp of approval.
Before getting engaged, the lovebirds' were in a relationship for almost a decade. They had first met in 2008 and attended the Temper Trap concert for their first date.
Matthew and Camilla were already enjoying family life before getting engaged. The English actress revealed to her followers in April of 2017 via Instagram that they welcomed their infant daughter into the world.
More On The Pregnancy:- Yet To Be Married Camilla Luddington Announces Being Pregnant With Boyfriend On Instagram
Hayden was the first child of Matthew and Camilla. The duo first made their pregnancy news public in October 2016. Via Instagram, Camilla shared a picture of her with a pumpkin decorated with the message 'BABY ARRIVING SPRING 2017' written in gilded letters.
It was unmistakable that Alan and once-fiancee Camilla had an affectionate bond together and that they enjoyed each other's company thoroughly.
Married Now - Wedding Info
Following a year and eight months as an engaged duo, Matthew and Camilla finally tied the knot.
Married in California coastline mid-August 2019, the 13 Reasons Why actor and the Castle Rock actress shared the "I Do's" in a low-key wedding ceremony. Only 70 of the duo's closest family and friends attended the bash.
Karen Waldron of Ampersand Entertainment Light orchestrated the event down the down to perfection.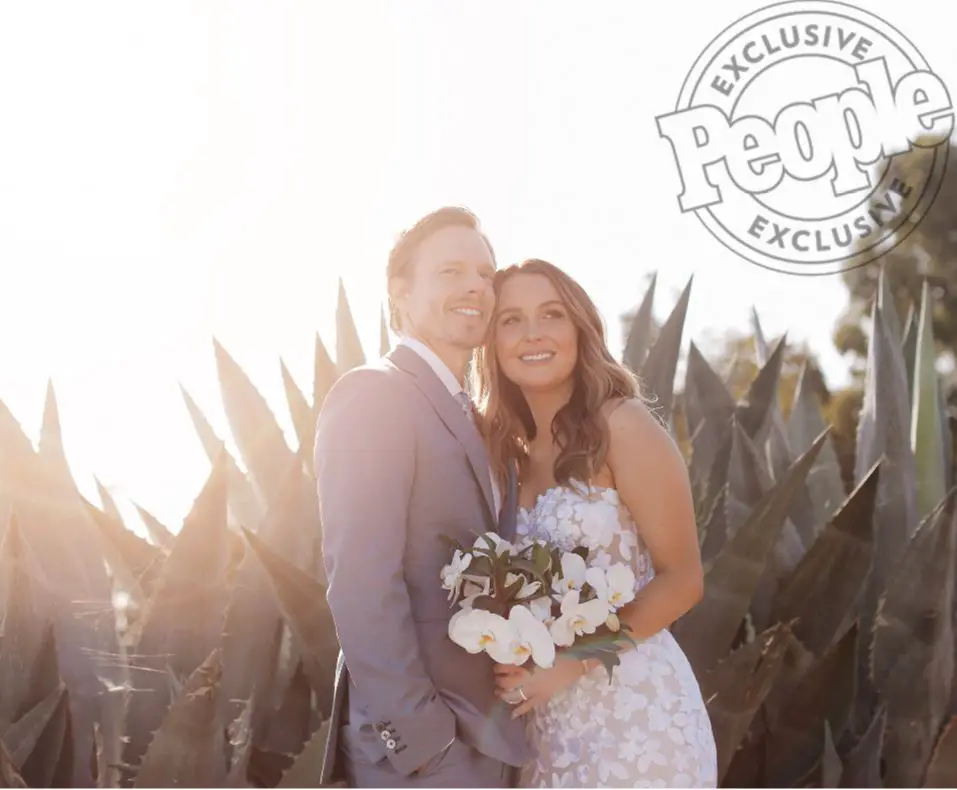 Matthew Allen and wife Camilla Luddington pose for wedding photos circa August 2019 (Photo:- PEOPLE.com)
On the big day, Matthew wore a gorgeous grey suit. His bride, meanwhile, looked every bit stunning in a custom, embroidered Mira Zwillinger wedding gown.
Age & Net Worth
Matthew Alan is an American actor who grew up in Lompoc, California, a small farming community in Santa Barbara County.
He started his journey of acting in middle school at an early age of 12. If not for his middle school friends, he would not have had the courage to audition for his first play "You're a Good Man Charlie Brown."
Suggested Read:- Errol Spence Jr. Wife, Family, Net Worth 2019
The courage paid heartily, and Matthew has now appeared in over 40 movies, including 'Walking the Halls.' Alan has also appeared as a guest star in several TV series, including '13 Reasons Why' and an episode of 'Grey's Anatomy.' Alan is also a producer of the short film, 'Bowman.'
With his striving career, Alan must be earning a large sum, but he has not revealed his net worth yet.