Keeping things covert does not mean that the secret will never get revealed. Given the perfect time and situation, people like to lay it all out in the open.
Well, the situation is somehow similar to actress Meaghan Rath, as she too hid her dating affairs in the past. But now, she finally decided to come out open, clearing the mystery of her boyfriend's identity.
Presenting Meaghan Rath's Boyfriend for You:
Back on March 3, 2011, Meaghan Rath started dropping the clues about her dating life. In an interview, she was asked about the things she looks in a guy, to which she had replied,
"Someone who is passionate. I am so attracted to ambition and drive and talent. If a man loves something and can put his heart into it, I am instantly into him. I like a strong man, who can be in control and make decisions, but who is sensitive and attentive. That is the perfect combination."
Following the interview, Meaghan's one of the tweets slipped the detail that the actress had a boyfriend at the time hiding away from the media. Talking about an awkward moment with her boyfriend, she shared a tweet on May 7, 2012.
#ThatAkwardMoment when your boyfriend calls you "cutie" and "Hun" at the same time but end up calling you "cunt"

— Meaghan Rath (@MeaghanRath) May 8, 2012
Similarly, Meaghan shared another tweet on 18 June 2012, quoting she has 'the best boyfriend in the world.'
Later, on January 2014, in an interview with Straight, Meaghan revealed writer-director, Pat Kiely as her boyfriend. On the same interview, she disclosed that the duo worked on the same project sharing the director-actress dynamic. As per Meaghan,
"Well, Pat and I have quite a sick relationship, so I think he got off on it a little. I mean, it is a very strange thing when your boyfriend comes up to you and says, 'You guys are gonna have to kiss more.'"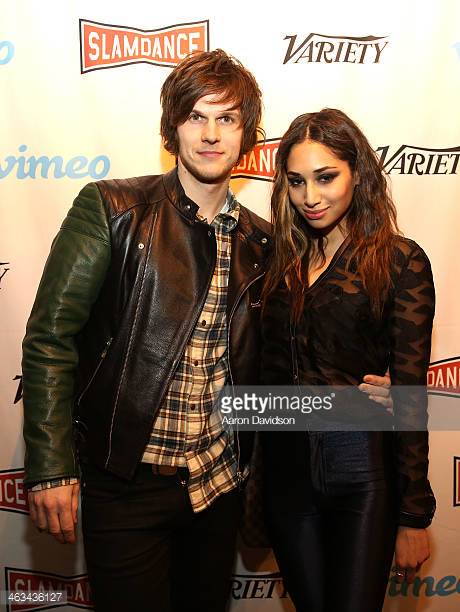 Meaghan Rath and her boyfriend, Pat Kiely (Getty Images)
Not only that, in an interview on February 1, 2014, Meaghan revealed that her real-life boyfriend, Pat even directed her in sex scenes. In the conversation, she was asked if it felt awkward having her boyfriend direct those scenes, to which she replied,
"To be honest, it wasn't weird! I didn't really think about it much going into it; I was mostly concerned with Sam: I think he felt more awkward! Pat and I are so comfortable with each other so we communicate really well.
Kudos to Meaghan and Rath; for having such good understanding, communication, and comfort in their relationship!
Meaghan Rath's Short Bio:
The Canada native, Meaghan Rath was born on June 18, 1996, in Montreal to her parents; Austrian Jewish father and Indian mother, blessing her with diverse ethnicity. She has a younger brother, Jesse, who is also an actor in the family.
Meaghan, who stands at the height of 5' 6" (1.68 m), joined Dawson College in Canada for education where she studied cinema and communications.
From the early age of 7, Meaghan got the acting bug and requested her parents for an agent as a gift for Christmas. Her acting desire led her to debut on-screen role in the movie "Lost and Delirious" (2001); she landed the role after a casting director saw her at the Montreal School of Performing Arts.
Following her debut role, Meaghan has excelled in both movie and TV world by her outstanding performances. Her acting credits include '15/Love (2004-2006),' 'The Assistants (2009),' 'Three Night Stand (2013),' and is currently working on the series, 'Hawaii Five-0,' which is running in the eight season as of now.
Think we're missing something? Do let us know in the comment section below!