Entertainment
Meet Amy Freeze's Husband of 22 Years Gary Arbuckle, Four Children. Divorce Rumors?
Relationships are usually wonderful, aren't they? Don't you think that it teaches a person to live life to fullest and spread joy?
Well, I believe that relationships somehow help us to mount success in every aspect of life. Who wouldn't love to be in a long lasting relationship? Wouldn't you feel blessed if you get hitched to the person whom you have been admiring for a long time?
Here we are introducing you to a similar person. Amy Freeze, an American television meteorologist, has been enjoying her blissful married life for 22 years with her husband and four children.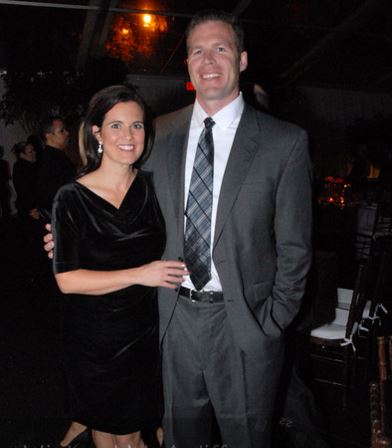 Caption: Amy Freeze and her husband Dr.Gary Arbuckle at Central Park on November 10, 2011.
Source: michaelmcauliffe.us
Married to the Person that she admired: Husband and Children, Divorce?
She is bound in a marital relationship with her boyfriend Gary Arbuckle since August 1994. They first met when Gary was Cosmo and Amy was a cheerleader in Brigham Young University in1993. Her husband, Arbuckle, is a chiropractor. They have shared twenty-two years of their life together as a husband and wife. The blind-eternal trust and understandings are the best part of their relationship.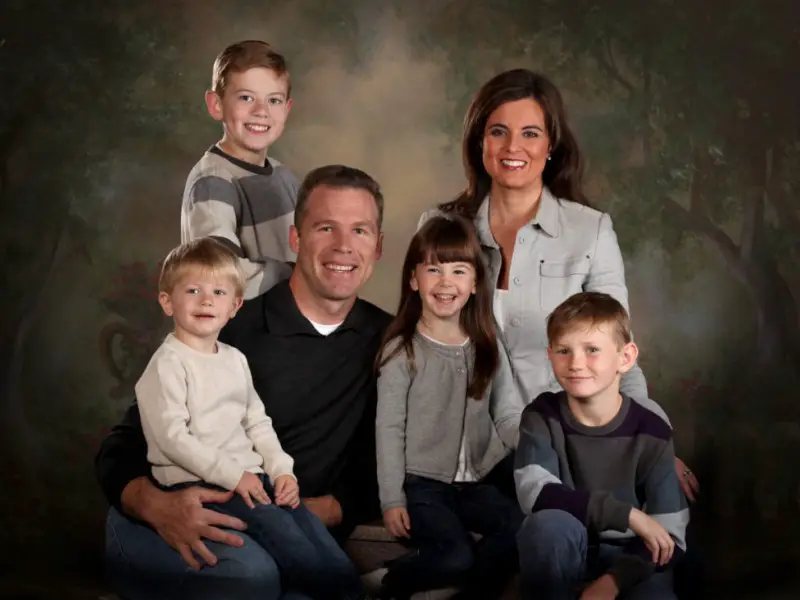 Caption: Amy Freeze with her husband Gary Arbuckle and their children Tyler, Jared, Kate, and William
Source: patch.com
They have altogether four children as a symbol of their emerging love; Tyler, Jared, Kate, and William. She has one biological son and rests of her three children are adopted. There are no reports of split ups or divorce of this wonderful couple. There is no doubt that they are sharing a blissful relationship.
Her husband seems to be supportive. He has been with her in every ups and down for around twenty-two years. Apart from a hectic schedule, Amy loves spending her time with her family. She somehow manages to be around her kids and spend weekends together. Isn't Amy Freeze lucky to get such a loving husband and adorable kids?
Mother of Four, Amy Loves Spending time with her Family:
Amy loves spending time with her children and husband a lot. despite busy and hectic schedule, she never miss spending time with her family. Here are some photos we found of them spending time together.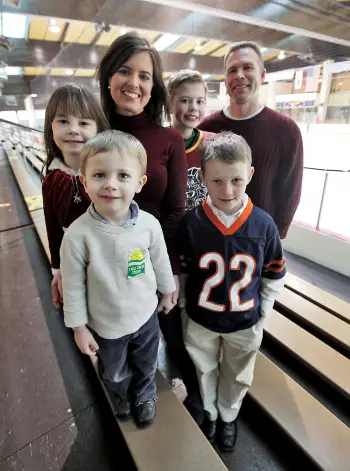 Caption: Sunny and warm: Amy Freeze and her husband, Gary Arbuckle, at the Ridgeland Common Ice Rink with their four children, Kate, William, Tyler and Jared( 2011)
Source: liverampup.com (photo)
And below is the recent photo of Amy with her kids, posted on her Instagram account.
She is a Certified Scuba Diver:
In the year 1999, Amy and her husband won $100,000 in a weight-loss contest. Freeze is a certified scuba diver and is also a runner who has completed multiple marathons. Do you know Amy has swum with more than dozen of sharks residing at the New Jersey State Aquarium?
Amy's Short Bio:
Born on June 19, 1974, Amy has achieved massive popularity as an American television meteorologist. She attended Mississippi State University from where she received Bachelor of Science degree in geosciences. She has also earned a Bachelor of Arts degree in communications from Brigham Young University. And from the University of Pennsylvania, she received her master's degree.
She was the first female chief meteorologist in Chicago, Illinois, serving for Fox owned-and-operated station WFLD in Chicago from 2007 to 2011. Since 2011, she has been working as the weekend meteorologist at WABC-TV in New York City, New York. Certified broadcast meteorologist, Freeze holds Seals of Approval from both the National Weather Association and the AMS.
First female sideline reporter for Major League Soccer, Amy has covered the Olympic Games in Salt Lake City and Atlanta. She also has reported on entertainment and movies. She can now be seen on ABC's Good Morning America.