Aurora Perrineau gained public attention for her role as Shana in the 2015 movie Jem and the Holograms. She is also known for her other works in productions such as Prodigal Son (TV show - 2019 to 2020), Chasing Life (TV series - 2015), and Pretty Little Liars (TV series - 2011).
In addition to cinematic works, she has a brief history of theater acting. Aurora appeared in stage plays like Rent, Out Town, and Rainmaker.
Aurora: Parents and Family
Aurora was born to parents who had good recognition in the film industry. Her father, Harold Perrineau is an actor and producer known for productions such as Romeo + Juliet (1996), The Matrix Reloaded (2003), The Edge (1997), etc.
As for her mother, Brittany Perrineau is a former model, and also an actress who is known for her roles in the 2008 movie Felon, 2004 movie Saving Face, and in the TV show Lost in 2005.
Her parents married on the 27th of August 2002.
Another Pretty Little Liars actor:- Lucy Hale Dating, Family, Net Worth
Aurora is the eldest child of her parents and she has two siblings. Her first sister Wynter Aria Perrineau was born on the 7th of May 2008, and her second sister, Holiday Grace Perrineau, followed them into the earth on the 21st of March 2013.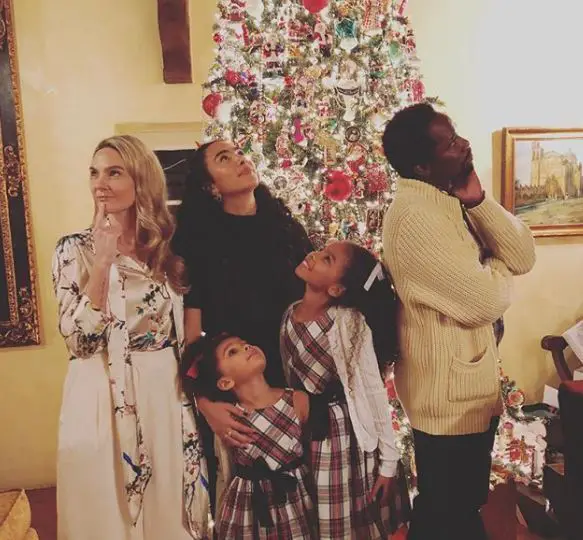 Aurora Perrineau with parents and siblings in Christmas 2018 (Photo: Harold Perrineau's Instagram)
As for the sisters' ethnicity, they are of mixed descent. Aurora's father Harold is African-Haitian or African-American, and her mother Brittany has English, Irish, French, and German ancestry.
Career: Movies and TV Shows
Aurora officially began her career in acting from 2011. She played the part of Bianca in one episode of Pretty Little Liars in 2011 as her inaugural acting job.
The role was followed by two small roles; a portrayal of Radhika Darshan in a short video named Air Collision in 2012, and Hilary a solitary episode in the TV series Newsreaders in 2014.
Then came Chasing Life, a TV show that was the first big break that Aurora got in her early career. She portrayed Margo for four episodes in 2015.
She was cast in the role of Ins in the 2015 movie Equals. In that same year, she also did the role of Shana in the movie Jem and the Holograms.
In 2016, she worked alongside Jennifer Lawrence and Chris Pratt in Passengers and became a series regular in the show Prodigal Son in 2019.
More on Jennifer Lawrence:- Jennifer Lawrence Wedding, Husband, Baby, Net Worth
All in all, Aurora has gathered a decent 18 credits as an actress, and one credit in the soundtrack category as she performed three songs in the movie Jem and the Holograms.
Bio and Interesting Facts about Aurora Perrineau: Age, Height, Net Worth
Aurora was born on the 23rd of September 1994 in New York, the United States.
She stands at a height of 5 feet 6 inches or 1.68 meters.
She has an estimated net worth of around $3 million according to Celebrity Net Worth.
Aurora accused the TV show Girls writer, Murray Miller, of sexual assault in November 2017. However, despite the accusation, Murray didn't face sexual assault charges because, according to the LA County District Attorney's Office, "based on the evidence presented, which included victim, suspect, and witness statements, there are inconsistencies which cannot be overcome." In addition to this, the alleged incident also fell outside the three-year statute of limitations.