Entertainment
Melissa Gorga, Mother of 3 Kids, Dazzling Life With Husband: Still Looking So Beautiful, Plastic Surgery?
The 'Real Housewives' give you a different outlook on the inside lives of modern housewives. The beautiful Melissa Gorga who herself doesn't look anything like a housewife, let alone the mother of 3 kids. But this lady, who is married to a loving husband, has managed to defy her age and look a lot younger. Learn about her dazzling life with her husband and also the secret behind her beauty. Is it because of plastic surgery?
Plastic Surgery?
Melissa Gorga is really too beautiful for her age. But since nobody can escape the physical change that occurs with age, the fans are left to believe that the 37 year old has gone through plastic surgery or body enhancement. Melissa was quite open about her breast implants that she had before the birth of eldest of her kids, Antonia, who is ten now.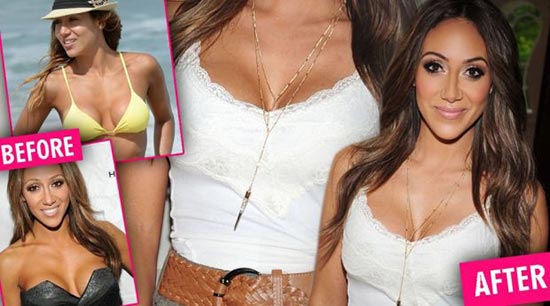 Caption: Before and after the nose job picture of Melissa Gorga
Source: wp.com
Nose Jobs:
But that couldn't be the only thing she had done to look better. Besides, the body can be made to look better in natural ways as well. It is the face that shows clear signs of aging. Even though Gorga denies all the allegations made about her getting her nose done, a source has informed 'RadarOnline' that the 'RHONJ" star has already got her nose jobs done twice.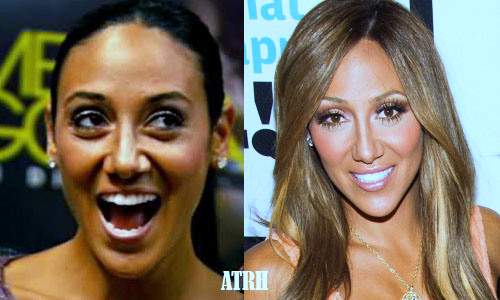 Caption: Before and after breast implants picture of Melissa Gorga
Source: celeblens.com
The source, who is a close friend of the star, further revealed that she got the nose jobs done for free. She reportedly promised the surgeon to publicize his work instead of paying him but afterwards kept it a secret.
Married Life and Husband?
The viewers of her show might already know about her personal life, but still, the most important aspects of her life are her family. She has a very loving husband, Giuseppe "Joseph" Gorga. He is a real estate developer and brother of another 'RHONJ' co-star, Teresa Giuedice. They seem to have a very special relationship in the show. You be the judge of their relationship from this Instagram photo.
As of recent, the happy couple moved into their Franklin's Lake dream house in July 2016 of 2.65 million dollars. The couple had originally decided to lease their mansion, but an unfortunate turn of events has caused them to evict their renter because of his denial of payment. So, the couple will return to the house themselves to continue their lives there. Joe also fully supported her in the launch of her new clothing boutique, 'Envy'.
Caption: Melissa Gorga at the release of 'Envy' with daughter, Antonia
Her Children:
Melissa Gorga has three children. Her eldest child is a daughter born on August 12, 2005. Her other two kids are both sons, Gino born on September 12, 2012, and Joey born on April 27, 2010. Her children apparently have been passed down with her looks.
Melissa Gorga was born on March 21, 1979, and raised in Tom Rivers, New Jersey. Besides being a television personality, she is also a singer, businesswoman, and designer. She joined the cast of 'RHONJ' from its third series. She has an estimated net worth of about 1.5 million dollars. Recently, on July 11, 2016, she said in an interview that "She's a happy drunk, not happy pregnant."