Entertainment
Is Michael K. Williams Dating Sanaa Lathan? Know About The Wire's Gay Character's Girlfriend
TMZ did it again, poking into the unwanted personal parts of celebs life to bring us raw footage of shocking news when it photo-bombed The Wire star Michael K. Williams with a particular female friend.
Know who she was and also learn about the star's gay character in 'The Wire.'
Girlfriend and Dating?
Michael K. Williams dating rumors with The Perfect Guy actress, Sanaa Lathan started buzzing among fans after TMZ photobombed them.
The celeb magazine's reporters were randomly following and questioning Williams just outside Playhouse in Hollywood, where Chris Brown's official "One Hell Of A Nite" tour wrap-up-party was on-the-go.
Suddenly, a car arrived, and the TMZ's staff saw Michael graciously holding the door open for his companion.
It surprisingly turned out to be Sanaa.
Michael K. Williams with Sanaa Lathan, while she previously reported fling, French Montana clears the rumors (Video: TMZ)
In addition, Williams was seen holding her hands while they made way to the Chris Brown's party.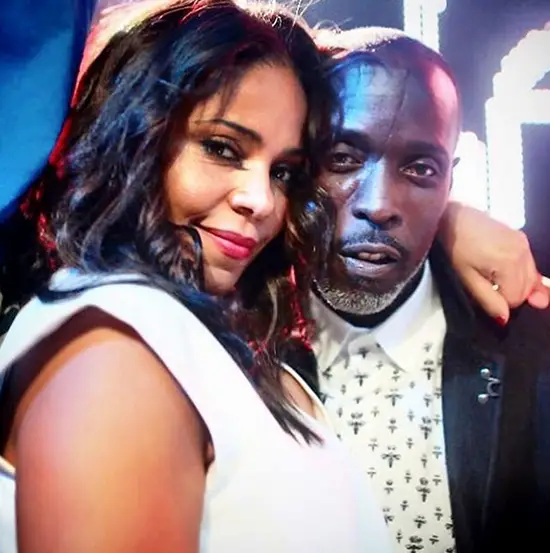 Micheal posts (2015) picture on Instagram, writing "#CurrentLituation HAPPY BIRTHDAY CAKE CAKE CAKE CAKE CAKE CAKE CAKE to the beautiful and talented @sanaalathan love u baby girl many more n health #VirgoAnScopioConnect" (Photo: Micheal K Williams, Instagram)
Maybe It was a friendly pair-up, instead of a girlfriend-boyfriend situation, with Sanaa Lathan just present there to celebrate her birthday.
Micheal may or may not have dated Sana, he has a son from one of his past girlfriends. His name is Karim Anderson, @poeticchef1, who is a celebrity chef.

Micheal's son Karim likes cooking (Photo: Michael K William's Instagram)
Portraying Fearless Homosexual
The Wire was a famous stick-up man known for robbing street-level drug dealers.
His character, Omar Little, a notorious and sometimes violent character known for robbing bad guys was sensitive from the inside.
Omar characters wasn't a typical stereotyped street level character. For one, he was gay, and the other deviation was that he followed certain moral ethics such as not using profanity or harming innocent lives.
Michael landed the role in a single audition. The original script of the series "The Wire" had plannedOmar Little for only 7 episode, but people loved him so much that he became one of the lead roles in the series.
Michael K. Williams's Short Bio:
Michael K. Williams was born on November 22, 1996, in Brooklyn, New York, US. He attended the George Westinghouse Career and Technical Education High School and after running into some trouble into his youth, he also went to the National Black Theatre.
He has an estimated net worth of about 1.5 million dollars. Recently, news came on August 7 that he could probably be cast as 'Black Manta' in the upcoming DC movie.