Entertainment
Is Michael K. Williams Dating Sanaa Lathan? Know About The Wire's Gay Character's Girlfriend
American actor & dancer, Michael K. Williams is best known for his performance as Omar Little on HBO series The Wire. With more than two decades in acting, he has been adding numerous movies and TV shows while he has been increasing his dating resume too.
With many dating histories, some relationships didn't work out for Michael but looks like he has finally found his true love.
Girlfriend On Chris Brown's Party; Dating With Porn Star
Michael was rumored to be dating The Perfect Guy actress Sanaa Lathan in September 2015.
The news spread like wildfire after the two were spotted attending Chris Brown's "One Hell Of A Nite" tour wrap-up-party. The pair were captured exiting a black car; however, they refused to comment on their relationship. Besides, Michael was also seen holding her hands while they made way to Chris Brown's party.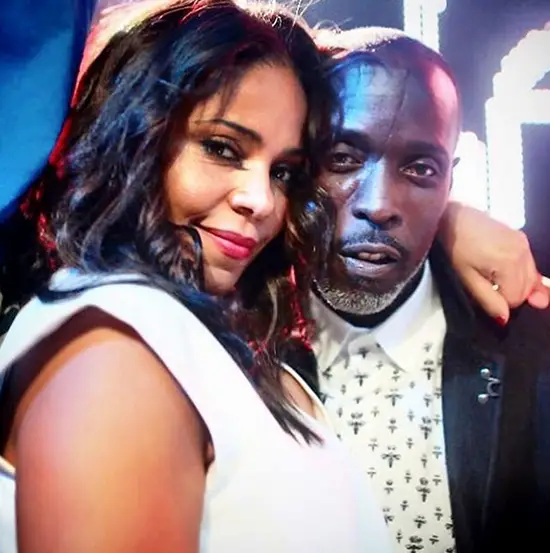 Michael and Sanaa at Chris Brown's party in September 2015 (Photo: Michael K. Williams' Instagram)
And now, it seems like the romance of the moment has ended as Michael has found someone real in his life. On 10 December 2017, Michael shared a picture via Instagram, where he could be seen alongside former American pornographic actress, Heather Hunter. In the post, Michael revealed that the two were dating as he described Heather as his true love.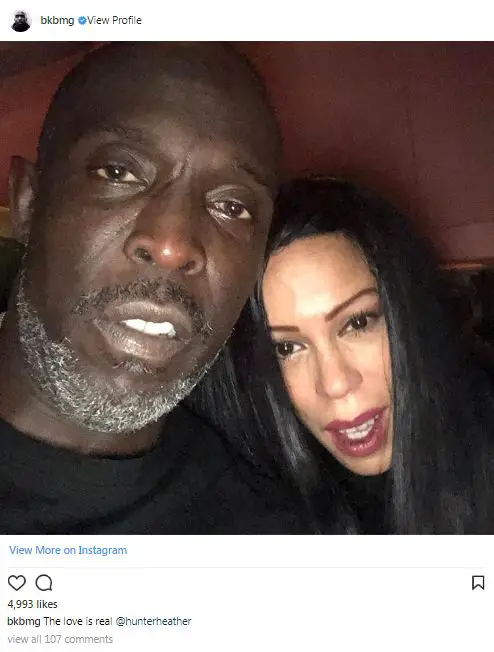 Michael confesses his love for Heather Hunter on 10 December 2017 (Photo: Michael K Williamson's Instagram)
His new girlfriend Heather, who acted in several porn movies, has now retired and currently works as an actress. She has performed in some mainstream movies including American Gangster and He Got Game. She has also made her career as a rap artist and has been referenced in songs of rappers like Lil' Wayne, Snoop Dog, LL Cool J and more. Heather has even taken up photography and currently works as a full-time photographer.
On the other hand, the 51-year-old actor is a proud father to his son Karim Anderson, who was born from one of his past relationships. Karim is a celebrity chef and shares his artistic cooking through Instagram and YouTube. Karim is a regular guest on his father's social media posts and in the father-son duo can be seen enjoying with food in several of Karim's videos and Instagram posts.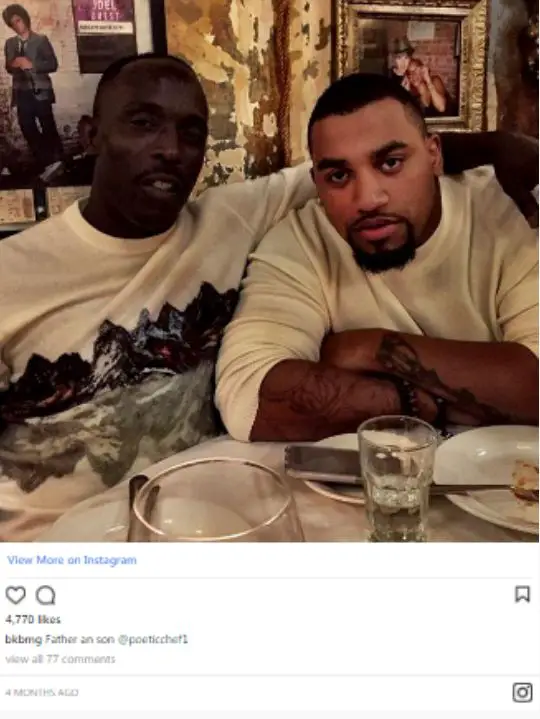 Michael and son Karim enjoy a dinner together (Photo: Michael K. Williams' Instagram)
Talking about Michael and Heather, the couple has kept their love life low-key. They have not revealed any plans for getting married, but chances exist that the partners could tie the knot soon, thus pronouncing each other as husband and wife.
Portraying Fearless Homosexual
In The Wire, Michael represented a famous stick-up man known for robbing street-level drug dealers. His character, Omar Little, often notorious and sometimes violent character, was known for robbing bad guys was sensitive from the inside.
Omar's character wasn't a typical stereotyped street level thug. For one reason, he was gay, and the other deviation was that he followed specific moral ethics such as not using profanity or harming innocent lives.
Michael had got the part in a single audition. The initial screenplay of The Wire had planned Omar for only seven episodes, but audiences admired the character, and soon he became one of the lead roles in the series.
And Michael's facial scar made him look more dangerous.
While Michael was celebrating his 25th birthday in Queens, New York; he was attacked with a knife in a bar-room fight. The injury left him with permanent scars. However, the mark benefitted him in his acting career as he landed several roles post the injury.
Started Off As A Dancer, Now Rejects Marvel
Michael commenced his career working as a dancer at the age of 22. During his early years, he performed for as a background dancer for artists like George Michael and Madonna.
Once he got breakthrough The Wire, Michael started getting more significant roles in movies with high-profile actors such as Gone Baby Gone, The Incredible Hulk. 12 Years A Slave and Assassin's Creed. Michael played the role of Moussa in the Assassin's Creed alongside Michael Fassbender.
In a 2016 interview, Williams mentioned that he was offered the part of a Marvel Comic Character. He stated that he had refused the offer as he had already acted in a superhero movie and was no more interested in the genre. With an estimated net worth of about $1.5 million, Michael can afford to cancel a few deals.
Apart from his deals, Michael K. Williams also went to the show, The Late Show with Stephen Colbert on June 2018 and recalled his moments with the American chef, Anthony Bourdain. He remembered the moments when he took the chef in Flatbush, a neighborhood in the New York City, for an episode of the show, No Reservations.