Entertainment
Mike Mayock Has A Daughter But Not A Wife! Keeping Her Mysterious or Got A Divorce Already?
Celebrities these days have mastered the act of maintaining privacy to such an extensive level; that the fans are all confused and utterly oblivious on the personal front of the celebs they follow.
Sharing a similar trait is a draft analyst for the NFL Network, Mike Mayock, who has made people curious about his marital relationship. He openly talks about his daughter and son, but not about his wife. So, is Mike keeping his wife mysterious or has they parted their ways with divorce?
Keep reading to find out!
Happily Married With Wife, Son & Daughter Or Divorced?
It's true that not every celebrity permit interference in their family life behind the cameras, and Mike isn't an exception either!
He has been very active in talking about his professional career, but when it comes to revealing the information about his wife, he goes silent.
Read Also:- Hong Chau Bio: Everything On Her From Birthday to Boyfriend - If She Has One!
Known as a very private draft analyst, Mike is a father of daughter Leigh Mayock and a son Mike Mayock (born June 27, 1990). Mike, who hasn't talked about his relationship with his wife in any of the interviews, has been active in flaunting his relationship with Leigh and Mike on social networking sites though.
On 20th January 2016, the NFL Network personality sent out a tweet on his daughter's birthday. He wrote:
"Happy Birthday to my daughter @LeighMayock - we have walked many miles with many more to go! Love you."
Mike continued the tradition of wishing his daughter on her birthday in 2018.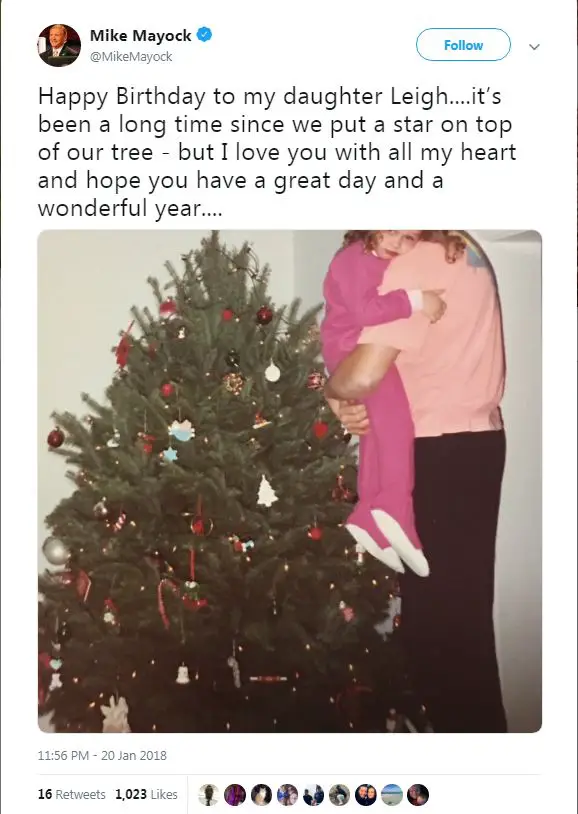 Mike wishes his daughter a happy birthday (Photo:- Mike Mayock's Twitter)
Likewise, Leigh has also been sharing the posts with her father. Earlier this year in June, Leigh shared a collage of images stating how good her father was when playing, talking, and watching football together. Well, she didn't forget to mention she loves her dad.
The tweet reads:
"We know you're pretty good at playing/talking/watching football...But you're definitely the best at being our dad????????? Love you father!"
She has also been wishing her father for his birthday. On August 14, 2017, Leigh took Twitter to wish her dad a "Happy Birthday" on the occasion of Mike's 59th birthday; stating that she is the biggest fan of her father!
Don't Miss:- Rachel Hunter Now After Children & Divorce With Older Husband; Dating Again?
As for his 60th birthday party, his daughter threw him a surprise party.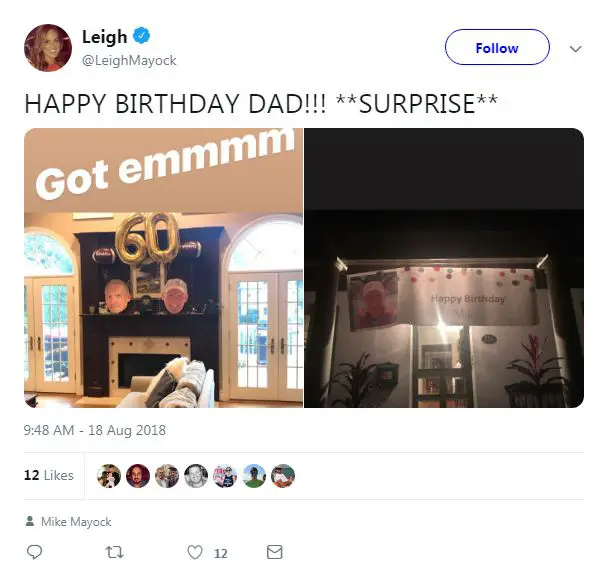 Leigh surprises her father with on his 60th birthday (Photo:- Leigh Mayock's Twitter)
Very little is known of Leigh other than she's an affiliate of Stop The Clot foundation. The said non-profit organization works with expecting mothers to better prepare themselves with the blood clot during childbirth.
It seems that Mike shares an excellent relationship with his daughter Leigh and son Mike, who played defensive back at Villanova. However, Mike, who played football and baseball in the NFL for the New York Giants and at Boston College, hasn't disclosed any information about his wife.
Fellow NFL Network Personality:- Jane Slater Biography Has Loads To Reveal: Age, Husband, Height, Salary
Hence it's difficult to conclude his marital relationship status; he might be keeping his wife away from the limelight, while the possibility of them having parted ways, followed by a divorce persists as well!
Mike Mayock's Mini-Bio
Born on 14th August 1958 in Philadelphia, Mike played high school football for The Haverford School and later college football at Boston College.
In 1981 NFL Draft, he was picked by Pittsburgh Steelers in the tenth round. His NFL career saw him play for New York Giants as well.
After his retirement, the Philly native dabbled in broadcasting. Before joining the NFL Network in 2004, he was employed by ABC News, Fox Sports Net, and CBS Sports.