Entertainment
Miranda Hart Talks About If She Wants To Have Children But What About Getting Married; Flaunts Body After Weight Loss
Having children and marriage is an individual's matter of choice. And sharing views on marriage and children is famous English comedian and actress Miranda Hart. So let's read to find out.
Does Miranda Hart Want to Have Children?
When the woman of Miranda's age is busy parenting their children, Miranda remains lonely, so it raises a question does she intends to have any children or not and further does there stand a chance of her being busy with a family of her own with kids.
Miranda Hart in an interview in 2014 when asked one of the most common questions, which was "Do you want to have children?"
Pointing out the fact that wanting and having children are two different things and said,
Will I have children? Who knows? I guess the sitcom (Miranda) has been my baby."
Miranda elaborated on balancing work, and home said,
"It is hard for women who start to achieve success in their mid-30s because if you are not with someone and ready to have children then you make that choice to carry on working".
Miranda is happy with her choice as she has not met someone whom she could refer as a boyfriend in public or has got married to have a husband yet. But Miranda's wish of having a best friend has been fulfilled by her dog, Peggy and was quoted by The Telegraph in October of 2016 saying,
I was lonely and realised that I had never had a best friend - until Peggy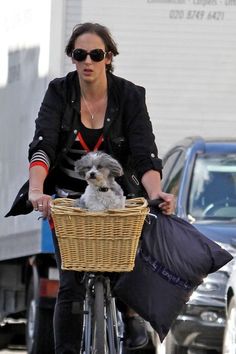 Caption: Miranda Hart captured riding a cycle with her best friend Peggy in the basket.
Photo Credit: printerest.com
Peggy entered into Miranda's life unexpectedly in 2007 while shooting on the sets of "Not Going Out" and Miranda even wrote a book called "Peggy & Me" and sharing the adorable bond she said,
If you still don't understand this friendship, I'll say this – despite her being 'just a dog' the last nine years with Peggy have taught me that being in connection, having a dependent being you are responsible for, and sharing life with someone is key to all aspects of well-being. My little dog taught me that I did need a best friend or two.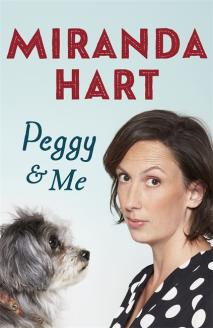 Caption: As it appears on the cover of Miranda Hart's book "Peggy & Me."
Photo Credit: amazon.co.uk
Miranda talked about the lesson Peggy taught and said,
With hindsight I realize I was lonely. I had never really let anyone in. I played the role of court jester to as wide a group of people as I could, had been the strong one, and fiercely independent. Peggy taught me the need for need.
Also, Miranda has written a book for children and thrilled "Hachette Children" tweeted via Twitter on working with Miranda Hart.
Miranda And Her Mystery Man:
Miranda's possibility of being a gay with a partner could be subsided with the news of Miranda being spotted with the new mystery man on January 3, 2015, as they were leaving a dinner party in London.
Miranda in a glittery top with a blue pair of jeans and a red coat, waited for the taxi along with the mystery man dressed in black coat and trousers, on the cold streets of London.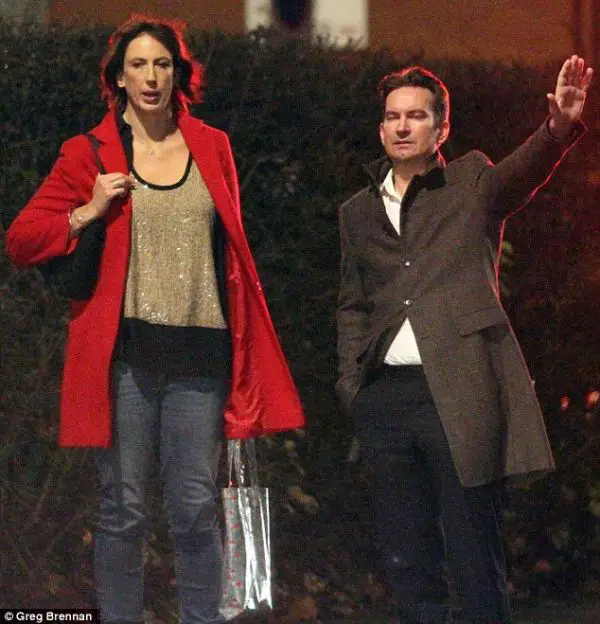 Caption: Miranda Hart spotted with the mystery man waiting for the taxi after dinner in London in January 2015.
Photo Credit: dailymail.co.uk
Earlier in 2014 in a show in at Bournemouth International Centre, she said that:
'I am basically a gay man trapped in a woman's body.'
It is not the first time she has said something of this caliber as she said similar kind of words in 2012.
Fabulous Transformation After Weight Loss:
Miranda's remarkable transformation and weight loss made headlines in 2015 and was reported saying that she has confessed that she's finally learned to love herself after years of feeling conscious about her height.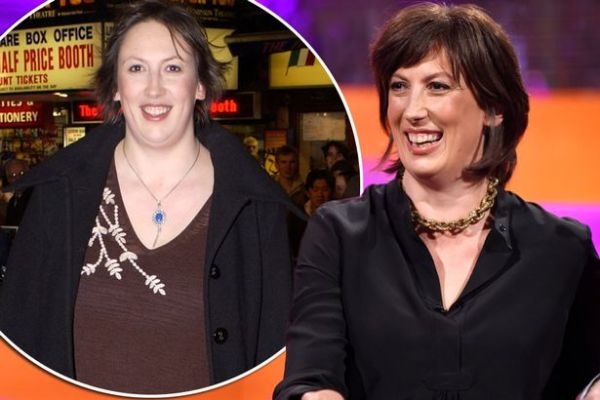 Caption: Before weight loss(Right) and after weight loss picture of comedian and actress Miranda Hart.
Photo Credit: mirrior.co.uk
In an interview in May of 2015, talking about her appearance, Miranda said,
"Being taller and bigger than most actresses I knew, I was never going to play the girlfriend or the daughter, so I wrote my own show. Growing up when you are tall you feel like fish out of water and feel different and you don't fit in.
Miranda confessed that growing up made her felt fish out of water but getting older changed it and said,
"But as you get older you just think, I can't change it - I am who I am and I have got to love myself. So now I try and put my shoulders back and be a bit more confident about it."
Further revealing the reason for weight loss, she said,
"The reason I'm set on losing weight is that I'm not naturally this big, I'm naturally lean. When I put on weight, I feel like this isn't me, this isn't right. I feel like I'm wearing a fat suit."
Miranda had issues with her appearance before but accepting and loving herself as she is has made her more confident person and is an inspiration for many dealing with such matters.