Entertainment
Missi Pyle Now Dating After Getting Divorce From Former Husband; Will Get Married To Boyfriend Anytime Soon?
"For every yes there are thousands of nos." Following this mantra in life, American actress Missi Pyle has been the uprising in her career as an actress. Along with her professional life, her fans also wants to know about her personal life. The actress is not used to saying more about her private life.
But we are very much well known about the twice divorced part of her life but what about her post-divorce life? Has she moved on with her boyfriend who could be her future husband? Let's shed some light on the life of the actress in our story.
Flaunts her Partner; is that her soon to be a Husband?
The Texas native Missi Pyle's personal life is moreover like a locked closet. She is not used to talking about the private life, but she doesn't stop herself to flaunt pictures of her daughter. Yes, you heard it. The 44 years old actress is a mother of one. But with whom she shares her daughter? Is that from her previous marriage or her boyfriend?
Not actually, Missi Pyle made her family through adoption. She adopted newborn daughter Zooey Rose born on September 2015.
As of now, Missi Pyle is seen flaunting a picture of her small family which includes her partner, Josh, and daughter.
Talking about the relationship of the couple, not much is heard from them, but as per posts, it seems they have been dating for years, somewhat from 2014.
The couple also went together on SAG Awards 2017.
All the chemistry and love that the pair shares, can we say Josh is the soon to be a husband of Missi Pyle? After the demise of two marriages, she Missi Pyle ready to go for third one? For now, Missi Pyle hasn't talked much about her marriage with her boyfriend, but maybe she can get third time lucky. We wish her luck for that one.
Past marriages of Missi Pyle:
Talking about her past what we have known is, she has been married to Antonio Sacre in 2000. Antonio Sacre is a solo performer, an author, and storyteller. But after five years of matrimonial bliss, the two divorced on 2005.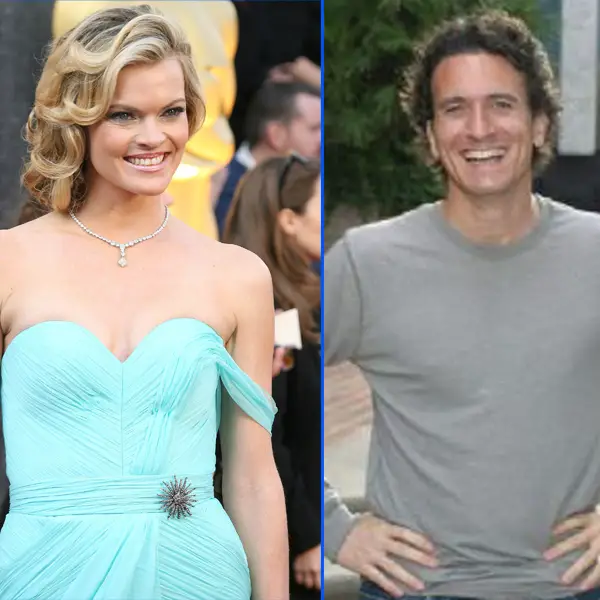 Caption: Missi Pyle was married to author Antonio Sacre for almost half a decade until they called it off on 2005.
Photo Credit: Self
After moving on from the first marriage, Missi Pyle wedded American TV personality Casey Anderson in 2008 whom she met for movie "Pretty Ugly People". Their wedding was country-western themed which took place in Montana.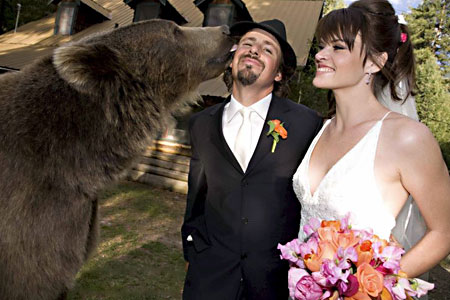 Caption: Missi Pyle got married to Casey Anderson in 2008 with a bear as a best man.
Photo Credit: metro.co.uk
The best part of their wedding was the best man of the groom. Casey Anderson chooses his half-toned friend Brutus to be the best man.
Three years after marriage, the couple split in 2012. And after splitting from Casey Anderson is not linked with other woman and is possibly single.