Beauty Pageant winner, Daniella Rodriguez has been the crush of many since she came to media attention as a teenager. 
Having won the Miss Texas Teen USA and Miss Texas USA, she made countless admirers, but many fans might not be aware that their favorite beauty queen is no longer single.
It may break the heart of millions but, Daniella has been engaged to her boyfriend, MLB player Carlos Correa for more than a year. Before learning about her romance which eventually led to an engagement, let's take a moment to discover the diva's bio and family details.
Bio: Height, Parents & Career 
Daniella was born in Laredo Texas in 1996. Currently aged 22, she proclaims her birthday to be on 28 July every year.
Raised by her Mexican immigrant parents, Daniella was a hard-working kid from a young age: she even helped her parents' family-run business.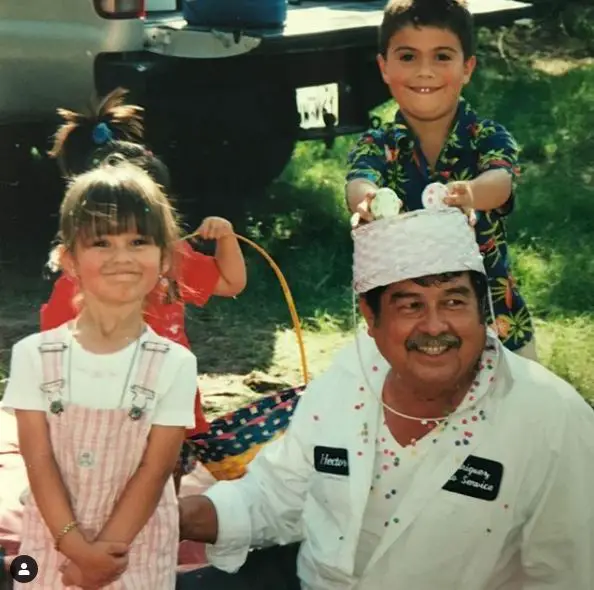 Daniella Rodriguez with father and siblings back when she was a child (Photo: Daniella Rodriguez's Instagram)
It was her mother, Martha Rodriguez, who inspired Daniella to participate in beauty pageants, a step that would eventually change her life. She won her first title in 2011 wearing the crown of Miss Laredo Teen USA. The next year, she became the Miss Texas Teen USA, at the young age of 16.
Parents & Ethnicity Revealed:- What Is Miranda Cosgrove Ethnicity? Parents, Dating Status & More
The streak ended in 2016 when Daniella won the Miss Texas USA in her first try and decided to retire as a beauty queen.
As of now, the lady with a tall height of five feet nine inches is looking to establish herself as an actress. While she may not have got any acting jobs until now, her beauty and talent will not go unnoticed in the long run.
Dating MLB Player Since 2016
Daniella's fame not only helped her build a fan base but it also brought her together with the love of her life.
Back in 2016, when Daniella was being crowned as the Miss Texas USA, amid millions MLB player Carlos Carrea was the one most rejoiced by her victory.
He immediately sent her congratulatory messages and wished her well for the future. A month later in August 2016, Daniella was invited to throw the first pitch at a Houston Astros' home game. Although her throw was a disaster, she succeeded in making Carlos ask her out for a date.
Read Also:- Erin Foster Boyfriend, Dating, Siblings
The duo went to the North Italia restaurant and shared a lovely evening. They eventually fell for each other and started dating. Daniella and her boyfriend secretly dated for about a year before going public with their relationship in October 2016.
Engaged; Ring & Wedding Date
Nearly a year after announcing their romance, Daniella and Carlos were casually dating when the baseball shortstop had something other in mind. After the Houston Astros won the Super Bowl title in late-October 2017, fans weren't expecting any more surprises.
However, after becoming the champions, Carlos proposed his girlfriend during a live interview which Daniella ultimately accepted. He presented Daniella with a pear-shaped engagement ring estimated to cost around $100,000 - $400,000.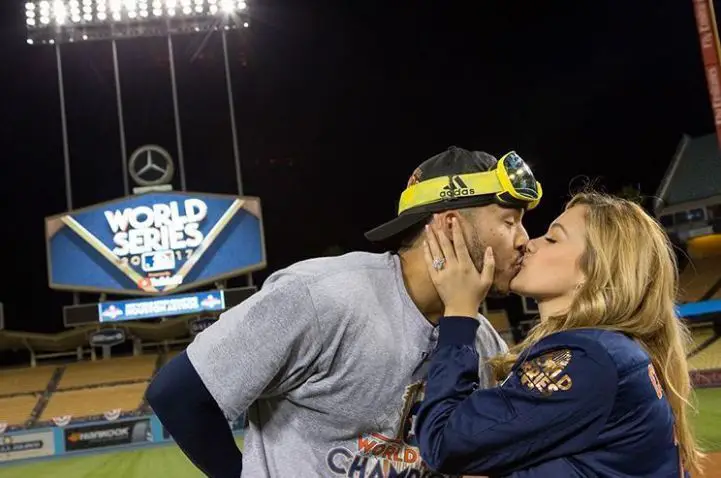 Daniella Rodriguez and fiance Carlos Correa share a passionate kiss after getting engaged in October 2017 (Photo: Daniella Rodriguez's Instagram)
Daniella had her bridal shower in December 2018 but, she decided to wait a year for an actual wedding. Daniella and her fiance are set to get married on 7 December 2019. 
Engaged In 2019:- Alex Rodriguez & Jennifer Lopez Got Engaged
As for now, the couple is leading a romantic life in the presence of their pet dog, Groot, who is no less than a family to the duo.