Entertainment
Modern Family's Ariel Winter, 19, Living Together With Boyfriend Levi Meaden, 29! Dating 10 Years Senior In Not A Big Deal
Love is in the air!
Modern Family's Ariel Winter is in love with ten years senior Levi Meaden, and she is even living with her boyfriend. Love can happen in the most unexpected way. And when two people are in love, the age gap of ten years just remains a number. Let's read to know the thoughts of Ariel Winter in this regard.
Ariel Winter Living Together With Boyfriend Levi Meaden:
Modern Family star Ariel Winter started dating Levi Meaden since December 2016. During an interview in with Refinery 29, Ariel revealed that they are living together since earlier May 2017.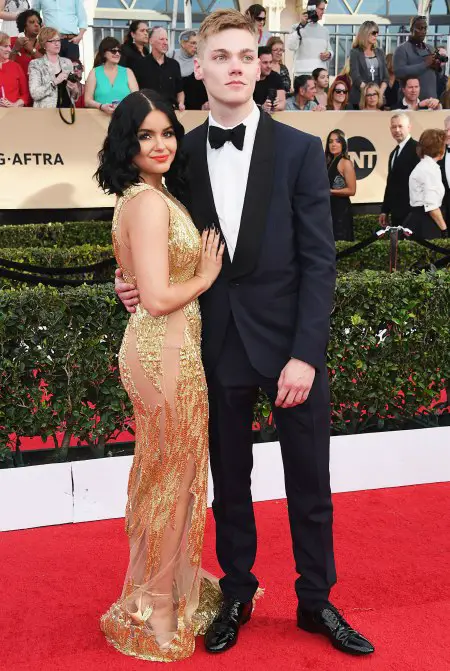 Caption: Ariel Winter and Levi Meaden at Screen Actors Guild Awards in Los Angeles on January 29, 2017.
Photo Credit: People
Ariel's dating affair with Levi Median has been the talk of the town as she is nineteen years old and she is dating Levi Meaden, 29 who is ten years older to her. And addressing the same, she stated,
"I'm happy, and whatever people want to say, they can say, I don't understand why someone would even comment on our situation at all. I don't think it's that big of a deal."
Moreover, she added,
"There are tons of people of all ages that live with their boyfriend. There are tons of people that live with their girlfriends, [and] tons of people that don't live together and are super happy," she continued. "But I'm super happy in the arrangement that we have. We love living together. It's just great."
Ariel has been body shamed and suffered from online haters, expressing that she divulged,
"I went through a lot of hate online, so I tried to change myself for a really long time, but people just kept hating on me no matter what I did."
After going through criticism, she decided not to please the people.
"I decided that instead of pleasing these other people, I'll just spend that time pleasing myself, those people are going to be rude to me regardless of what I do, so I should just try and be happy with what I am."
With ongoing criticism, people find it difficult to become comfortable in their own skin and Ariel revealed that Levi is the reason for her being comfortable in her own skin.
"I have to say he is the most incredible person I've ever met and that I'm so lucky to be with him, he's always complimenting me and making me feel special and beautiful."
Furthermore, Ariel continued,
"We went grocery shopping today, and I was in, like, a weird T-shirt that I kind of hate and my semi-pajama pants, and he still took the time to tell me that I look pretty, even when I do feel bad about myself, he's just there to support me and pick me back up when I'm feeling down."
In an interview with Jimmy Kimmel Live show in May 2017, she admitted that she living together with her boyfriend and said,
'I do have my own house — last year I bought my first house. My boyfriend and I live together,'
Caption: Moder Family star Ariel Winter admits being in a live-in relationship with her boyfriend Levi Meaden in May 2017.
The romance between Ariel and Levi is heading strongly which is evident in her Instagram post on May 11, 2017, which marks the six months of togetherness.
Ariel and Levi are very much in love with each other, and they keep flaunting their love through social media.
On January 15, 2017, Ariel shared a picture with Levi where they are looking into each other's eyes romantically.
Not only Ariel, but her boyfriend Levi also flaunts his girlfriend, Ariel through his Instagram post on January 19, 2017, and even states that he is the lucky man.
Ariel Winter started her career as a child artist at the age of four. At the age of seven, she acted in the movie Kiss Kiss Bang Bang directed by Shane Black. Her television credit includes Listen Up!, Bones, Criminal Minds, Ghost Whisperer, ER, Modern Family, Winx Club, Sofia the First, Milo Murphy's Law. She has given her voice in Safelight, Smurfs: The Lost Village, Dog Years, Scooby-Doo! Stage Fright, "Elena, and the Secret of Avalon", and others.
As a teenager, she is rising in fame with Television series Modern Family essaying the role of Alex Dunphy. With her hard work and passion towards her craft, she earns a salary of $75 thousand per episode and has accumulated a net worth of $9 Million.