Entertainment
Nancy Alspaugh Wiki: Age, Married, Family, Defending Ex-Husband Matt Lauer - Now Updates
American producer and a screenwriter Nancy Alspaugh is best known for her work on Leeza Gibbons' show, Leeza. The former TV executive who also served as the vice president of Group W Productions is also known as the ex-wife of Matt Lauer, the former The Today Show host.
Despite separating with the ex-husband, the Emmy award-winning producer has defended her ex-husband from the sexual harassment allegations made by multiple women.
Why don't you munch down the whole story down below in Nancy Alspaugh's wiki-like bio?
Nancy Alspaugh Wiki: From Age To Family Life Now
The screenwriter has been able to keep a name for herself through her talent and never-stopping motivation in different sectors.
Nancy, who is now running at the age of 62, has had a very successful career both as a writer and a producer. Since the beginning of her career, Nancy has made a notable impression in the world of entertainment through her writing. She wrote four episodes on Leeza Gibbon's show, Leeza during 90's, which was considered to be Nancy's one of the best works. Also, she wrote the screenplay for the celebrity talk show, Vicki! in 1992.
She also worked as an executive producer for the show, The Bradshaw Difference, which is a syndicated talk-show hosted by a self-help guru, John Bradshaw. She served as the executive producer of the show, Caryl & Marilyn: Real Friends during 1996, as well.
Her excellent works were so remarkable which would be hard to go unnoticed.
She has grabbed various awards and nominations. Back in 1994, Nancy was nominated for Outstanding Talk Show for her work on Vicki!. Similarly, her works on Leeza landed her Five daytime Emmy Awards.
Likewise, she got nominated for Outstanding Talk Show for consecutive three times in 1995, 1996 and 1997. She was also nominated for Outstanding Special Class Writing in 1997. The magazine, Heavy even reported Nancy's achievement as
"she has been honored with the United Press International Award, the Associated Press Award, the Gabriel Award, the Genesis Award, as well as having been named one of the Hollywood Reporters 'Women to Watch.'"
Nancy also set her foot in writing by authoring two different books. She released her first book Not Your Mother's Midlife: A Ten-Step Guide to Fearless Aging in 2003, co-authoring with Marilyn Kentz.
After two years Nancy released her second book, Fearless Women: Midlife Journeys in collaboration with Kentz again.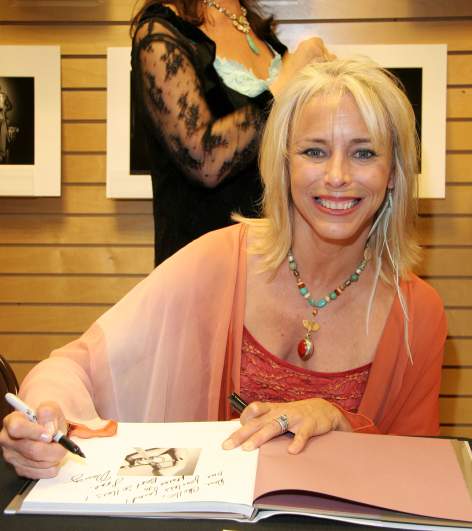 Nancy Alspaugh during the book signing for 'Fearless Women' at Barnes and Nobles (Photo: gettyimages.com)
The multi-talented personality enjoys significant net worth from her diverse career, which is yet to be revealed in figures.
Nancy Alspaugh's Married Life
Her married life with husband was not all sunshine. She got married to Matt Lauer, who enjoys the net worth of $80 million, in July of 1982.
Following seven years of married life, their marital relationship took a turn leading to a divorce. The pair, who never had children together, divorced in 1988. Despite the separation, Nancy still shares an amicable relationship with her ex-husband.
She even reached out to support her ex-husband after Matt was accused of sexual allegations and fired from the show, The Today Show in November 2017.
She took a stand for Matt's character while talking in an interview with etonline.com on November 2017. She remarked,
"I was shocked because he's been such a stalwart at that network and in that job. He's been the best person that's ever held that job and I couldn't imagine that anything that he would have done -- that would have been so out of character for him -- that would have caused that reaction."
Quoting Matt as "incredibly nice and incredibly willing to help anybody", she added that he would never abuse his power. She stated,
"I never saw him as a power monger or somebody who would abuse his position in any way."
Nancy said she reached out to support Matt after he was fired. She explained,
"I just haven't heard back, but of course I've given him my support.One hundred percent."
Apart from support to the ex-husband, she got married to the FOX executive Head, Read Jackson. She met the second husband, who is the former producer for 60 Minutes and ABC World News Tonight before he became executive at Fox Sports Net. The couple shares an adopted child named Wyatt. However, she lost her 71-year-old husband to cancer in 2016, which ended her second married life as well.
Wyatt, a teenager now, was diagnosed with autism when he was 3 years old. Nancy is doing her best in providing a suitable environment for her son as well as other children like him.