Entertainment
Nate Diaz Wife-Like Relationship With Girlfriend | Diaz Brother's Ethnicity Talk-
From going to training solely to getting free food, to being one of the biggest MMA stars in the world, the story of Nate Diaz and his achievements is nothing less than sensational.
Born as Nathan Donald Diaz, Nate is simply one of the biggest names in the sport of MMA and a lot of credit goes to his long-term girlfriend and family.
In a sport involving the exchange of kicks and punches, Nate found support in the form of his girlfriend, a partner for continuous support.
Born and raised in the street of Stockton, California, Nate needed a father-figure to guide him out of the mess of his childhood. He had it in the form of his elder brother, Nick. A UFC fighter himself, Nate has had a significant impact in shaping the life Nate lives today.
Extraordinary Relationship With Girlfriend; Yet To be Wife
Every fighter needs a constant motivator along their path to support them in every step of their battle on and off the ring. For an outspoken and trash talking fighter like Diaz, balance restores in the form of his cool and calm girlfriend, Misty Brown.
You May Also Like: Stephen Thompson, Married With Wife? Or Hiding Affair Behind Career? Status Now
Extremely secretive about his life outside the ring, Diaz has maintained to keep much of his dating information private. However, going by his social media, he seems to be dating his girlfriend Misty Brown since 2012.
Yet to be a wife, Misty and Nate recently had their first child in the form of a baby girl at California hospital on 6 June 2018. With both of them coming from Stockton, it is rumored that both of them were actually childhood sweethearts.
Sharing a layer of myster in their dating, Nate, however, doesn't hesitate to show off his girlfriend in his social media. The fighter, unlike his bold and outspoken in-ring personality, also posts some heart-melting messages to his girlfriend on social media.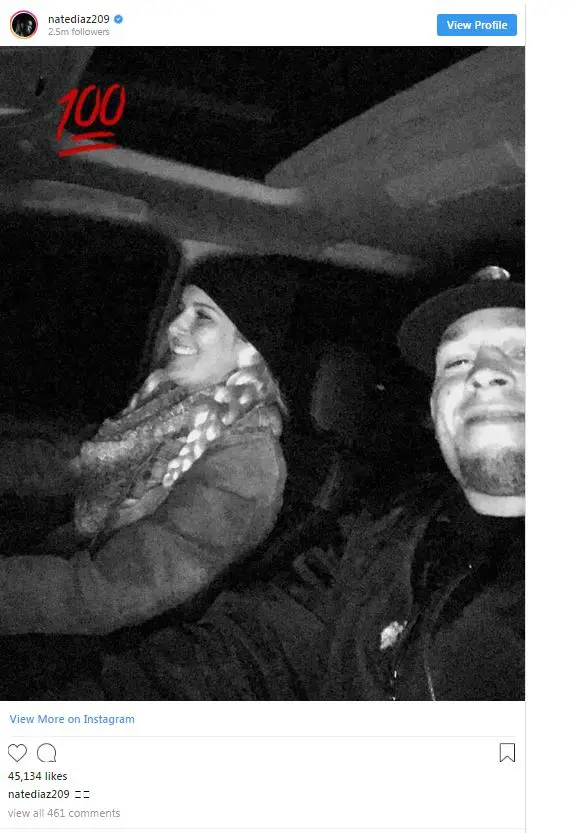 Nate Diaz alongside his girlfriend Misty on 16 March 2017. (Photo: Nate Daiz's Instagram)
In an ugly business where he trades his blood and sweat in the ring, Nate isn't keen to let his girlfriend and other family members watch his fight.
Similar: UFC's Josh Barnett Is Dating! Has A Girlfriend From MMA You Don't Want To Mess With
Talking to ESPN in an interview in 2016, the UFC sensation revealed,
"I don't ask my mom to watch fights -- or my girlfriend, my friends, nobody. If anybody wants to watch, they can watch, but don't get offended when I get ugly. This is not an attractive sport."
With a professional MMA record of 19 wins and 11 losses, Nate is arguably one of the biggest stars in the sport. However, he continues to balance his personal life not letting his career overshadow his family life.
With a baby girl added, it wouldn't be much of a surprise if Diaz announces his long-term girlfriend as his wife in the coming days!
Brother Shapes Life Inspiring UFC Career
Growing in the mean streets of Stockton, it was easy for Nate to choose the path of crime that many others before him chose. But, the UFC star had one guiding hand on the top of his head constantly looking out to every decision he made in life. The hand was his brother's, Nick Diaz.
A professional fighter himself, Nick and Nate grew up together with not much of an age difference. Nate, age 33 is just two years younger than his brother, and he still remembers the contribution of his brother in shaping his career.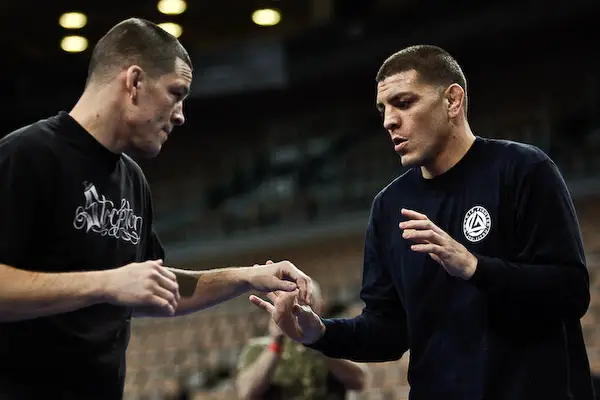 Nate Diaz (right) training alongside his brother Nick Diaz. (Photo: m.sherdog.com)
Don't Miss: Playing A Match After Brutal Eye Injury, Donald Cerrone Is All Pumped To Grab The UFC Gold On Next Fight
Talking in an interview given to Ben Fowlkes in 2012, Nate revealed how he got into the sport only because of his brother and an ulterior motive to get some free food,
"That was actually the main reason I wanted to go train, I didn't have any money. At home, we didn't have s--t. I was starving all day. So if I went to train I'd get something to eat. Sometimes I'd be sitting at home and it was like, well, if I go train with Nick I'll get something to eat afterwards. If I don't I'll just sit here and be hungry. ...I was going for burritos and dinner, and hey, I wanted dinner every day. Before I knew it I was a blue belt."
The Diaz brothers, as they are famously known in the fighting world identifies themselves as belonging to the ethnicity of Mexican-American.
Facing a tough childhood, both the brothers are a household name today, and they have got each other to thank for the support they provided to themselves throughout their career.