Entertainment
Nathan Schwandt Age 24 Dating Gay Personality? Zack Schwandt Brother Detailed
American Instagram Star, Nathan Schwandt, who rose to fame being the boyfriend of Jeffree Star, who is the CEO of his three-year-old makeup brand, Jeffree Star Cosmetics. Before raising in fame after being in a relationship with Jeffree, he was a pet-shop employee in Michigan.
Well, even though Nathan faced the allegations of being in a relationship with Jeffree for the sake of fame and money, the pair cleared off the allegations revealing the truth.
It turns out, Jeffree checks out all the qualities that Nathan looks for in his partner, and they have been going strong with their relationship for a while now. But as fans are experts at raising questions, Nathan's partner's sexuality has been questioned from time and again.
Love Life With Jeffree Star; Online Meeting To Family Bond
The Michigan native has been in a loving relationship with the fashion enthusiast Jeffree Star, who also runs a YouTube Channel.
The pair has been going strong with their relationship since the beginning of thier love. Just like any other love story these days, the couple crossed into each other on the internet. Talking specifically, the pair met on Instagram after Nathan first DM'd Jeffree making the first move towards their relationship.
You may like:- Did Eugene Lee Yang, Age 32, Secretly Come Out With Gay Sexuality?
After several months of facetime and texting, Jeffree invited Nathan, age 24, to Los Angeles for a weekend for the first time. During that time, the couple thought that it would be just a fling that would last only a weekend.
They never expected their relationship to be something serious, but as time passed, they started growing feelings for each other. They started to see each other more, and Jeffree began his rise to stardom with Natham on her side.
They have been romantically involved for over three years and still love each other dearly.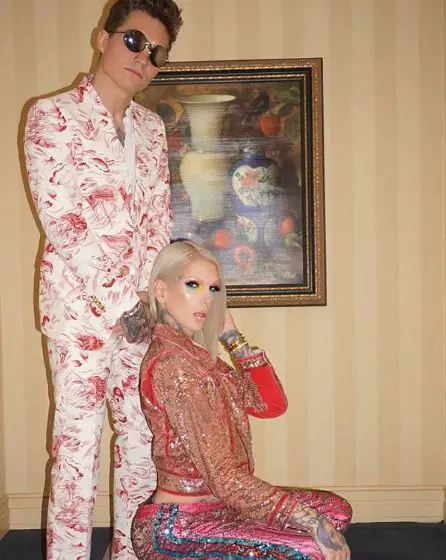 Nathan Schwandt with boyfriend, Jeffree Star. (Photo: Nathan Schwandt's Instagram)
However, there are no any wedding bells for the couple any time sooner. They two have admitted openly that they are not rushing into tying the nuptial knot. They have opened up that no paper could label their love for each other.
Well, it turns out Nathan's boyfriend is pretty close to his family; even though the couple previously doubted the acceptance from the family, things turned out different from what they expected.
The duo is very close with Nathan's family, and they even joined the couple on their holiday vacations to Hawaii. Adding to it, Jeffree often features Nathan's brother Zack Schwandt in one if his makeup tutorials along with Nathan's father.
Well, they sure seem to share a close bond which has led them to purchase a home in Grand Rapids, Michigan near to the family. It turns out they often spend several weeks of the year up there.
Adding to it, the couple often finds their sweet getaway from their daily schedules. Recently in July 2018, the pair had few moments to themselves as they hiked all the way to Hyalite Canyon in Montana.
The pair had a quality time together at the Paradise Falls. They made sure to keep their fans updated with their visit as Nathan posted a picture alongside Jeffree on his Instagram.
Well, they sure seem a perfect match for each other as they complete each other in every possible way. Turns out the couple together shares five Pomeranians. While Jeffree, who recently revealed that he had undergone dental surgery, has his hands full with makeup and youtube, his other half Nathan looks after the dogs.
Gay Or Androgynous?; Brother Instagram Image With Partner
Well, the questions on a celebrity's sexuality are always raised and as the rumor mills are always churning most of the celebrities have to go through these rumors. As for Nathan, he was accused of being in a relationship with Jeffree for the sake of his money.
See Also:- Gay Dancer Louie Spence Reveals Husband Cum Partner Rare Details!
The truth was revealed by Jeffree himself in one of his videos that the couple was together even before Jeffree begun his makeup company or started his YouTube channel. Well turns out they share love apart from their net worth.
The rumors were fueled when the fans realized that before being in a relationship with Jeffree, Nathan was involved only with women and had not dated any men. As for Jeffree, he is not particularly gay, but his ex would range from men to women. He refers to himself as androgynous regarding gender, where his Twitter bio "androgyny" is listed.
And, Jeffree seems to be close with another Schwandt, Nathan's brother, Zack Schwandt. Nathan's partner was featured on Zack's Instagram in October 2016, who first posted to Instagram with the username zachourii in 2013.