Entertainment
Nazanin Boniadi Nearly Got Married To Then Boyfriend Tom Cruise; Had A Horrifying End To Dating Affair
Iranian-American actress Nazanin Boniadi has been famous for her professional accomplishments thus far. But she was on the top of the headlines some time back for something else. She was once the girlfriend of famous actor Tom Cruise and was nearly married to him. But the relationship with Cruise was not just rainbows for Nazanin (who he almost shared a husband-wife relationship with) as the relationship ended on a sad note for her. So what happened with the couple? Let's find out.
The relationship's nature and tenure:
Nazanin Boniadi, an actress and also a member of the Church of Scientology, spent a month being audited before she was cleared and groomed to be perfect for dating Tom Cruise from November 2004.
It all began when Tom Cruise and Penelope Cruz split, and Cruise searched for a Scientology-friendly wife, which grabbed the interest of Scientology leader David Miscavige, and planning to keep close with Cruise, decided to play a matchmaker.
Reports suggest that Sofia Vergara and Scarlett Johansson also reached out for this cause. Back then, Nazanin was an aspiring actress pursuing a degree in medical school, and she had a boyfriend in her life who was not revealed to the church. To end her relationship with her boyfriend, she was made to believe her boyfriend was cheating on her using her boyfriend's confessions to the church.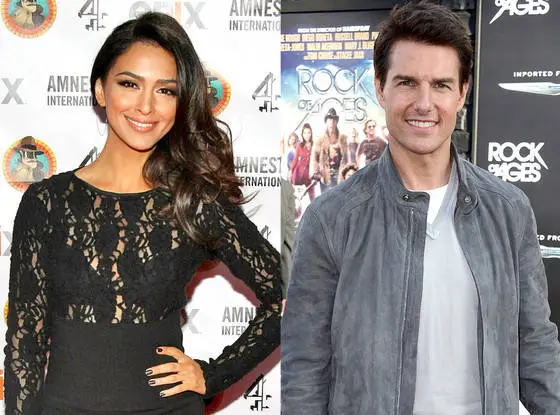 Caption: The relationship between Nazanin Boniadi and Tom Cruise was very unconventional to start off.
Photo Credit: eonline.com
Following the split with her boyfriend, the religious organization made Nazanin believe that she was being cast in Scientology films. Seeking for fame and break, she gladly agreed to the makeover sponsored by the church in which they had her braces removed and her hair dyed as per Cruise's liking. Sources claim,
"Boniadi allegedly was told to lose her braces, her red highlights, and her boyfriend. According to a knowledgeable source, she was shown confidential auditing files of her boyfriend to expedite a breakup."
But Nazanin and Cruise's relationship did not live up to the hype and after just around two months of dating, the two split in January 2005. However, the cause for the split is a bit weird. Weird in a way that Cruise termed Boniadi's behavior towards David Miscavige as "disrespectful." Boniadi was later transferred to a Scientology Center located in Florida, where she made the mistake of sharing the secret with a friend when she was unable to hide her emotional distress despite having been strictly forbidden to do such and reveal the details of her courtship with Cruise as some clause.
That was something which was not the end of it all. Sources even claim that Nazanin was later punished in an inhuman manner, and she had to scrub toilets with a toothbrush, clean the bathroom tiles with acid and dig ditches in the middle of the night. The source explained,
"Naz was embarrassed by her unwitting involvement in this incident and never wanted it to come out, so I kept silent. However, I was deeply disturbed by how the highest ranking members of a church could so easily justify using one of their members; how they so callously punished her and then so effectively silenced her when it was done. It wasn't just the threats; they actually made her feel ashamed, when all she had been was human and trusting,"
After this incident, Boniadi was left with no choice but to eventually left the Church of Scientology and continued to pursue her dreams of having a career as an actress.
We wish her best of luck for her career, and hope she finds her true lover soon in the future!