Entertainment
Maz Jobrani Talks On Family Difficulty With Wife While Building Smiles & Net Worth
The Iranian-American actor, Maz Jobrani is a well-known name to the entertainment industry for his stand-up comedy. Known for the projects like Dragonfly, Friday After Next, Superior Donuts and more; Maz is an immigrant who got success after coming to the American ground. 
And his life story is full of ups and downs ranging from name confusion to family sufferings. For now, he is enjoying a happy married life with wife and children.
Family Name As Difficulty; Priest Mispronounces At Wedding 
If it's name confusion, then the comedian, Maz has experienced a lot regarding his own name. Frequently suffered from the unintentional racial comments, Maz later talked about his name confusion in a 2016 interview with npr.org.
Don't Miss:- Reza Farahan Gets Married To Boyfriend! Also A Man Happy With His Weight Loss
The 38-year-old confessed that people often get confused with his name and calls him Mazz instead of calling him Maz, which is his real name. The word Mazz is the short form of Persian name Mazdak. Ma, short for Maziyar, also has his last name suffered from the same confusion as he is frequently identified as Jabroni rather than Jobrani.
Well, Maz isn't the only victim to name's confusion, his wife and son have also suffered from the same problem. Maz and his wife, Pretha Mani got married in Mexico, a few years ago from 2017 in Mexico officiated by the Mexican priest. In the couple's wedding ceremony, they faced the dilemma as their Mexican priest pronounced them as "Max and Rita" instead of Maz and Pritha.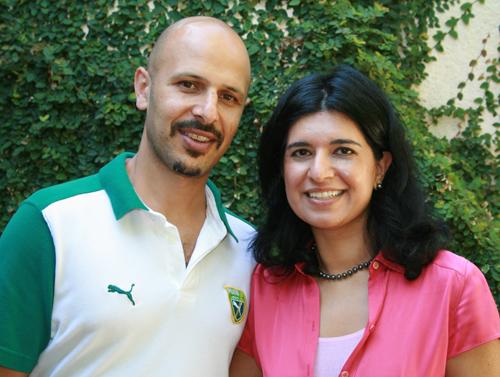 Maz Jobrani and wife Pretha Mani (Photo: Taddlr.com)
However, as for Maz's wife, Pretha wasn't Maz's mother first choice for she wanted him to marry an Iranian woman.
Although he dated an Iranian girl, it didn't last long. He also romanced other nationalities including Italian, American and several more. But, it was an Indian woman who eventually stole the heart of the comedian. They dated for several years before finally tying the knot and eventually, his mother also liked his wife Pretha. 
See Also:- MSNBC's Ali Velshi Shares Wife & Romance Background! Low-Key Family Revealed
Maz and Pretha later became parents to two children, a seven-year-old daughter named Mila Mani Jobrani, born on 18 January 2011 and a son Dhara, born in 2008. 
Most recently in August 2018, Maz took a trip to Montreal, Canada along with his wife and children where they spent some quality family time together. During his stay there, Maz also performed on the Canadian reality show, Just For Laughs.
He posted a picture via Instagram on 8 August 2018 where he could be seen taking a walk around the city with his two kids, Mila and Dhara.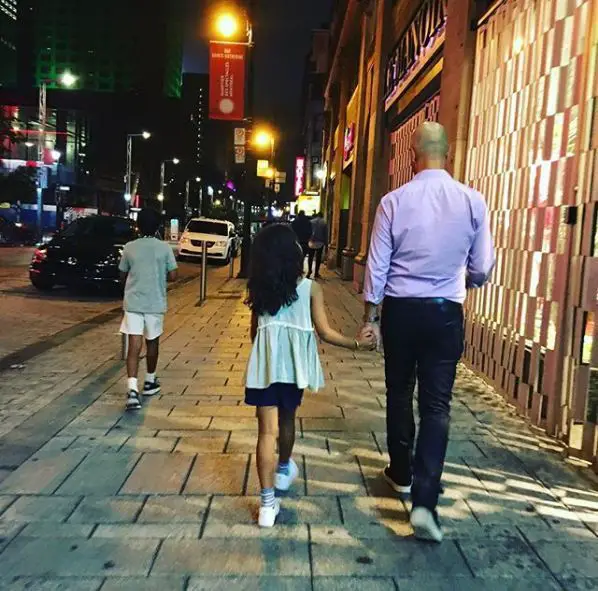 Maz, along with his kids wandering around Montreal in August 2018 (Photo: Maz Jobrani's Instagram)
Maz may not have shared many details about his children, but his occasional posts show he has a content family life and his children are a blessing to him and his wife.
Family Tragedies, Net Worth
Maz came to the states from Iran at the age of six with his family. Growing up in Marin County, California, his parents wanted Maz to become a white-collar professional like a doctor or a lawyer. 
However the Tehran, Iran native followed his own heart of pursuing the acting, which unfortunately his father could not witness as he died in 2009. Maz still has a mother, who is very much close to him and proud of his accomplishments. 
More From LiveRampUp:- MSNBC's Kristen Welker Of Mixed Ethnicity Is Finally Married! Became A Power Couple With Marketing Husband
The comedian is still thankful to his father for bringing him and his siblings to America, where they got the chance to pursue their dreams and live a peaceful life out of Iran. However, for Maz's younger brother Kashi Jobrani, the life in the states turned out fatal as he died in 2014 leaving his seven-year-old son, Kamran, an orphan.
Maz's sister, Mariam Jobrani, also could not be saved besides getting the modern medical treatment of the US. She died suffering from breast cancer at the age of 47 in 2017.
Although Maz suffered some tragedies after moving to the US, still he has also the benefits of the American life. He has achieved a successful and enjoys the net worth of $13 million. Further, Maz has also been involved in other businesses.
For instance, he has started a line of T-shirts which cost $26.99 - $28.99 and have his name imprinted on them. Maz has also authored a book titled; I'm Not A Terrorist But I've Played One On TV. Moreover, he also tours frequently and has a busy schedule for his upcoming shows in 2018.
Maz is set to perform in different cities around the states in the coming month. His tour of nearly 20 days will start from Sacramento, California on 7 September and will perform in cities including San Fransisco, Ontario, Illinois, and Minnesota before finally concluding in Irvine, California on 25 September 2018.