Entertainment
NBC News' Sheinelle Jones is a Family Woman: How She Met Her Husband? Their Eight Years Of Married Life And Three Children
You remember the woman who anchors for the Saturday editions of Weekend Today that airs on NBC News? Another hint, she is also the correspondent for all platforms of NBC News.
Oh yeah! You got it right. We are unmistakably talking about Sheinelle Jones who is an American journalist and news anchor for NBC News. Well till now, Sheinelle has been having quite a marvelous career and has a huge number of fans and admirer.
@SheinelleJones Sheinelle, you, Dylan, and Natalie are the BEST!!! So kind and humble????????????????

— Debi Kerth (@debi_kerth) June 12, 2016
@TODAYshow Weekends are the best time to watch because Sheinelle is on. Not that miserable Tamron

— frank pease (@frp2155) June 11, 2016
@SheinelleJones Hi Sheinelle enjoy you on NBC miss you in philly.
no one can take your place thats for sure, Alex tries she's ok.

— dee benjamin (@kindnessdb) May 6, 2016
@SheinelleJones Loved it Sheinelle! What a nice moment that was! Made me smile! Happy Mother's Sheinelle to You and Your Mom!

— paul elian (@spte1905) May 6, 2016
Now, let's quicken our pace towards her personal life. So, she is married. Want to know who her husband is? Okay then.
Sheinelle is currently married to Uche Ojeh who is working as a managing partner at UAO Consulting.
The couple got married in the year of 2007. It's been like 9 years to their relation and still, the couple is going steady and stronger. The couple is blessed with three children, a son Kayin and twin daughter named Clara and Josephine.
Where did they meet for the first time? Want to find out? Oh yes, you do.
Sheinelle met her husband; the love of her lived when she was in college. She said that she was a tour guide when Uche was in the high school.
Here is a video of Sheinelle explaining where Sheinelle was explaining about Uche.
"I was like what a kind, polite, cute guy." –said, Sheinelle Jones.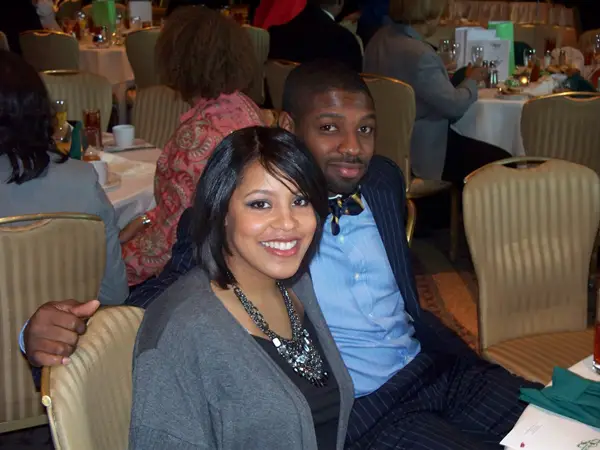 Caption: Sheinelle Jones with husband Uche Ojeh at the Lincoln Centre in 2009.
Source: blogspot.com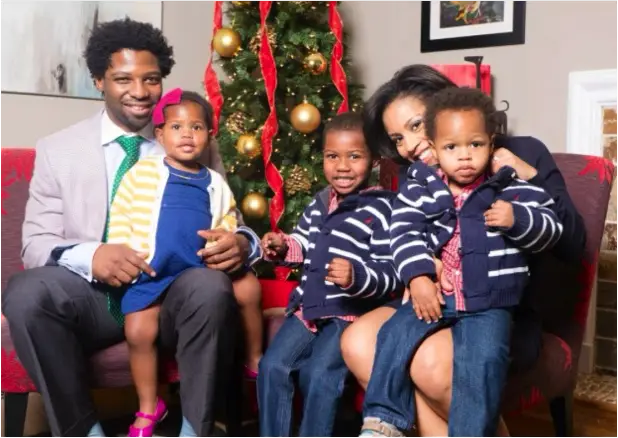 Caption: Sheinelle Jones and husband Uche Ojeh with their children during the Christmas of 2014.
Source: liverampup.com
As we said before too, the couple in a steady and strong relationship now and are not likely to get a divorce anytime soon. We hope the couple stays the same.
Sheinelle Jones' Short Bio:
Sheinelle Jones was born on April 16, 1978, in Philadelphia, Pennsylvania and currently ages about 38 years old. After passing her way out from Wichita Heights High School, she attended the Northwestern University in Chicago. Her career in journalism started with WICS-TV where she was to the broadcasting team.
During her career, she has worked in stations like KOKI-TV, WTXF-TV, Philadelphia station where she was employed for nine years before finally joining NBC.
She is currently working for NBC and MSNBC where she acts as a co-anchor for Weekend Today and as a host for MSNBC Live.