Entertainment
Nicole Da Silva Talks About Lesbian Stereotypes In Interview: Partner In Real Life?
Nichole Da Silva has been a face of the fraternity when it comes to movie-queerness. She has expressed her ideology on the stereotypes about lesbians. What did she say? We shall also try finding out something personal about her, about her boyfriend and so on.
Her Opinion on Lesbian Stereotypes:
Nicole, who appeared as the lesbian character Franky in "Wentworth" has attempted providing some courage for the lesbians despites the stereotypes they consistently face in the society. There is no exposure of biological wants for lesbians and their relationship in the society. Keeping track of those things Nicole, in May 2016 interview with star observer, mentioned:
"For the most part, the LGBT community is proud and open to having a lesbian relationship – or multiple lesbian relationships – represented on screen cause they're so few and far between."
She further added:
"I think it's really important, not just for Australian television but drama and film and television everywhere to have these people and these relationships on screen. It's part of our tapestry, part of our community and we need to tell those stories."
Nicole Da Silva's romance partner. Is She Gay in real life too?
Although she portrayed the lesbian character in the series, she is indeed a straight girl. But whether she is single or dating is still not known. Furthermore, there are no details about her marriage or husband even if she is married. So the matter of divorce doesn't arise at all. However, her Twitter @nicdasilva might give us some vague indications:
However, we don't know the guy she's stating here as we cannot find more of such posts which can assure she is in a relationship.
Caption: Nicole da Silva wins Most Outstanding Performance by an Actor- Female.
Concerning the next season Silva explains: "The journey of redemption is strong for Franky." From her release ahead of jail, she has her younger sister waiting and decides to cool off the relationship with Bridget. She said:
"Most characters in Wentworth, you got to see flashbacks to their characters on the outside, so lots of my fellow actors got to shoot away from the prison location and explore that side of their characters," she added. "The one flashback of Franky is her on the cooking show, and we actually shot that on location in another part of our set! So it was a real thrill for me to take Franky to the outside world."
Nicole doesn't need a Husband or a Wife, for now, total focus on helping the youth:
Nicole da Silva is known for her work as not only a gender equity worker, a member of the UN national committee of Australia but next she wants to work as a youth role model. As a popular actress with a huge following she believes she can impart knowledge and advice to a large portion of the youth generation through her work in acting. In an interview with Lady parts, a woman empowerment Vlogging group, Nicole talks about her desire to help youth as well as stopping the cases of Doube standards for men and says,
As someone that is on television there is a generation of people that I can speak to that maybe you guys don't have an 'in' with, and I was mostly talking about the younger people of Australia and I wanted to open up the conversation up to boys.. And men. I wanted the conversation to be a full functioning conversation amongst all members of society, because I think women have been talking about this for so long, and been active about this for so long but I thought it was truly time for men to enter the conversation.
She also talked about the reasoning behind her actions, stating how she had a desire to fix gender inequality since a young age, adding
I knew for the most part that that lay within gender equality and matters of empowering women, that was important to me and has been from day one. I'm talking about when I was back in school, when I was a little kid.
When questioned about if she thinks that her work in Wentworth helped in the context of women empowerment, she speaks
I think that's exactly it, you have completely nailed it. It is a show that has gone 'Hey women are complex.'
I believe she is correct. Wentworth, for the most part, changed the view on women as well as lesbians and had taught youth to treat women as individual sovereign personalities regardless of their Sexual orientation.
Caption: Nicole da Silva on the cover of Who's that girl magazine
Nicole Da Silva yet to make herself a comfortable home:
Constantly working and moving around Silva has yet to set find a residence of her own. The Australian star currently lives in a rental home in Inner West, Sydney with her 3 pet( a cat and 2 dogs which are owned by a friend who is current abroad.)
"I haven't been here long at all. I'm constantly in transit for work, and I feel like sometimes my suitcase is the closest thing I have to home." admitted the Westworld actress, talking about her current status.
The actress seems to have no time recently with her rising popularity in Australia and UK and her role as an actress as well as an aspiring director.
Nicole seems to have no plan to settle down in home, much less with a family and was reported saying,
"I've become good at living sparsely, and making a hotel room feel like home — putting family photos up on the wall, and a candle can make all the difference. When I arrive back from work travel, bed always seems the most inviting, but I'm often keen to reconnect with friends and family as quickly as possible."
She furthermore admitted that for her, her work was her life and her crew was her family and confessed saying,
"Being on set often feels like coming home for me too, It makes the long hours feel like spending time with family."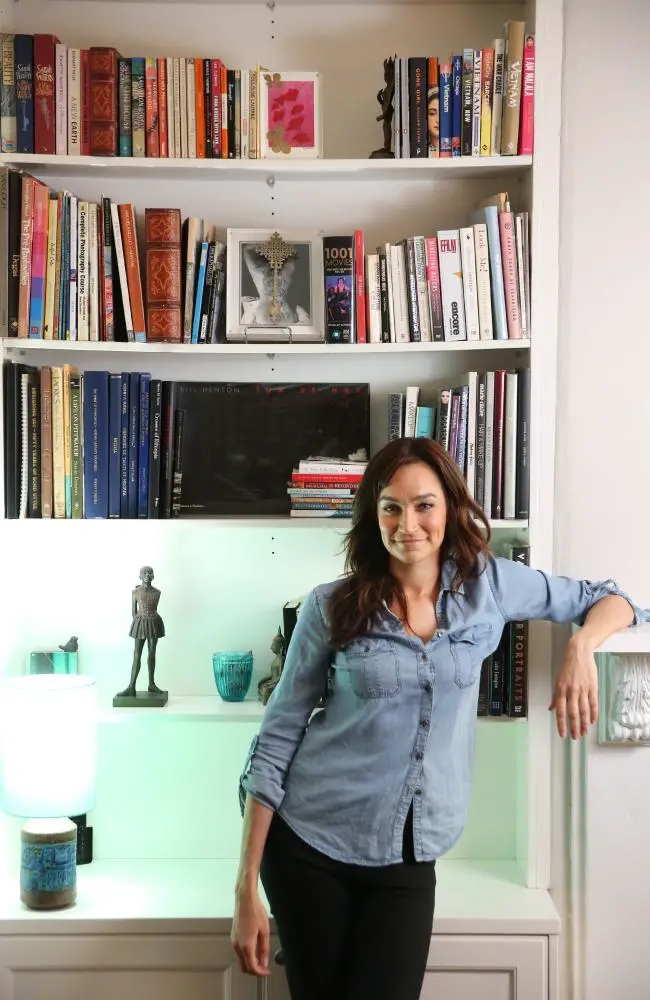 Caption: Nicole Da Silva with her beloved books and souveniers from around the world.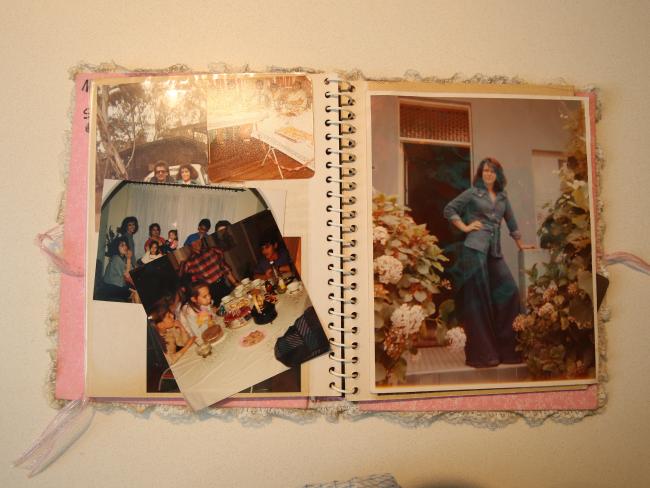 Caption: Nicole shows off her family album while fondly reminiscing about her family and her memories with them.
Photo-Credit: Bob Barker, Dailytelegraph.co.au
A bit about Nicole Da Silva:
Nicole da Silva was born in Sydney, New South Wales, Australia on September 18, 1981. She studied Bachelors Of Arts (Communication) but gradually dropped out to study dramatic arts at Theatre Nepean University of West Sydney.
She started her career from 2005 through a medical drama series. Her remarkable works include Rush and Wentworth. She is currently involved in Wentworth (alongside Danielle Cormack since 2013. She even received ASTA award for her performance as Franky in Wentworth. She is currently involved in a drama tv series named Doctor Doctor.