Actress Nicole Maines has been taking on the world with a storm. As a transgender person, she played a crucial role in changing Maine's state law regarding students accessing bathrooms consistent with their gender identity.
She is also the actress who joined the cast of CW's Supergirl as the first transgender superhero.
With her actions, she became an example of how change does not merely happen, it has to be worked for.
Growing Up As A Transgender
Nicole Amber Maines (born Wyatt Maines) was born on 7 October 1997. Her parents Kelly and Wayne Maines were struggling with infertility and thus decided to adopt Nicole and her twin brother Jonas Maines.
Another Transgender Celeb:- Mj Rodriguez Bio, Gender, Husband, Parents
'Wyatt' always felt like a girl early on at the age of two and wanted to wear princess dresses and grow out her hair. Her mother was also accepting Wyatt's preferences and helped Wyatt in adjusting. In fourth grade, Wyatt started using the name Nicole, and in fifth grade, officially changed her name.
Things seemed to be going very well for Nicole and her family. Her school, although did not force Nicole to use the boys' washroom, insisted she used the staff's restroom. The incident made her a victim of bullying until the family changed her school three hours away.
Her parents did not let the issue slide quietly as they sued the school district for discrimination, and in 2014, the Supreme Judicial Court ruled in their favor. Thus the state law towards transgender people using the washrooms was changed in Maine.
Accepting her identity, Nicole took puberty suppressants and female hormones later in her teenage years to adapt to the physical changes. She also underwent sex-reassignment surgery in July of 2015 before attending college.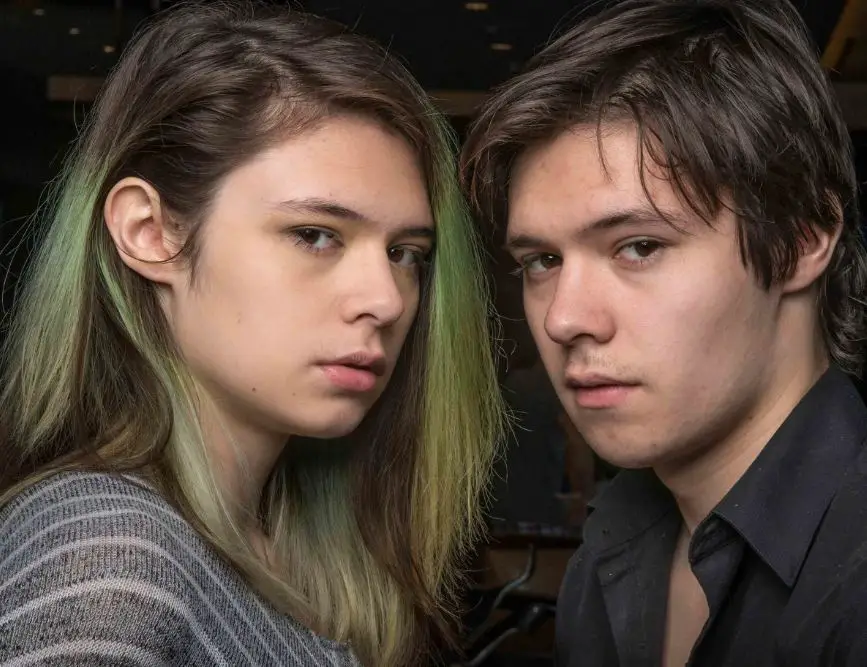 Nicole Maines with her identical twin brother Jonas Maines (Photo: The Washington Post)
On top of everything, her life inspired the writer Amy Ellis Nutt who wrote a book Becoming Nicole: The Transformation of an American Family.
The New York native flaunts a body of measurements 31-25-35 inches with height 5 feet and 8 inches (1.71m).
Dating Or Single?
The Bit alum's fans must have questions regarding whether or not Nicole is single. The answer to the issue seems to be a blur.
Looking at her past relationships, Nicole tweeted about an imaginary ex-boyfriend in Aug 2013.
#exboyfriendsbelike oh wait I've never had a boyfriend... #alone"
Another instance the world heard about Nicole's boyfriend was from the tweets she made in 2017. In a tweet from June of the same year, she asked how to get her boyfriend read Harry Potter. And in another tweet of October same year, she mentioned she and her boyfriend watched Stranger Things 2.
Related To Stranger Things:- Gaten Matarazzo Girlfriend, Parents, Net Worth
Other than these tweets, Nicole never made any mention of her boyfriend. Hence, it is unclear if she is still dating her boyfriend of 2017 or is single.