Entertainment
Niki Demartino Dating At 22! Redefining 'Cute' With Boyfriend
No wonder, Youtuber Niki Demartino loves to be in front of the camera. This time, Niki is dating a guy behind the camera, and they look cute together.
Let's have a glimpse of her dating life.
Niki Demartino: Dating Life With Her Cute Boyfriend!
Niki Demartino, a widely disseminated name in the Youtube world, revealed about her secret boyfriend via Twitter in 2017.
Yep, I'm dating my camera guy. His name is Nate. He's filmed Gabi and I since celebrities in high school and I'm in love with him :)

— Niki DeMartino (@nikidemar) April 25, 2017
Later, on 13 January 2018, Niki Instagrammed a duo picture with boyfriend Nate, in which they were seen sparing time together on the beach in Mexico. Don't they look cute together?
The Youtube star, who is known for her famous YouTube channel 'Niki And Gabi', is dating an experienced cinematographer, audio engineer and graphic designer. His full name is Nathan West, and he is a graduate of Temple University.
According to his official bio, boyfriend Nathan has worked for various artists and companies over the last decade. Interestingly, he currently works for 'Niki And Gabi' as their camera operator and graphic designer. Nevertheless, Nathan also likes to showcase his drumming skills as the drummer for FM waves.
Former Boyfriend
Before Nate, Niki was dating Youtuber Jerry Pascucci.
Niki and Jerry first introduced each other at their high school, and soon after, they started dating in October 2012.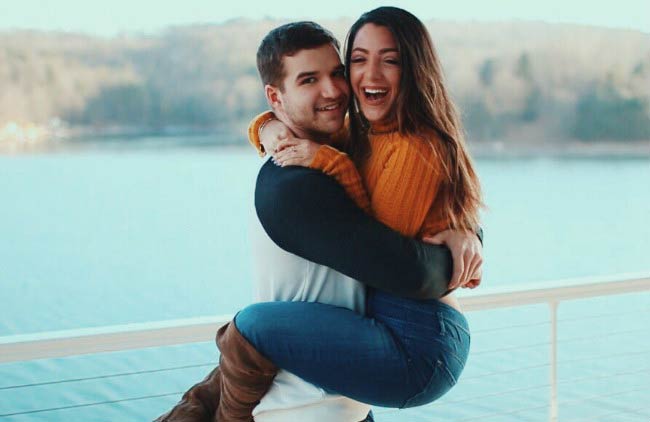 Niki Demartino and Jerry Pascucci (healthyceleb.com)
However, they broke up at the end of 2016 while Niki was busy on her tour.
According to Niki's sister, Jerry and Nikki parted ways because Jerry had a massive ego and was insecure about his girlfriend's success.
Jerry cut off the relationship with Niki through the text and refused to talk about it. Niki felt utterly devasted after the breakup.
Niki Demartino Short Bio
Niki Demartino was born in Pennsylvania, the United States of America on 5 May 1995. Both of her parents Jeffrey DeMartino and Nelida Garcia-DeMartino are dentists.
Niki has two sisters Alex and Gabi DeMartino. Her twin sister Gabi is also a Youtuber. Niki even has a younger brother whose name is Anthony DeMartino.
Gabi and Niki work together on their youtube channel. Niki and Gabi's successful youtube channel 'Niki and Gabi' has 6.2 million-plus subscribers.
Niki, who stands at the height of 1.59 m, completed her schooling from Notre Dame High School. She later graduated from the DeSales University in Center Valley, Pennsylvania, majoring in communication.
The Pennsylvania native made her first film appearance in the dramedy movie 'Dance Camp' in 2016. Additionally, in 2014, she also released her first song 'We're not over' in collaboration with her twin sister Gabi.
On the other hand, Nathan started his career as a production intern for WNEP-TV 16 in 2013. After WNEP, he worked as a mobile Technician for Atlas Mobile LLC from April 2013 to August 2015. From January 2013 to December 2016, he also operated 'NTW Multimedia' as it's founder,
Currently, Nathan works as the camera operator for 'Niki and Gabi' and also as a production assistant for 'World of Wonder' production company.