Entertainment
One Ethnicity and Raised in Another: Uma Pemmaraju's Married Life with Millionaire Husband. Why Divorce?
The person we are discussing today is a woman who is an example of diversity. She was born in a different ethnicity and raised in another.
What we are talking about Uma Pemmaraju is an Anchor and host on the Fox News Channel Network. Uma was raised in San Antonio, Texas as her parents decided to move to the USA in the year 1964 but she has an Indian nationality as she was born Rajahmundry, which lies in India.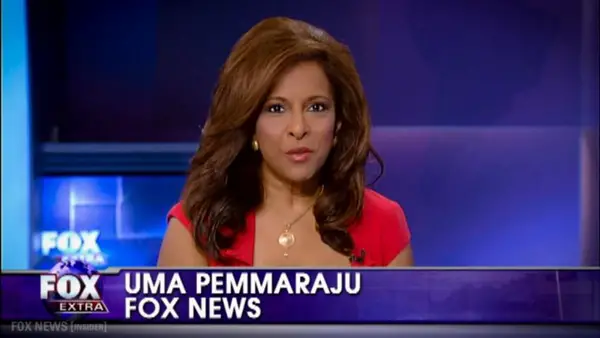 Source: foxnews.com
She has been receiving a huge amount of success along with admiration and love from her viewers.
@FoxNews UMA - always doing an outstanding job as an unbised reporter. A real pro. so refreshing good replacement 4 M Kelley @UmaPemmaraju

— C.J. (@Affirmcj) May 23, 2016
Her professional life looks almost perfect, but when we enter her personal life, it is perfect at first but gets saddening on the way.
Uma's Married Life, Husband, and Divorce Reason:
Uma Pemmaraju was married to Andrew Petkun who is apparently a millionaire. Uma and Andrew were dating for a long time before getting married for good.
Their marriage was nothing 'ordinary.' Uma planned to incorporate a multitude of traditions into the wedding ceremony; she wanted a rabbi, a Tibetan monk, and an Islamic priest to be present at her wedding.
She did that because she wanted people to remember and share her thought, religions can be put together in one place positively.
Although the couple had a wedding that is still remembered, their marriage didn't go that well. They sure were in love for a time enough to welcome a baby girl in their lives, but after some time, they got divorced.
Uma is currently living with her daughter Kirina.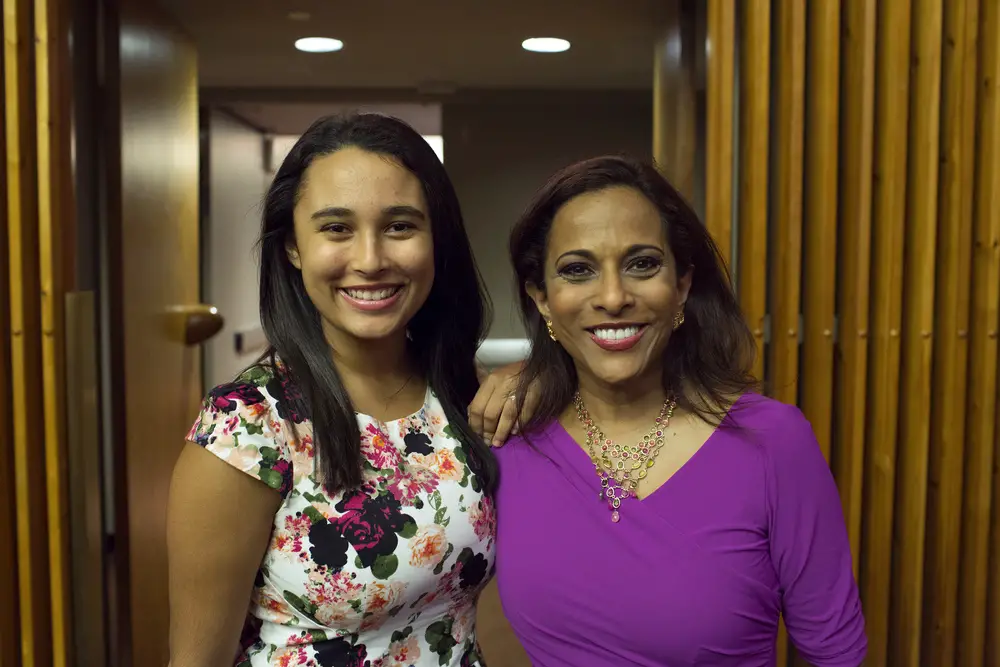 Caption: Uma Pemmaraju with daughter, Kirina Alana Devi at the screening of private violence in 2014.
Source: unwomenforpeace.org
Like every other unsuccessful marriage of famous personalities, the reason of divorce of this one has also been kept a secret. There is no further news about her ex-husband and daughter at the moment.
There is no news available about Uma romantically linked with anybody or dating someone. However, she seems to be pretty busy taking her career to an another level. In an interview Uma kind of revealed what she wanted to do in her future career saying,
"Where am I headed? I'd love to be on a magazine show on the networks or have my own production company. Maybe I'll consult on how to do wonderful television. I'd love to do children's television. I think we're entering an era where children are taken more seriously. I'd love to develop programming that meets their needs, where they are not just thought of just as kids."
Uma's Short Bio:
Uma Pemmaraju was born on March 31, 1958, in India, (age 58 years old). She joined the Fox network in 1996. Apart from Fox News, Uma has worked for KTVT-11 as a news anchor, WLVI, and WBZ-TV.
In her career as a journalist, she has interviewed famous personality as Dalai Lama, Buzz Aldrin, Donald Trump, etc. She currently serves as an anchor for America's News Headquarter.