Entertainment
Fox News' Special Report Host Bret Baier Massive Salary & Net Worth At Age 48
Fox News' Special Report host Bret Baier working for the network since...Enjoys a hefty net worth and salary of... Met his wife on a blind date...A loving husband and a responsible father who loves spending time with his sons...One of the sons born with disabilities...Career details and more...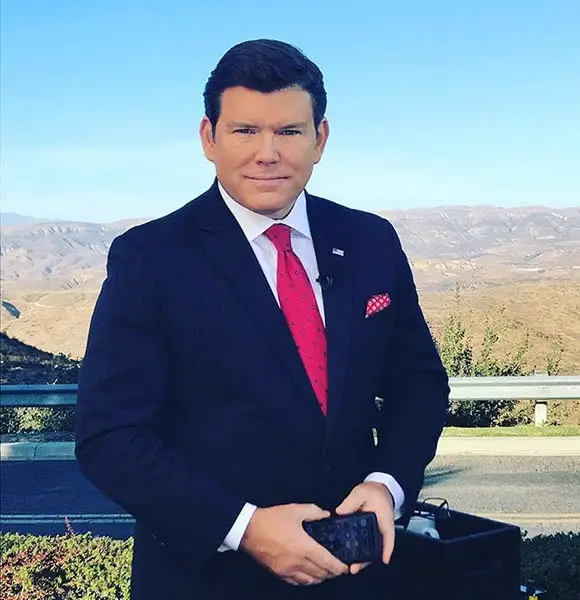 The Special Report host Bret Baier earned a name for himself with his humorous, courageous, fair and balanced nature during his time working at Fox News.
While his professional life has always been on the limelight with his net worth running over the hill, the news anchor also celebrates a fruitful family life which has been glorified by the presence of his wife and children.
Although many of his viewers might not be aware, Bret is a loving husband and a responsible father who loves spending time with his sons.
Well, the anchor has his own way of taking things, be it family or career!
Special Report Host At Fox News; Salary And Net worth Amounting To Millions
Brett, who currently assumes the position of the chief political anchor and the host of Special Report with Bret Baier on FOX News, initially started his journey with the network in 1998 as the channel's first Atlanta Bureau reporter. 
He has been covering the extensive political coverage for the news channel since he joined the network.
See Also:- Ainsley Earhardt, 42 & Will Proctor Split; A Well Thought Out Divorce Route
The New Jersey native has also reported on the UN Ambassador Nikki Haley's resignation status. Nikki, who was appointed to the position after President Trump held the position of the US President, submitted her resignation but offered to perform her duties until the end of 2018.
Bret even shared his opinion on America's Newsroom surprisingly claiming that Nikki, a Trump's supporter, had not resigned for a negative reason. 
During his two decades tenure with Fox News, he has interviewed many significant figures of United States including President Donald Trump, Vice President Mike Pence, former President Barack Obama, ex-President George W. Bush, and former Vice President Dick Cheney.
Before taking up the role of an anchor, Bret worked as the chief White House correspondent in 2006. For his tremendous work in the journalistic field, the DePauw University graduate was honored with the 2017 Sol Taishoff Award for Excellence.
Prior to joining Fox News Channel, he worked for WRAL-TV (CBS 5) in Raleigh, North Carolina, WREX-TV (NBC 13) in Rockford, Illinois, and WJWJ-TV (PBS 2) in Beaufort, South Carolina.
Don't Miss:- Steve Hilton Of Fox News, The Next Revolution Show Host's Wife; Who Is She?
With the network's top news show under his belt, the longtime member of the Fox News earns the salary of $7 million annually which contributes to his hefty net worth. He enjoys a significant net worth of $16 million.
Blind Date Turned Married Life; Family Includes Sons
Bret's balancing and generous nature are his best qualities, and that is what attracted his wife towards him during their first meeting.
The reporter, aged 48, first met his wife Amy Halls Baier on a blind date in September 2001. At the time, Amy worked as the Calvin Klein's media planner and was based in Chicago. 
In an interview with Country Magazine in April 2016, she recalled,
"I'm not sure why they thought it would work, but they had a good feeling it would. They did warn me, though, to buckle up — that a life with Brett Baier would be an interesting ride."
After the blind date, the couple took their second date to the Rolling Stones' concert. The pair started dating regularly, and they have been together ever since.
During their initial dating period, Bret and Amy maintained a long distance relationship traveling from Chicago to Washington DC to meet each other. The couple eventually got wed in 2004, and they have embarked together on a 14 years journey of their married life. 
Read Also:- Twice Married Pete Hegseth Of Fox News Still Content Post Divorce; How?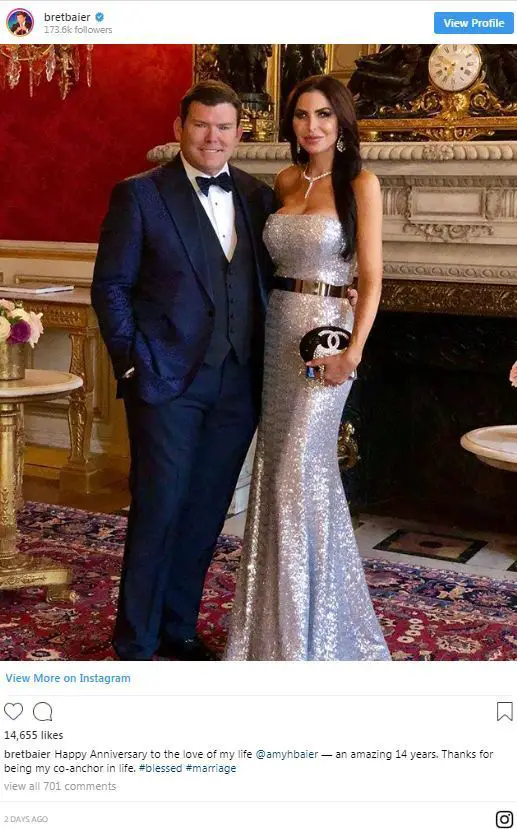 Bret Baier, wife Amy celebrates their 14 years of wedding anniversary (Photo: Bret Baier's Instagram)
The partners share two children; sons named Paul and Daniel. Their first child Paul, born in 2007, was conceived with two holes in his heart and three other congenital disabilities.
You May Also Like:- Lauren Blanchard Bio: Married Status To Age & Family Details Of Fox News Correspondent
But after three complex open-heart surgery, Paul who ages 14 is doing great with his heath.
Along with his well-loved nature in the workplace, Bret, who stands at the height of 5' 11", is a fantastic father and a husband. His wife explained that he plays with their two sons more than an hour in the pool during his leisure time.
Bret can indeed be considered as one of the few to have maintained a healthy work-personal life balance.